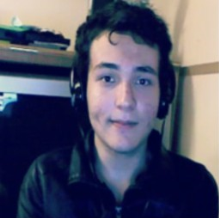 Mateo's Lifelong Tangent


Hey, Lords and Ladies. I'm Shane! I come here today to profess all of the bizzare and erratic ramblings of any overly opinionated guy my age, as well as discuss random things I like on the internet. Or in real life, somewhat rarely.

First, let's introduce me. I'm a nineteen year old guy living in Honolulu, Hawai'I. I have four siblings, mostly half-siblings. I go to Kapiolani Community College. Oh boy, I've given you enough information to stalk me. Anyway, I'm a little Chinese and German kid majoring in who-the-hell knows what, taking mostly humanities classes while smashing my head against the table in the face of the ideological blight that is our CC system. I really like writing. I found roleplaying when I was about fourteen and literally haven't had a single week where I didn't at least deeply desire to write a post. I really, really, really love roleplaying. A lot. Emphasis on a lot. Writing is my passion. My dream, aside from becoming an attorney in real life (which is funny since Mateo is an attorney), would be to publish a successful fiction novel.

I'm also highly political. Unlike most millennials however, I'm not a bleeding heart, I'm actually fairly moderate and really despise the mob mentality of my generation. That's probably why I prefer places like Miz where the audience is more mature and more logical. Although, I doubt many if any of us on here would agree on some of my standpoints. I may still make them though! Just be aware: I'm

very

political. In fact, this Scrapbook may turn into my political rantbox if I get bored enough. I'll probably just discuss really random quirky things about my everyday life for the most part, though.

I'll probably swear every now and then, if I get angry or passionate. Though I rarely get angry, if not solely "angrily passionate".

I prefer to be Shane, but you can call me Mateo if that makes you feel better. Haha.

I'm open to discuss anything in here. I'm not easily offended. Unlike most people in my gen, I don't give a bullocks about "political correctness" and "muh feelz". Go on and feel free. I'm especially open to discuss anything Miz related. I may also start making vlogs if I ever manage to think of something to talk about for fifteen minutes.

Also, I laugh at my own jokes a lot and you can feel free to picture my geeky self laughing like a maniac as I'm making my scrapbook posts, even the more aggressively worded ones.