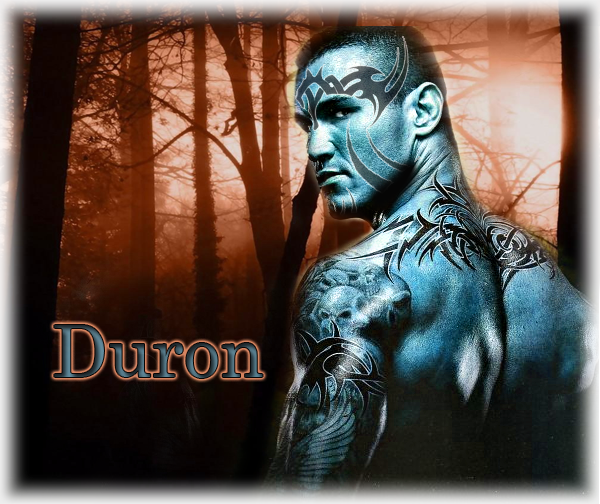 Time Stamp: 10th of Summer, 510AV
Location: The Blue Bull, The Bridge over the Waterfall.
Who: Duron
Sitting at table in the far corner, the Cerulean's dull green eyes scanned the bar from under his hood. He wasn't interested in the revelry in the tavern. At the moment he was watching a human male with long blond hair. Duron wasn't interested in men sexually, but he was interested in him because he was on a assignment from his superiors in the Taluka Outpost to watch him. Supposedly, he murdered two women prior to tonight, but the authorities can't prove it, so the cerulean were called in to put a stop to his terror without a trial. The reject wasn't sure what why the superiors wanted him to watch him because it would be just easier slitting his throat. Regardless, he wasn't supposed to engage in combat unless he was provoked first. He was just supposed to blend into the crowd to not arouse suspicion. Suddenly, a human woman with dark black hair walked to his table and said with a sweet smile on her face, "I know your trying to be mysterious, but you can take off your hood." Duron glanced up at the woman and took off his hood revealing the intricate tattoos that decorated his face. The akalak gave her a look of annoyance for a tick, but he shook his head in defeat,
"You have to understand that I stand out like sore thumb in here, so I was trying to drink in peace without attracting attention to me."
Duron was happy the woman bought his excuse for keeping his hood up because it was strange for someone to where a hood inside. The people who took notice in him lost interest. The waitress said with a laugh, "Do you think those drunken fools care right now. Most are to busy beating each other senseless. I think you will be fine stranger. As long as you don't join the brawl, but you should be able to hold your own. What would you like to drink?"
Duron didn't usually drink on a job, but he was doing surveillance in a tavern. It would be odd for him to sit here and not order something. Looking at the waitress, the reject said with a smile,
"Can I have a mug of a Syliran wheat beer?"
Reaching into his pocket, the cerulean pulled out three silver mizas and placed the money in front of her.
The black haired waitress said with a smile and nod, "I will get it for you shortly, honey."
Duron turned his attention back to the blond human male who was talking to a brunette human female in her twenties. The human was a charming little shyke because he had been making out with the brunette woman for half a bell. Before he met the brunette. The blond man was moving from potential victim to potential victim four a couple hours before hand like a wolf stalking a deer. As he observed the blond hair human, he noticed that he preferred victims who seemed shy and kind of petite women who didn't look like they could handle themselves in battle. If he was a normal akalak, he would feel piety for them, but Duron had a cold view of the world, so he figured if they were stupid enough to get involved with the blond than they weren't worthy enough for a akalak. However, women were a rare and vital to the survival of the akalak species, so even the naive needed to be protected to give birth to a potential akalak child regardless of the physical, mental, and emotional strength of the woman. Tapping his fingers on the table, he suddenly heard a woman's voice coming from the table to his right, "Can you keep a secret?"
ledger

3sm for beer and tip