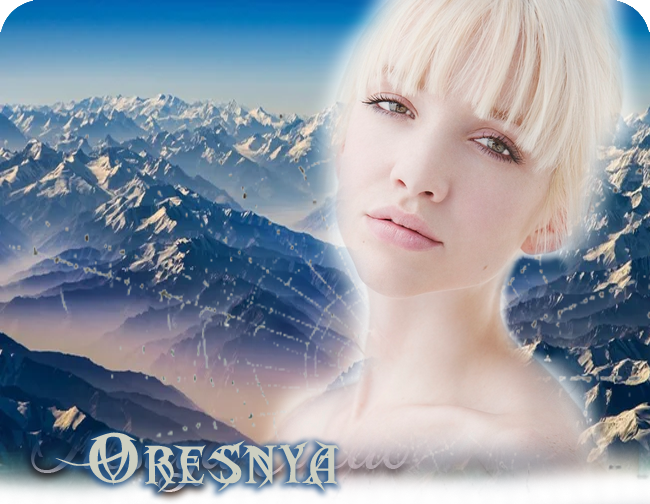 Trembling, Oresnya peered down at her hands, still half-expecting them to be covered in blood, though she knew they would not. Nearly a full half season had passed since that day, and Oresnya felt like nearly half the full person she used to be. Light from the kitchens mixed with the red glass that seemed to be so popular this season and painted her hands scarlet. Squeezing her eyes as tightly shut as she could, she tried to make the color go away, but it didn't, because it was in her memory. Even her hands still felt warm with Vosin's blood, and Oresnya tried to scrape her palms clean on the rough stony surface of the table. It was as if the hooks in her skin wouldn't let the blood go. Once more, she squeezed her eyes even tighter until the pressure made her temples ache. It had to help.

It didn't. With the absence of light came the advent of sound, and the kitchens were a noisy place. Conversations among a hundred or more people echoed off the wall, building and melding into an undecipherable cacophony, and no matter how hard she tried, Oresnya couldn't latch on to a single voice to give her an anchor in the madness. In the midst of I all, a different sound rose up, one that was in nobody's ears but hers as it too came from her memory. It was the fierce shriek of a bird of prey, a cold predator, that ended with the thunderous crack that could only be made by rock splitting in two.

The beast had been a terrifying thing, but more so, it was a broken thing. That the creature that had laid waste to so many Inarta and Wind Eagle lives had been one of their own was perhaps the most devastating wound of the hunt, though the loss of two Endal, an Avora, and an Eagle was an incomparable loss. The city was still reeling, but Oresnya's terror was more personal.

The muscles in her legs tensed as she remembered sprinting through the trees, the burning in her lungs matching the heat of fire licking at her heels, at the loose ends of the bow at the small of her back, at her braid. They coiled and released beneath the table, the urge to run almost undeniable. Her hands flexed, scraping her thick, black, claw-like nails across the surface of the table.

A gentle hand touched her shoulder, and the Widow flinched and ducked away, teeth baring and extending to their full, deadly length. Her panicked mind told her to expect danger, but the face looking back at her wasn't angry or predatory or malicious in any way.

Hacaw's face carried only concern. "What's wrong with you, Widow? Why are you scared all the time?"

Nari was still far too fast for Oresnya to follow, and in her terrified state, she couldn't hide her confusion.

Hacaw slowed down, the concern never leaving her face. "What happened on that hunt? You haven't been the same since."

With most people unconcerned about her general well-being, Oresnya was unsure of how to respond. Her current perception clouded by fear caused her to be defensive. "Nothing is wrong."

A glare came over Hacaw's face that said she didn't believe Oresnya. "You're a liar."

Oresnya didn't have anything witty to say, and even if she did, she wouldn't have been able to put it into words. She glared back, then turned away. There was one thing she needed right now, and it was to get away. Danger was nowhere to be seen, and that only seemed to make things worse. It could be lurking anywhere, and she wouldn't know.

Hacaw, like all of her people, didn't let things go easily. "I'm serious. Something has changed. Vosin is

scared

of you. He asked me not to be around you.

What happened?

"

Oresnya shrugged, but she knew exactly what had made the Endal cautious in her presence. She remembered pressing her teeth against his throat and promising to end his life if he made another sound. The part that perhaps frightened Oresnya most about the whole ordeal was that she didn't know if she was serious or not. If it had come down to it, she didn't know if she would have gone through with that threat.

She remembered the warmth of his skin against her teeth, the pulse of blood just beneath, and how easy it would have been to…

And then Oresnya thought of what would have happened had the beast caught her, and the fear welled up in her once more. That had nearly happened. It was close, though perhaps not as close as Oresnya was remembering. She could have sworn she felt its hot breath bearing down on her, talons reaching for her, beak clacking closed just a stride behind.

In all reality, the hunters had brought it down before it could get that close, but that was not the way she remembered it. The building memories drowned out Hacaw's continued pestering, and Oresnya stood abruptly, leaving the other seamstress without answers to her questions. All the Widow knew was that she had to get away. She needed to be gone, free of people, but this place was crowded with them. Every eye that turned her way felt predatory; every jostle, a challenge, so Oresnya bared her teeth at every person she encountered and found that a path out quickly cleared itself.

Once she was out in the stone halls, there were less people, but that didn't mean the halls were empty. Even here, there were too many people, and at the bidding of the primal being inside of her, she sped up her pace until she was running through the halls to escape from anyone around her. The people she passed gave her room to get by, giving the Symenestra woman a wide berth and hostile glares. Something was wrong with her. They could all see it. Oresnya herself knew it, could feel it, but she knew of no way to change it.

A Yasi child saw Oresnya and the look of terror in Oresnya's eyes reflected in the girl's. The child remembered that look in the Widow's eyes once before, and she took off down a separate hallway. If Oresnya hadn't been terrified, she might have chuckled at the Yasi's fear.

Rounding a corner, Oresnya nearly cannoned into a man, slowing and sidestepping at the last moment to keep herself from crashing into him. His sudden arrival brought her fear to a pinnacle, and she backed away until her hands found the wall behind her. Her teeth bared once more as she tried to steady her breath as it came short and rapid from her exertion.

She couldn't place it, but there was something different about this man, something off. With his red hair and shorter stature, he might have been Inarta to an undiscerning eye, but that was where the similarities ended. His eyes carried a different light in them, something humankind had long ago lost or forgotten, the light of something that killed to live.

All of her previous fears had been foolish and unfounded. Oresnya finally realized that.

Because here in front of her was a real reason for her to be afraid. There was a certain danger lurking behind the eyes of the man who now watched her, an animalistic and primal nature that belonged only to the things of the world that feasted on flesh.

Oresnya pressed herself deeper into the wall at her back, deepened the furrow in her brows, pulled her lips back more to reveal her vicious fangs a little better, all in the hope it would keep this creature away.