"Come take a walk with me and let me tell you of the things I see. There are great tales ranging far and wide, from Love and hate to torture and un-truths. Injustices and Misdeeds. In these tales you see, you won't hear of such a thing as a fairy or a Princess.. Well maybe a bloody princess but only as she takes her last breath after a brutal beating and being dealt the fatal cards of a broken heart...These tales of which I speak you see, are not a myth but are in fact legend. For these tales of which are told from this very mouth are but my own. I have come from a land unknown to the mortal eye. Many have entered few returned. Again I shall say these tales are sad but true. For these tales did not happen to you."
The Band Perry has become one of my many muses. This song which lies within is among my favorites.The song after is by Sara Evans.Since I have heard the Song "I Get a Little Bit Stronger," It has helped me through many trying times.
~Lost Love~
This is something I wrote long ago. It's just an inside look at the pain one can hold inside.

Your name is like a winged dove
that carries my mind away,
Your lips are like the hottest flame
upon the touch of mine.
Your hands and fingers
always seem to know all the right times
for them to touch me,
Your eyes always find mine.
However, for now our hearts have parted
but they still remain
as one.
You will always have your life of ships and sea,
As I will always have mine lonesome and free.
If the joining of our hearts and bodies were meant to be
then to you I say:
It is not the end for endings only come in Death,
So I shall see the keeper of my heart
in my dreams and in the future,
But for now I fare him well.
Within the scrapbook you will find things that I have worked on and even ramblings from the voices in my head.
If you choose to comment or critique, such things will be most welcomed. I shall be adding more to this as time passes. Please enjoy.
Friends Wall: In this section is where all the people who have gotten past the walls which I have put up, belong.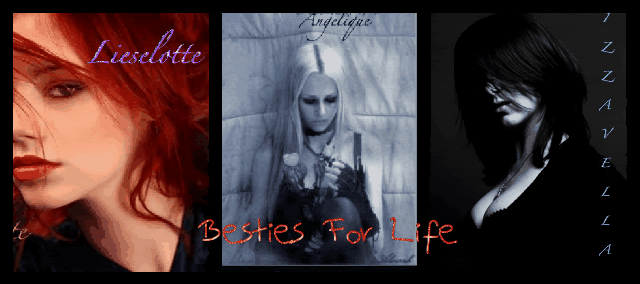 [/frametrans]