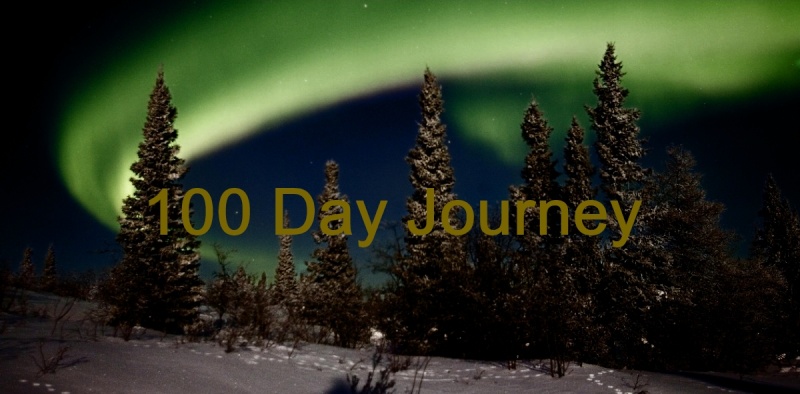 Day 1: Late Afternoon to Night
It wasn't long into Ditana's journey before she decided to trail off course to find a clean source of drinking water - being so close to a salt water sea while any seemingly drinkable water was frozen over looked to push her farther and farther from the road which lead Syliras and into the wilderness. Had Ditana been a bit more competent she would have known to make sure her Waterskin was full and to ask anyone familiar with these lands where a freshwater source happened to be during the winter so she wouldn't be in this situation; but she didn't, and by the time she realized going back to the city was her only option, she had no way of knowing how to get back.
Alone in the wild with nothing but less than the bare minimum amount of supplies: a weeks worth of food, a map, and her instincts, along with a few tools that wouldn't be of very much help without some amount of creativity (A comb, brush, soap, razor, eating knife, and steel). At this moment, there was nothing on her mind other than getting from wherever she was in this forest to getting back to the city and getting more supplies before coming back out here. There was only one thing wrong with her plan, and that was the fact that she couldn't read the map held in her hands. She had no way of knowing which part of the forest she was in, and without a compass she couldn't know if she was facing East or North. Putting the map back in her backpack, she started scratching at her matted hair in frustration while muttering to herself.
"Shyte, a wasn' supposed ta go dis far out in dis parta da land, jus feel it out so I'd know what I'd need." Ditana couldn't think of anything that could get her out of this situation, so the only option she could think of was to run in a random direction and hope that was the way. As much as she could admit that to herself that, that was a very poor and stupid idea, she still found herself running on the frozen ground on bare, callused feet that felt out the direction on the ground without any direction other than to just go and not to stop until they reached some type of settlement. Where she was going now, Ditana couldn't answer that, but she let her legs carry her as though she wasn't in control as they continued in one some-what steady direction. She didn't bother going around obstacles and instead jumped or scrambled over them; pulling herself over a few fallen trees and struggling to keep her footing on the leaped over larger things that threatened to make her fall flat on her face or got caught on low, snarled branches that grabbed at her already torn clothes.
She didn't stop until barely passed nightfall when she ran into a tree. Her heart pounding painfully within her chest, lungs feeling as if they were on the verge of bursting from the emance strain, eyes watering from the sudden change of harsh wind to semi-warm stillness as well as from the struggle to focus her eyes on her surroundings. Her tensed hands and feet, arms and legs, everything; slowly regained their feeling as discomfort waved through her body and caused her to collapse on her knees, causing the claws of her toes to scratch against the icy ground. Her clawed hands scraped against the bark of tree as she doubled over, gasping and dry heaving as bile threatened - in an almost teasing manner - to escape her throat and discard one of the few reserves her body held.
She put a hand over her mouth and scratched her cheek with her claws, trying to focus all the pain there as her body adjusted to the mixture of pain and nausea. It succeeded in helping her regain control of her stomach and swallow what little did attempt it's escape before slumping onto her side, lying there as everything began to settle back to normal thanks to the blissful numbing sensation that came with the cold from the winter night that kept to the enclosed area around her.
The stars fully illuminated the night sky above Ditana before she heaved herself off the ground. She wasn't sure how much time had passed; maybe a few minute, maybe an hour or two. It didn't matter. Forcing her now numb legs to take on the weight of her body as she stumbled to her feet, using the tree to support herself. Leaning on the base of the tree beside her, she finally allowed herself to think.
If she hadn't reached Zeltiva at this point, or even found the road that lead to and from the damn city, there wasn't anything she could do but keep going and hope she got lucky. Even if she couldn't find a way out of this forest, she was a bear! Living within civilization hadn't changed that fact. And she's reached her age of maturity weeks ago, she could learn and adapt to this environment easily enough, so long as she could keep herself feed and hydrated. Yeah, okay; no need to make this any harder than what it is. Stressing over this was not going to help her.
She looked at her hand, flexing them and examining the claws resting above her fingertips before turning her head up and towards the sky. Though she continued to berate herself silently over her decision to leave the road when she knew and had
nothing
of use in this situation the was a bit of excitement and determination in her eyes to not let herself die out here as though she were on equal grounds with a human in what should be her element. Even if it's Winter, this
is still
her element, and she was going to claim it.
Pushing herself off the tree once her legs regained her strength, she removed her abused clothing and stuffed them in her bag; moving the strap of the water skin around her neck before turning into her bear form in a dazzling show of light which had no audience to anything but the trees. The light around her soon dissipated, leaving a rather large bear in it's wake.
Ditana let out a yawn, deciding she would start off again on day break, but for now it was time to get as much rest as she could. She wasn't planning on stopping for any reasons other than food, water, and rest until she reached a city. Picking up her bag between her teeth, she climbed up the tree she was previously using to support herself before finding her place on a branch that would serve as her bed for the night. And she was going to need as much rest as she could get, because this place was not going to be easy on her.