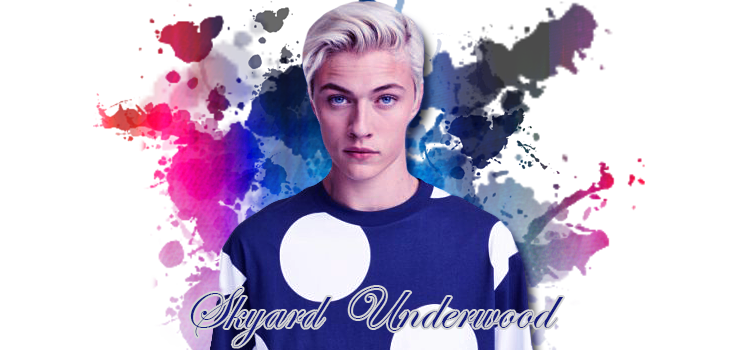 Winter 23rd, 515 A.v
The day was young, and the brush wove about elegantly as the cool breeze settled in. A deep breath followed by the soft sound of foot-steps could be heard by the Kelvic. He'd somehow managed to wonder completely off-course. Only to make a strange discovery; he'd found a bridge and not known of its' location before. It appeared to have been rigid and incredibly old, not to mention the bridge seemed to be upheld by rope. Skyard continuously observed in hopes to learn something of this strange bridge. Why it'd been here, he had absolutely no clue, and the questions continued to rise by the minute.
He hadn't bothered to continue with the questions; instead he chose to walk the bridge. Oddly enough he preferred to be in his animal form. Despite the fact that he considered himself human; he felt more in-tune with nature when he shifted.
He immediately began to strip himself of the restraint his clothing bore. Piece by piece, he flung off the rather dusty unremarkable shirt and pants he'd had on. He kicked off the shoes and stood naked for a moment. He looked up once more and made note of the massive stones set in place to uphold the bridge. Perhaps the bridge wasn't as frail as he'd initially thought it had been; there was no sway when the wind blew either. Instantaneously he'd shifted, and a small flash of azure-colored light temporarily appeared; before it'd dissipated in almost the same moment.
Taloned and elongated nails protruded from his forepaws and rear-paws. A massive and idiosyncratic mane covered his neck and fluttered about within the cool winds breeze.
Icy-blue eyes and oyster white fur covered the Kelvics body. He outstretched his forepaws and bent his spinal cord downward. A slight stretch for his thigh muscles always brought him comfort at times like this. Although he grew incredibly anxious, he paced forward rather slowly before he reached the very edge of the bridge. A deep inhalation through the Lions nostrils preceded a roar; a ghastly roar. The lion filled its lungs to capacity with such a deep breath, before the muscles in its throat contracted slightly. The roar that escaped its mouth had been so loud that it would likely be heard for quite the large distance.
He observed as birds flapped their wings in order to flee from the noise. After he concluded the brief roar he stepped foot upon the bridge. He felt the hard-wood planks against his bare paws, and continued onward. He stopped about half-way upon the bridge and realized the ever so slight sway the bridge provided as he walked. He stepped backward and realized that the amount of sway was reduced as he walked back.
"Perhaps the weakest point of a bridge is at its center and not anywhere else?"
The kelvic thought to himself as he backed away from the center of the bridge.
In order to make sure that he'd been correct he stepped forth again; he noticed the massive difference in sway. He'd discovered rather swiftly that the distribution of weight can affect how a bridge sways.He began to wonder why silence fell upon the area; despite the fact that he roared to attract attention. Then again who would want to be present when a Lion is nearby? He figured that without a soul in sight he may as well leave rather than waste his time. Despite being incredibly bored he decided to stay in order to see if the bridge is commonly walked. Several ticks later he began to realize that he was utterly alone here, or so he thought.