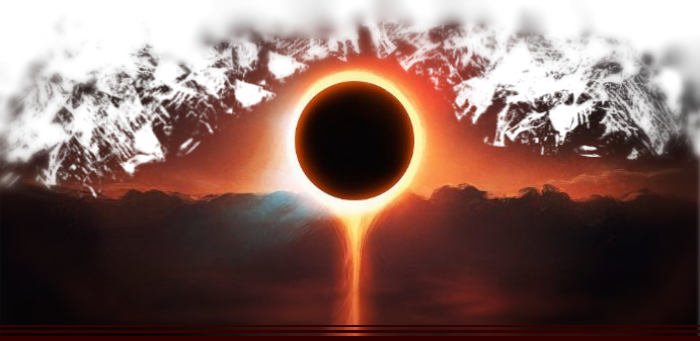 78th Day of Winter, 515 AV


"

Laviku preserve me. If my father could see me now…

"

Crassus's hushed lamentation was followed with the usual short snort and vile globule of spittle sent flying over the railing of his ship.

His dear, sweet ship.



Oh my poor Theodosia, what had they done to you…



The captain's grimace only deepened as he finally managed to tear his attention away from the box of snuff he was toying with in his hand and returned it out beyond the mud sodden decks of his once proud vessel. There lay the dark and unwelcoming shores of the northern wildlands staring back at him, cold and unflinching. Much like his last wife, and almost just as big too, the wildlands stretched from horizon to horizon, an ocean of dead and decrepit winter foliage every bit as deep and treacherous as the stories warned.

"

What did he say?

" Came the gentle query of the knight sergeant peeking over the edge. Crassus sneered, unable to bring himself to even address the man. The facades and false pleasantries of the negotiating table were long since over with now that he already had the man's coin, but even if he didn't bother to turn and greet him, that didn't mean the veteran Svefra had failed to notice the full set of plate armor that came clanking along with the Syliran's rushed arrival to the deck.

Well didn't he get all prettied up in a hurry.



"

He said-

"

"

I said

there's a petching hole in our petching ship!" Came the cry from below once more, though this time with a little more agitation tinting the words and a little less bewilderment. The captain could feel a similar annoyance creeping steadily upon his good manners in a familiar manner.

"

Did we hit a reef?

"



Did we hit a-

That was it!

Crassus spun on the knight like a daggerfin hunting squids in the coral. "

'Did we hit a petching reef,' he says!

" The proud Svefra stabbed a finger directly into the shovel jawed face of his prestigious passenger, all the good manners and coin in the world be damned. "

Listen here! I've sailed these damn shores a thousand times, and watched from my father's shoulders as he sailed them a thousand more. I know these water's like I know the moles on my wife's backside. So no, dear knight, I did not sail us into a petching reef!

"

For what was probably the first time since Crassus meant him, the sergeant actually frowned. More than that, even his eyes hardened too, almost to a point where Crassus was certain the Syliran would finally snap out of the kindly hero veneer the 'holier than thou' bastard had painted himself in to reveal the true man underneath, or at the very least let loose a curse or two for petch sake. He hated dealing with a man who tried to hide what he really was, but he knew he hated the idea of dealing with one who actually believed themselves as 'pure' and as 'chivalrous' as the knight sergeant no doubt did. It was begging to grow beyond infuriating just to be around the man, let alone try and wriggle a reaction out of him.

The frown lightened after only a tick and Crassus found himself spitting over the railing again in increasing annoyance. Not today it seemed.

"

He's right, ser Joran.

" Kain called up to them from below the deck, all four sinewy arms hard at work wringing themselves together in a vain attempt to keep himself warm amidst the freezing, ankle deep waters now filling the hold. "

It weren't no reef that tore our poor Theo's belly up like that.

" He continued, teeth chattering all the while. "

But…

" The Eypharian's tone shifted into something Crassus recognized as altogether worrisome. "

There be burn marks all over the planking, Cap'n. Something blew a hole in her gut, and it did it from the inside, looks like.

"

The captain's gaze found Joran's once more, suspicion and accusation plain as day in his furious glare. Of course this was their fault!

To his irritating credit, the knight didn't as much as flinch away from the wordless implication. "

You know full well my compliment and my cargo, captain, despite my best attempts to dissuade your snooping. Nothing I brought unto this ship could have done this, and I've no reason to sink my own passage home.

"

Crassus snarled from beneath his beard as he took a hardy step forward that placed him chest to chest plate with the knight. "

Don't give me that bullshyke, Syliran. We both know full well you've managed to keep your secrets from me, and I've tolerated it outa' respect for your order and their work-

" That wasn't even remotely true. It had been the money. It was always about the money these days. "

-but now whatever it is you're running from in Nyka has-

"

"

The knights of Syliras do not run from anything, captain.

" Joran calmly interjected as Crassus felt what was probably a third blood vessel go 'pop' in his neck that morning. "

Whatever

trouble you and your people have gotten themselves into has caught up to you, sergeant, and it's just beached my ship in the middle of petching nowhere, so do not think for a chime that I'm foolish enough to believe this is simply a petching coincidence!"

For a good long tick the two simply stared at one another, Crassus literally shaking with the sheer anger boiling over in his bones, while Joran on the other hand, continued merely to hold unto that serene smile of his.

Finally, after too long a tense moment between them, it was Crassus who broke their deadlock.

"

Kain!

"

"

Aye, Cap'n.

" The steely eyed quartermaster was by his side in an instant.

"

How long?

"

"

I've salvaged what lumber I could from below, but almost everything is waterlogged. I think I can get us back in business by the morn, but I'm gonna need some more supplies.

"

Crassus finally released his scowl on Joran and turned to face the dark Eypharian. He understood what his old right hands man meant, but when he turned to look out upon the vast wilds awaiting them, he found himself doubting a great deal. "It's the middle of winter, Kain. What do you expect to scavenge from...

that?

"

The old sailor sighed. "

Whatever it is, Cap'n, it's better than nothing, which is exactly what I'm working with right now. Let me take some of the boys with me and we'll be back in a few bells with a better sense of where we stand.

"

They would need more than that, Crassus noted, despite his quartermaster's uncharacteristically optimistic assumption. Perhaps the old man was just trying to avoid a brawl on deck considering had the news been any worse it would have likely sent him lunging at the sergeant's throat without a second thought. Regardless, it would take a shyke-ton of wood and sap, and he didn't relish the idea of sending his men out there even to take a piss, let alone start felling trees. He'd sailed with most of them for years, and as scrappy and tough as he knew every one of them could be, they'd be no match for the horrors that were likely lying in wait amongst those ambling branches.

"

Get to it then.

" He growled. What bloody choice did he have? "

But make sure you're all carrying more steel than just a few axes and saws, you hear me.

" Crassus said, resting his knuckles on the railing and glaring at the forest as if it had done him an injury. "

Stay in sight as best you can, we'll keep watch from here.

" Kain nodded, and an instant later orders were being spewed across the Theodosia, everyone in earshot scrambling to his position. Everyone, save of course, for the knights.

For some reason, the sight of them all milling about on his deck like lost lambs reminded him to ask the question he'd been avoiding like the plague up until now. "

Kain.

" He called out almost unwillingly. The dark skinned seaman appeared from amidst the hustle and bustle like a ghost from the fog. "

What'd we lose, and by the gods man, be gentle.

"

The hesitation in the quartermaster's reaction was palpable, and already Crassus knew he was going to regret asking.

"

One of the goats.

"


A shame, but we'll live.


"

Some of the spare hammocks and nails.

"


Replaceable.


"

A crate of the cotton we'd bought in Nyka…

"


Damn, spent good coin on that. We'll have to- wait… That's near where I kept my-


"

and…

"

"

Don't say it.

"

"

…Two casks of the Baracuda Brandy.

"

"

Laviku preserve me.

"

Kain, gods bless the old sea dog, could do little but put a reassuring pair of hands on Crassus's shoulder before shuffling off with an uncomfortable "

I'm sorry, Cap'n.

" The Sverfa's head had buried itself in his hands at that point, and he was slowly sinking against the railing when another familiar voice replaced the wailing in his mind. "

One of mine will go with them to the shore.

" Joran suggested, his arms folded casually behind his back as he stepped up beside Crassus. "

You'll find your men will come to no harm so long as Priskil and my knights are watching over them. This I swear to you, captain. It's the least we can do.

"

The wary Svefra could only manage a low, grumbling noise akin to something one might consider as agreement, before promptly slipping back into his misery.