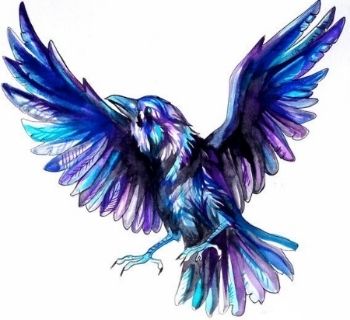 The streets grew steadily livelier as Izuyanai trekked home from her shift at work. She hummed a small tune under her breath as she walked. The lazy humming rose and fell, swinging up and down while skipping around on itself. It was the kind of song that was more suited to a warm afternoon lit with plenty of sunlight. Nevertheless, Izuyanai favored it on most pleasant occasions ever since she first heard it in passing long ago.

The reason the raven was in such a satisfied mood was because of her improvement in auristics. She'd become relatively good at focusing and extracting basic facts from auras, but the reading always took too much time to be a reliable gauge in quickly determining a person or object's character. So instead, she had found a much easier path to take. Izuyanai suspected that such a path had existed from the beginning. However, she assumed that her focusing had been far too pin-point to get the bigger picture.

What she could now see clearly was the color and texture of the aura. Not only that but vague impressions of the "smoke" came to her rather easily. From these scraps of information, the Kelvic could infer deeper meanings. All she had to do was stay patient and keep her senses open to new tip-offs.

Of course her newly tried wide focus meant less details. There were less complex facts and the information gathered was largely left up to her own interpretation. Aside from the vague feelings, she also had to rely on her eyes. Still, it was a much simpler method. With more practice, the raven was confident that she could improve on the draw backs.

Slowing down to a less brisk pace, she turned her magic on an enthusiastic vendor chatting with fellows and shoppers alike. She had to imagine casting a large net of magic as she had the habit of zooming in too quickly.

Sure enough, the successful attempt revealed an aura to the mage. This particular one was a spring green. Izuyanai automatically presumed lively, youthful, and perhaps naive. Another interesting aspect was the shape and texture of said aura. The light green formed a thin mist that wavered this way and that. The mass generally remained the same though it billowed around him in contorted shapes. That could signify adaptability or undecidedness. Izuyanai had no doubt the young man could chameleon his way through most social interactions. Just noting his behavior solidified her assumptions.

It still impressed her how different auras could be from one to another. Which raised the question...did two aurists see the same aura in exactly the same way? Perhaps another mage would have told her that the vendor's aura was white. Or perhaps they wouldn't rely on the same tactic and have an entirely different method of interpretation. Either way, would they arrive at similar conclusions? Was it one destination with multiple pathways? She would have to confirm her theory with a fellow practitioner or teacher. Izuyanai had a feeling that no two aurists received identical data.