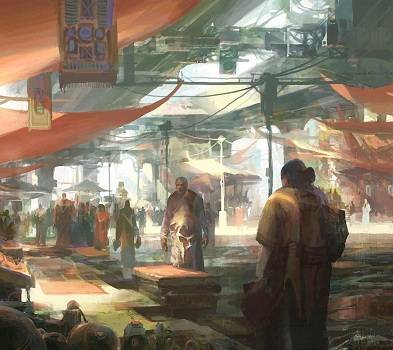 Description:
The Market was a whirlwind of sight, sound, and smell. The night before Market Day was filled with anticipation and preparation. The people of Mount Skyinarta banded together, working as one to carefully reconstruct this atmosphere on a weekly basis. Since Wind Reach is nowhere near a bustling city full of shops to satisfy any need, these resourceful people have made do with what they have. The basic necessities for everyday living and surviving are provided for each individual, but there was hardly anywhere to get the things one might not need, but want. This frequent festivaleqsue atmosphere is the result. Rain or shine, the people can look forward to selling or buying their necessities every ten days, without fail. After a grueling eight day work week, the progress in Wind Reach shifts as days nine and ten are spent in eager anticipation and preparation of the Market. Those with shops spend their time gathering their wares. The kitchens are filled to brimming with individuals baking goodies for their stalls, while Avora have to struggle for their rightful spots in the craft galleries as they begin to bustle with those who wish to try their hand at making knickknacks to sell. From sun up to sun down, multitudes of booths are erected and filled with almost everything an Inartian would need, as well as extravagances that no one really needed but everyone wanted, and entertainment.
During the Market days, the Courtyard of the Sky was completely transformed. Dozens of colored canvas's fluttered in the breeze, adorning the different stalls and tents as they served to shelter from the sun and wind. The booths were arranged around the edge of the Courtyard, forming a loose ring. These booths were of more common variety with easy access. If one was not in the mood for the Market or big crowds, this made it easy to skip by and pick up the essentials; foods, clothing, fabrics, and other useful, typical materials.
Another ring of booths was arranged within the first, and these were shops of a more special verity. Avora and Chiet whose daytime jobs consisted of other talents, used these booths to either sell their creations (for example, an apprentice glassblower selling the excess fruits of his labor) or those who began to tinker in a new skill and decided to try and make a profit. Mind you, only good workmanship was accepted into the Market. No shoddy paraphernalia was sold. These booths held a higher going price than the outer ring.
The final, central ring was the most expensive of all. Here, the masters of their crafts erected their stands for sale of their services. Custom made leathers, furniture, and stone masonry. Anything an Inartan could desire was theirs- for a price. There were also pre-made items available in the inner ring, but they were of the highest quality. Many of the wares sold in the inner ring catered to the Endal's and their Eagle companions, their aeries and their fanciful tastes. There were very few in the lower castes that could afford these prices.
However, things changed slightly during the fall and winter months. When Wind Reach was plagued by harsh rains and persistent snows the Market was held within the Stained Glass Gallery. The feeling of good natured fun that naturally hung in the air on this day was not dampened one bit by the inclement weather. In fact, the population of fierce red heads seemed to take it as a challenge. Even when the snow reached above even the tallest man's head, the Inarta all gathered within the gallery. There were a few less booths within, but to be fair to all, those that missed out one week would be featured in the next. It was a rotating system that worked to the benefit of the entire population.
Overseeing the whole Market was Derdain. Standing like the imposing bouncer he was, arms crossed at the entrance to the circles of stalls, no one dared to try and sneak past. It was tradition to tell Derdain ones business in the market. The conversation was short and concise, ending with a casual toss of his toward the stalls if one is admitted, a stern glower meant to send men running if one is denied. There was no misbehavior tolerated around the booths and their delicate wares, and Derdain made sure of this. Children were left at home or kept closely at heel. Any problems and all a shop owner had to do was raise a blood red flag above their stall and Derdain or his lackeys would come running to assistance.
Pricing
All goods sold within booths are sold at the
Price List
prices unless otherwise noted in booth. Customization is common in Wind Reach and all specialized goods cost double the original price.
The Food
This list of food encompasses the majority of commonly found ingredients in Wind Reach. Any other ingredients are considered uncommon or rare and may cost more than the PL price. PM and ST with questions.

[tab=Meats & Breads,#000000,white]
Smoked/Salted Elk
Smoked/Salted Moose
Smoked/Salted Bear
Smoked/Salted Boar
Smoked/Salted Halibut
Smoked/Salted Mountain Goat
Wheat bread
Rye Bread
Barely Bread
Fresh Bread of the Day
[/tab]
Fruits and Vegetables
Apples

Cherries
Peaches
Raisins
Elderberries
Plums
Green Peas
Currants
Figs
Mushrooms
Pears
Tomatoes
Carrots
Dates
Green beans
Asparagus
Onions
Prunes
Other
Wheat Flour
Rye
Sugar
Honey
Yeast
Molasses
Whipping Cream
Marzipan
Barley
Rice
Millet
Corn
Oats
Spices and Seasonings
Angelica
Anise
Basil
Chives
Cinnamon
Cloves
Cumin
Fennel seed
Garlic
Ginger
Horseradish
Lemon balm
Liquorice root
Mint
Mustard seed
Nutmeg
Oregano
Parsley
Pepper
Sage
Salt
Sweet cicely
Thyme
Tarragon
Woodruff
Oils and Nuts
Olive oil
Hazlenut oil
Safflour oil
Almond oil
Walnut oil
Almonds (nut)
Hazelnuts (nut)
Walnuts (nut)
Cashews
Pine nuts
NPCs:
Derdain
Mod Notes:
Feel free to self moderate any of these stalls or NPC's UNLESS it is a Players Stall or PC. Then, you must ask that PC to thread the shopkeeper exchange with you.
Original Location
Original Write-Up Credit: Phoenix