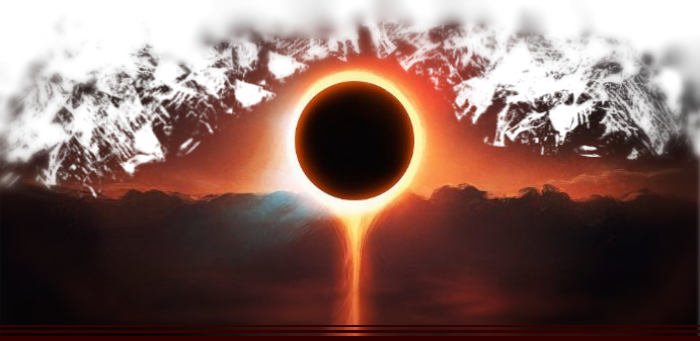 20th Day of Summer, 518 AV
It was quiet, all save for the rain.
It felt strange to be amidst so much silence honestly. Usually the Lakeshore was abuzz with activity around this time, as it was at all bells really. Day and night laborers, merchants, and folk of every sort toiled within the outpost to feed the ravenous appetites of the great city across the water, for paradise could afford no constraints on the frivolous wants of its children, nor permitted any. Thus, the titanic task of supplying Ravok with all she required fell to the people of the shoreline who served tirelessly in her shadow. Yet today, it was quiet. There was none of the usual din of foreign traders hawking their wares, or the tides of underpaid, faceless lumberjacks singing their folksongs as the work gangs marched off into the wilderness once more to claim what they could before the trees and the things they held host to chased them back again. No, the southern outpost was still today, and few souls dared to venture outside, let alone could find the vigor to raise a tune in such listless climate.
Today, it was quiet, all save for the rain.
And it had been this way for nearly a week now.
An unending, relentless downpour had assaulted the outpost, and for six days straight, gray skies and dark clouds had ruled over the land. The results had been a usually boisterous and thriving settlement slowly conquered by a prevailing sluggishness and languid appeal that affected all the weather touched. The streets were empty, and the all the doors were closed shut as it seemed everyone was more than content to simply wait out the storm than try to brave it. It would have been almost like a ghost town, had it not been for the few near do wells still skulking around in the mud.
One such near do well was Elias Caldera, and say what you will about the weather, but it made the scarred swordsman's work all the easier. A lot less eyes watching meant a whole lot less chance of someone noticing he was here, and considering the kind of shyke he was getting himself into lately, that could only be for the better.
"Oh, that's the stuff." The fat old smuggler sighed breathily. A cloud sticky, acrid smoke followed, wreathing his scarred face as he smiled.
"My patrol is in thirty chimes, Kale. You said you had something for me?" Elias warned bitterly, wrinkling his nose at the sickly sweet aroma.
Kale pulled the smoldering pipe from between his bearded lips and grimaced, snatching the bag of tobacco from the stryfer as he was offered it. "That's the problem with you youth these days," he exclaimed in a particularly condescending tone, "always in a rush, with nowhere to go. Can't waste even a tick to enjoy the good things you've got in life before you're off trying to get your hands on the next. It's a sad state we live in, I tell yah."
A droplet of water from a leak somewhere above landed on Elias's nose as he stared blankly at the old man.
He began to reach for the tobacco he'd just handed off.
"Alright, alright, damnit!" Kale cursed, flinching back before promptly pocketing his payment. That damn stinkweed the gnarly fool had demanded had cost nearly five gold coins! Whatever the 'retired' goon had dragged him out here to say had better have been worth it.
"You in particular should be taking your time, Caldera." Kale grumbled as he leveled his pipe at the young soldier. "This little 'tiff' you say you've got going with the Family is sure to shave a few decades off your life expectancy if you're not careful. Might as well enjoy yourself while you're still upright and breathing, is my advice. It ain't gonna be that way for long if you keep headin' the way you're headin'."
Elias suppressed a sigh. "You said you had something on them. Something that I could use." He pushed once more, trying to seem as dispassionate and unphased as possible. The truth was, hearing Kale put everything into perspective as he had, made the swordsman uneasy. It wasn't the first time either. He tried to hide it, but every once in a while his eyes would make a sweep of the warehouse the two of them were meeting in, cold blue orbs nervously surveying the dank, towering stacks of crates and moldering sacks piled about him. The rains had driven away the workers as they had done everywhere else, and the only people who now risked the weather were the two men standing at the building's center. Like before, Elias realized there was not here to warrant his nerves but a stale, mugginess in the air, the creaking of rusty cranes, and the '
drip drip dripping
' of a leaky roof.
They don't know anything.
He reminded himself calmly.
They don't know anything and they never will.
"Not so much a concrete, established 'something'…"
Elias's glare hardened.
"But more of a useful, potentially advantageous speculation."
The Ravokian's pale lips opened, clearly prepared to unleash a new and rather vile string of curses and threats, but for some reason, faltered at the gate. "…go on." He muttered darkly.
"Hear me out. This whole thing with the Druvin purging the city of 'deplorables' has really turned things on their head for a lot of people."
The soldier nodded. This wasn't exactly his first pogrom. They came like the storms in summer, reliable in both their intensity and their timing for the most part. Despite its appearances, wanton slaughter was nothing new to the dark city, and every once in a while someone important enough decide it would be good idea if 'those people' were gone. Some purges were small and contained, others grand and ambitious. This new focus on the more exotic races that plagued Ravok was nothing new, and the fact that it came on the heels of yet another cleansing -Morwen's Avantal- just made it seem all the more mundane and trivial. The truth of the matter was, Elias had lived here long enough to know none of it would last. Genocide of the lesser races was fine and all for stirring up the fervor of the locals, but it didn't paint a very welcoming picture for a city devoted to its image of perfection and sanctuary. You couldn't exactly draw in pilgrims and refugees seeking the enlightenment of Rhsyol when you were busy killing their kind in the streets by the hundreds.
It would end, like it always did. All Elias had to do was capitalize where he could, and avoid getting his hands bloody everywhere else. This kind of wretched work was not what he was meant for.
"For one thing, I'm sure the Charoda, Pycons, Akalaks and all the rest aren't too keen on it, but this has really done a number on those loyal citizens with deplorables as slaves. One can only imagine what its doing for the slavers."
Elias pursed his lips, brow furrowing in contemplation. Its true, any loyal subject of the Voice would be forced to turn in their property if it fell within the venue of those selected for destruction. That would mean willingly handing over a slave that would have likely cost hundreds, if not thousands of mizas thanks to their rarity and alien allure. He hadn't even considered what that might mean for the slavers and wranglers who dealt in their trade. It must have been a harsh, if not devastating blow to their bottom line… that, or a staggering boon.
"Now I would never suggest a family as steadfast and faithful as the Larks would ever even humor the notion of not upholding the law set by the Druvin, but…"
"but…"
"Well, there seem to be certain individuals who, since the declaration by the whites eyes, havebeen walking around town with a certain pep in their step and an extra jingle in their pockets, if you catch my drift."
"You have a name?" Elias inquired, interests now definitely peaked.
Kale grinned and adjusted his coat. "Mazrim Taim." He said with an air of innocent indifference. "By all accounts the man was a dutiful and stalwart servant of the Larks. One of their best slavers and sellers from what I hear. Then all of a sudden the purge comes along and he's up and gone independent like. Striking out on his own, as it were. Now if you know the Larks..."
"They don't indulge competition." The Caldera finished slowly, a hand now cupping his chin as he considered what Kale was getting at. So this 'Taim' was somehow selling off the forbidden stock of slaves the Larks had, though had been conveniently doing so under the guise of a slaver gone independent should the authorities ever catch on. To be honest, he wasn't surprised. Of course there would be those who'd be willing to spend exorbitant amount of coin on something like an illegal Ethafael, and for no other reason than because it was taboo. That was the problem with a city that had everything and wanted for naught, people grew bored and thirsted for danger, eager to skirt the edge, for what else did they have that could make them feel alive?
He would have to find this slaver, uncover his secrets, and expose the Larks as part of the plot...
Elias smiled.
Oh, is that all?
The stryfer's hands dipped into his cloak, retrieving a small pouch of coins. He regarded his old informant with a surprisingly grateful look. Kale never failed to disappoint, despite all the shyke the two often gave one another. This time it seemed, was no different. "As always, old man, a pleasure speaking with you." Elias cooed coyly, tossing the purse at the smuggler.
As the bag left his palm however, something buzzed at his ear, and out of instinct Elias's gloved hand quickly clasped around it, hoping to squish whatever annoying insect it may have been. Then the stinging came, a red hot flash of pain that ignited in his ear that told him something was wrong. When he pulled his hand away and looked at it, he saw the splotches of blood covering his palm.
Something was
vety
wrong.
The stryfer peered upwards, turning to Kale for an explanation, but as he beheld the scruffy smuggler, he saw just as confused a look in the old man's eyes staring back at him. He also saw the crossbow bolt protruding from Kale's chest, Elias's pouch of Mizas pinned dead center.
"That's… that's not right…" he heard the man mutter unsteadily right before he dropped to the floor.
Even as the gold and blood began to mix, Elias was spinning around, hand reaching for the pommel of his blade.
He wasn't quick enough.
Not even close.
Something punched into his side like a battering ram and he felt the air flee from his lungs. His legs gave out almost instantly, and before he knew it, he was on one knee, bleeding, dying, and staring into the faces of the three men who'd managed to sneak in behind him.
One of them was reloading his depleted crossbow, a contemptuous and sinister grin splitting his tattooed face in twain. "What did I tell yah, boys" he chuckled,
"Easy money."