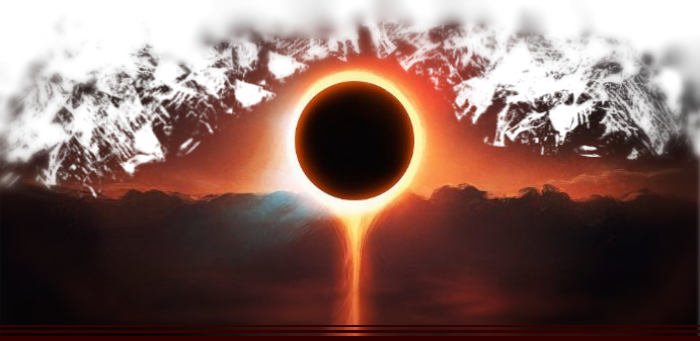 It had been three days.
Three days since the storm had come and the lightning reigned.
Three days since the chaos of the fires had set the institute ablaze.
Three days since the escape…
Three days since he'd fallen.
In all that time, Cainen couldn't think of anything else save for that singular, terrible moment where his legs betrayed him and he'd collapsed to the mud. It was all he pondered anymore, and the memory just kept playing over and over in his head. He remembers the madness that ensued when the fires began, men and women, the masters of this place he'd known his entire life to be the pinnacle of calm and collected even when performing the darkest deeds imaginable, suddenly turned to panic and terror in the face of the unexpected. He remembers how his mother had come barreling down the hallway, pushing aside the fear stricken scientists and doctors with a look of sheer determination in her eyes as if purely
in spite
of the tumult that surrounded her. In that instant she was everything he aspired to be. Brave, bold, and unstoppable. She'd ripped open his cage and pried him from his stupor with a sound slap across his cheek, only to then utter a single word into his ear as she held him in an embrace, the last thing he remembers her saying;
'Run.'
And so they had. They ran as hard and as fast they could. Cainen had never known haste like that before, nor the sheer dread in his chest that fueled it. He had been scared, like he was now, but as long as he was with her, as long as he was by her side that fear could be quelled, that terror silenced, at least just long enough to get one foot in front of the other.
Through the courtyard and across the field they fled. Past the watchtowers and right through the carelessly flung open front gates. Once an insurmountable barrier to his entire world, now just a thing standing in their way. Once they were through, he had seen the forest ahead, the dark, towering sentinel trees of lake Ravok as imposing as they were once just as unobtainable. Now, they were just a few more steps away, and they no longer represented just the edge of his reality, but the gateway to his freedom from it.
Then the moment that plagued his nightmares for the past three days. The tick that he knew would haunt him for the rest of his life… the moment he tripped.
Perhaps the worst part of it all was the look in his mother's eyes when his hand slipped from hers and she realized what had happened. It was a level of despair he'd never seen from her before, even when they'd beat her or burned her or performed the their heinous experiments upon her flesh, she'd never shown such fear as she did in that instant. It was as if all the strength and courage he'd always adored her for was suddenly washed away in the rain, and what was left was something too unspeakable and alien to recall.
She tried to turn around, tried to get to him, but his mistake was all their pursuers needed to catch up. He heard the shouts of the guards hot on their heels, the whizzing of crossbow bolts over his head, the snarls and wails of his mother as she disappeared into the wilds… without him.
After three days of reliving it all, the young kelvic found himself at his wits end. He was not accustomed to any of this whatsoever, and it showed with every nervous glance and jittery twitch. Part of him -a part he despised- was actually relieved when they dragged him back to his cell. His entire life had been the slow, morbid tranquility of KRI captivity. It wasn't sweet and it was wasn't in any sense of the word good, but it was bearable, if only because it was all he'd ever known. It wasn't until his mother had discovered his existence and begun filling his head with ideals and hopes did things begin to spiral so quickly out of control. Today was no different, but Cainen had a feeling he couldn't shake that eventually something here had to give. That grinding sensation only grew worse when the stranger with the sword had arrived.
"
So you're telling me that inside every one of them is a tiny, little creature responsible for

everything?
"
He heard the pale man mutter in awe. Cloaked in ebony armor and wielding a wicked blade upon his back, Cainen knew him to be one of the Ebonstryfe at an instant. He was not entirely unfamiliar with the soldiers of Ravok, they frequented this place often enough that he knew the telltale look of them already. Nothing but bridled fury and zealous arrogance all dressed up in black, and each one of them coiled like a serpent ready to strike at a moment's notice. This one though, seemed different. He was white, a sickly kind of white, like a ghost or a dying man, though if it was an illness that beleaguered him, it didn't show in the way he stalked across the office like a predator pretending it wasn't on the prowl. He smelled of smoke and steel like most warriors, and the way he spoke, low and cold, reminded the kelvic boy of a water snake he'd happened upon a few summers ago. He'd never seen one before that day, yet the hiss it made at him as he drew nearer had been enough to startle his instincts into gear and send him running in the other direction.
No such luck now. There was no where left to run.
Cainen had always been wary of such men, careful to stay out of their way and their line of sight if he could help it, but this man… something about him simply made the boy's skin crawl. The look on Amanda Nitrozian's face made him think he wasn't the only one that felt that way.
"
The Kelderon Mimic,
" he heard the young head scientist reply in a sigh. "
Both the bane of my existence and my eternal muse.
"
The soldier didn't look back at her, his hands busy trailing curiously over the countless jars and beakers that Amanda kept upon the walls. Each one filled with a foul smelling liquid and an even more vile horror of flesh and bone floating within.
Cainen hated being here. Mistress Nitrozian's personal office was not a place he relished entering on the best of days, but lately, he'd been seeing more and more of it ever since the escape attempt. They had hurt him after they'd caught him, naturally, punishing him for his foolish and childish attempt to leave, but he was not the only one who'd made a break for it and failed, and by the mangled screams and anguished howls he heard coming down the hallways that night, he was certain he didn't get the worst of it.
In fact, they'd given him a cushy new job after he was well enough to walk again. He was to be Mistress Nitrozian's personal attendant from then on. He'd serve her directly, cleaning up after her, tending to her every whim. He was rarely ever out of the woman's sight anymore, and it frayed his nerves to the bones. The lady Nitrozian was not a woman you ever wanted the attentions of. Compassionless, cynical eyes, always peeling you open with every studious gaze, dissecting you, pulling you apart until you were just the pieces of the puzzle she had yet to decipher. If the men and women of the research institute were to be considered callous in their studies, then Amanda Nitrozian was as apathetic and heartless as the butcher was to the butchered.
"
Fascinating…
" The stryfer cooed under his breath, eyes still glued to the plethora of diagrams and charts scattered around the room. Some were so complicated that it made Cainen's head swim just looking at them, and he couldn't even read.
"
So how does it work?
" He asked inquisitively.
Amanda frowned, folding her arms over her chest. She clearly did not care to discuss this, but never the less, she acquiesced. "
A question I've asked myself many a time. This entire institute, all of its scientists and doctors, all my family's money -most of my life- have gone into answering that very query. So, you see now the burden I bear and why I cannot tolerate interruptions like this.
"
Slowly, the stryfer turned to address her from over his shoulder. The eerie smile on his lips was patient, polite and demanding. Amanda stiffened, not quite scowling, but seeming to understand the unspoken impudence of her black clad guest. She shook her head, frazzled autumn colored hair dancing to and fro in agitation. "
The mimic was taken from another world -its name sake- by a team of Suvan scientists. Through some method we've yet to fully understand, they fused the Kelderon Mimic with animals and then infused those creatures who survived the process with blood from their creators, namely us, mankind.
" Amanda explained curt and concisely as if she'd been forced to recite her abc's. She seemed at conflict within though, as if part of her had no interest in enlightening this ignoramus of a man, while the other couldn't help herself but gush about her work. "
In order to assure their absolute loyalty, Marcus infused them with a power that bound the souls of the new race to his own so that deep within the Kelvics they had a need to serve with an ingrained sense of loyalty; the thing you've likely known as the 'bond.'
"
The soldier 'hmmm'd' thoughtfully, turning to look at Cainen who stood idly and complacent in the corner of the room. A fact the boy realized with a small start. "
Born for bondage. Catered for the cage. A race of slaves sired for servitude… they never stood a chance, did they.
" He muttered, mostly to himself it seemed. The kelvic made sure his eyes were set firmly to the ground and dared not look up again to meet the cold blues he still felt peering at him from above.
"
You think it cruel, I suppose?
" he heard Mistress Nitrozian retort with an amused snort.
The stryfer hesitated, mulling over his response for a while until it became clear he did not have an answer.
"
I sometimes find myself despising Marcus Kelvic as much I laud his countless accomplishments.
" Amanda continued bitterly, her dark cerulean eyes downcast in thought. "
To have allowed so much of his talents and work to be lost to time as they were; the coordinates to Kelderon, the infusion techniques, the ability to mold and shape life as he saw fit, all his achievements made at Ironrock and in the field

gone…

I suppose not even an Alvina could have avoided becoming another victim of the Valterian though. Now today, it seems as if only the grandmother of Marcus retains any semblance of knowledge on the matter, yet despite my many invoices and Ravok's generous offers, I've yet to hear back from Avanthal or that cold witch sitting on its throne. It seems she means to keep her grandson's secrets from the world forever.
"
"
I can only imagine your frustration.
" The soldier said with a strangely sympathetic candor. That seemed enough to snap the woman out of her crestfallen state.
"
You need not strain your imagination much, master Caldera.
" She snapped suddenly. "
Did you not see the scorch marks marring my institute's walls? The empty cages and pens on your walk to this office? The witless and worrisome fools I am forced to call my peers mulling about the place? My frustration seems evident, as does the limits of my patience which I have now exceeded with this idle chatter. My father said he'd be sending someone to resolve the situation. I didn't take it he meant for you to waste my time even further with this pointless rambling. I've told you everything you need to know about those deviants. Isn't it time you did something about them! Their message said they be here any chime now!
"
Cainen was doing his best impression shadow at this point, desperately trying to sink into the floors or the walls, anything that could get him as far away from this as possible, or at the very least not get noticed. Yelling like this often ended with him at the wrong end of a switch more often than not.
For all her usually imposing demeanor and indifferent airs, the young kelvic could tell Amanda was worried, and he knew exactly why. One of the few perks of attending the woman was sometimes he'd overhear things he wasn't meant to. That was how he knew why the soldier was here too. That was also how he knew why the others who carried swords and bows that usually patrolled the grounds were all of a sudden gone, their posts abandoned. Amanda had gone on a tirade early this morning when she realized the men were missing, yelling and snarling about family politics until she was red in the face. She had mentioned names like the 'Lurks' and the 'Validizarians' with utter contempt, terms Cainen had never heard before, but by the way she spoke of them, it seemed as if Lady Nitrozian considered these 'families' to be more than just mere nuisances and distractions like she did most other things that kept her from her research.
Cainen also knew why she'd been desperate enough to go so far as to contact her father for aid. It seemed no coincidence that her protection was called away so soon after the escape, especially not when rumors were abound among the scientists that the escapees were coming back. Apparently they learned of this impending threat via an arrow through a window with a crudely written note tied to it, he'd heard. It seemed as if they were returning not to turn themselves in or beg for forgiveness as some of the more delusional humans had imagined, but instead to burn this place to the ground and free their brethren from their chains as they had been freed.
The thought of it alone was enough to make even the stoutest hearts waver… or the smallest hopes blossom.
"
Be at ease, my lady.
" The man named Caldera casually assured his near frothing compatriot. "
We are prepared, you have my word. As long as you and your colleagues have availed yourself to my instructions as I laid them out, all we need do is await the appointed hour of your Kelvics and all should be-
"
The pale man's words trailed off as a light from outside the office window illuminated the glass. Cainen stared at it in quite wonderment and mounting unease. The sky outside was the color of a bruise, the twilight hour having almost ended by now and the darkness eagerly coming to claim its place over all. Amidst the backdrop of the night however, a smoking stream of yellow and oranges now pierced the skies, and the boy realized it was fire. A ball of fire, to be precise, hurtling through the black.
"
Ah, speak of the Defiler. Our guests have arrived.
" Caldera said with a knowing smile. "
That was one of my glyphs they triggered. They won't be far now. Lets go greet them, shall we.
"
Cained heard a clicking noise and after tearing himself away from the window, realized it was the Stryfer snapping his fingers at him, beckoning to come over. He glanced at mistress Nitrozian reactively to see what she wanted. She shot him a hard glance out of the corner of her spectacles, then nodded. Nervously, he made his way over to the man's side, but he barely reached the tall man's hip in height and was forced to look up at him. The soldier's cold gaze fell upon him fully now, and Cainen suppressed a shudder. He noticed the man's hand was still outheld for him though. He didn't have anything to give, nor was he being offered something. It took him an uncomfortable tick to recognized what the gesture meant. Without recourse left to him, he anxiously placed his hand in the man's. Instantly, it was enveloped, black gloves consuming Cainen's comparatively miniature and dainty fingers. The next thing he new, they were walking, leaving the office and traversing down the clinically clean hallway that lead outside. For some reason, the boy was surprised by the touch of the pale skinned soldier. It was a great deal more gentle than he had expected.
"
Canden, was it?
"
"
Cainen, master.
" The boy stuttered in reply. They were passing a number of other scientists lining the passageway. They looked scared. Some even wielded weapons like crossbows and clubs, though they appeared as comfortable with weapons in their hands as they would a swarming hive of bees. They weren't warriors. Most couldn't even pretend to be.
"
Your mother sounds like a brave woman.
" Caldera continued, his eyes locked front and center as their pace quickened. "
It seems she's come back to take you with her. Isn't that lovely.
"
Cainen didn't know how to answer that.
"
I predict there will be a great deal of yelling and shouting and threatening to take place soon. I don't want you to be frightened by it, but more importantly, I don't want you to get caught up in all the excitement either, do you hear me?
"
He nodded vigorously.
"
She will call to you boy, as all mothers do. You will not go to her, understand? You will not move from my side until I allow it. Otherwise, I cannot insure your safety… or hers.
"
They were getting closer to the door. Closer to this confrontation he had no idea how to handle. Cainen hesitated. He could feel that pit in his belly he got when things were coming undone around him. It was strangling sensation of dread that made his limbs weak and his brow sodden with sweat. He felt as if he couldn't breathe, like the air in his lungs had simply decided it had better things to do than keep him upright and moving anymore. His chest was tightening, his eyes bulging. He didn't-
"
You're afraid.
" The words snapped him back to reality, and with a shock, he realized he was face to face with the soldier now, the man having taken him aside and knelt down before to match his height. His face was covered in scars both small and large, and every time his mouth moved to speak, they stretched and shrunk with hypnotizing effect. "
You're afraid, and you've every right to be.
" Caldera continued, his harsh glare trapping Cainen's in its icy grasp. "
You believe you know exactly how this is going to end, or worse yet, you have no idea, and its petching terrifying. I understand.
"
The boy stared at the soldier, puzzled by this sudden turn in tone and tenor.
"
They're entering the yard.
" He heard Amanda sneer from behind him as she peered out the oval windows of the front main doors.
"
I used to feel the same thing you're feeling right now. That trepidation. That fear.
" The stryfer held his hand aloft between them, and Cainen watched in equal parts alarm and awe as some sort of ocean blue…
thing
, began to pool and float just above his palm. It was like nothing he'd ever witnessed, and trying to describe it's characteristics proved more and more impossible as its size steadily began to grow. Was it gas, was it liquid, or some kind of combination of both?
"
I use to feel it all the time, because I use to believe -and perhaps I still do- that if something could go wrong, it would. But then I discovered something.
" The soldier said, an unbeffiting smile touching the corner of his lips as he placed a hand over the top of the strange, undulating orb, and twisted. "
Not everything is as it appears,
" He whispered as the mass of blue magic suddenly burst into a thousand tiny droplets swirling and and dancing around them both. Before he knew it, the blue was gone, vanished before his very eyes. In its place was left the same smiling stryfer. "
And not everything is worth being afraid of.
"
Once more, Cainen was offered his hand, and once more he took it as the three of them -he, the Caldera, and Amanda strode out the front doors and into the grassy courtyard of the Kelvic Research Institute. Awaiting them there on the other side of the grounds was a cadre of men and women, each armed to the teeth with all manner of rusty weaponry and scavenged bits of armor. Cainen had eyes for none them however, for at their center, and leading at the head of the pack, was the largest and most menacing dire wolf he'd ever seen in his life. Taller than a man by half and nearly twice as long, its fur was a mottled and grayish patchwork of old wounds and ragged reminders of battles long past. Familiar dark eyes peered from beneath scarred brows, and as they settled on Cainen, he couldn't help but smile.
"
Mom.
"
WC - 3570