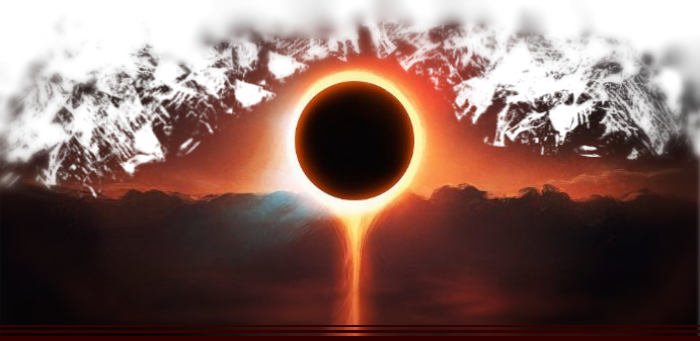 5th Day of Winter, 518 AV
It began with a great shattering of glass.
A thunderous, booming clatter that all at once enveloped the entirety of the outpost, turning every startled gaze to the courtyard from whence it had erupted. It was a sound that heralded the beginning of a much needed change, the swordsman thought to himself as he leapt from balcony. Like all change, it would be painful, yet now was not the time for doubt or squeamishness at the price to be paid. To adapt was to survive, he mused grimly, landing on the hard packed earth with a crunch of broken glass beneath his blackened boots. To evolve and grow stronger, faster, smarter, to emerge from the desiccated cocoon of yesterday a better being -that is what his path promised. Not everyone would follow, not everyone could, but for those who spurned this righteous ambition, for those who would dare to stand in the way of progress clinging to the old and the infirm, there was only one recourse… only one answer.
The crackle of glass underfoot grew louder and louder as Elias drew near his squirming quarry. With one hand he seized hold of the coughing, wheezing woman laying at his feet, the ruptured remnants of a window lying about her bloodied form. As if she weighed naught but air, Elias took her by the armored collar and lifted her from the ground to the sky high above his head so that her downcast and delirious gaze could meet his one last time. Jessica Lazarin struggled to lift her head, stray strands of raven black hair clouded her vision, and the many shards of splintered wood and specs of blood served only to make it worse, but at last her eyes finally fell upon the pale, scarred face of her accuser once more. A face that held no pity or satisfaction in its countenance, merely the look of a soldier going doing his duty, for what hard felt and dire emotions did a man feel when stepping on an insect?
"I'm afraid I don't know what you mean, Mistress Alenta." The pale mage replied, grimacing slightly at the crumpled up piece of parchment that had just unceremoniously bounced off his chest. He knew of course what was written upon it, just as he also knew the far reaching ramifications those simple written words would have.
"I know you don't know any other way Caldera, but don't stupid play stupid with us." Jessica countered condescendingly. The Lazarin Commander's ebony armor creaked and groaned ever so slightly as she turned away from the window she'd been casually considering while this interrogation went on. They were on the second story of the main 'administrative' building that dominated the main block of the outpost. While it's unassuming wooden structure may have looked plain and lackluster, the fact of the matter was this place was the veritable heart of the Northern Outpost. It was only two stories tall, yet that made the building the tallest thing in the entire encampment save for the walls, a perfect vantage point for one to survey their domain with a relative sense of control. A fact Elias was certain Samara Alenta relished as much as she despised.
The Paladin shifted wordlessly in her seat across from the Caldera's, her posture -even in something so mundane and casual- never lacked in that seemingly effortless grace and sensuality the woman constantly radiated. It made the young man grateful for the large oaken desk that divided them, but it did little to obscure him from her unexpectantly scrutinizing gaze. Matching her sultry appraisal with his own of apathy and indifference, Elias realized she looked… tired. The mage couldn't blame her. This place was a leech, one that did not befit a woman of her peculiar appetites and skills… He assumed, of course.
"You think you can just stride in her and pretend like you've no idea what your master is planning?" Jessica's demanding tone brought the stryfer attention back to his fellow officer. She was standing at his side now, arms crossed and towering over him in a blatant attempt to make him feel small in his chair. "Half of our number restricted to the Lakeshore garrison, including my own men!" She was getting angry. "How convenient then it is that they are to be replaced with Malachai's units!" Then again, she was always getting angry. It seemed to be her unfortunate disposition at all times of day. "How did he manage to convince Marshal Corinthia to approve a redeployment. Why now? To what end!" A gauntleted fist slammed into the table, toppling a stack of neatly folded papers on Samara's side along with a rather sizable jingling pouch on Elias's.
"How is it," the sorcerer began calmly with a grunt as he bent down to retrieve the pouch from where it had fallen, "That you came to believe that it was Paladin Quinn's proposal to move your troops, exactly?" The question had been looming ever since he'd entered the outpost leader's office under the false pretense of deliberation. Somehow, some way, Alenta had learned the truth, and it wasn't from the orders she'd received either. That document that had been so inelegantly chucked at him earlier merely stated the basics, that Samara's men were to be deployed elsewhere on the orders of Lord Marshal Corinthia, not that Quinn's would be the moving his own troops in to assume their role. True, Quinn did serve under the marshal, but so did many other paladins and commanders. How had the seductress unraveled the truth?
Lazarin tittered arrogantly, straightening herself to full height when she realized her literally heavy handed tactics weren't working on the blue eyed commander. "You're out of your debt, Caldera. You and that cyclops. You think these wilds a waste of time, but you do not understand the riches they hide. My Mistress does, and she has grown powerful as a result. Your secrets are not your own and never have been. We can see everything you-"
All it took was a look from Samara to silence her subordinate in an instant. She had barely moved a muscle, hardly even moved a hair out of place, and yet from her position of comfort and observant indifference, the paladin had projected a level of dominance and power that had even an incessant blowhard like the Lazarin clamming up with a flinch of surprise. As the other commander went silent however, Elias felt that malicious attention now fall on him.
Samara smiled, a wonderous and enthralling thing to behold that -if rumors were to be believed- had been downfall of countless dimwitted men and women in the past. He could see why. Lush and lascivious in their beauty, the way they parted -like the blood red petals of some exotic flower. The sight of them alone was a mesmerizing sojourn into all the lust filled depravity his mind could conjure. She was a fine woman indeed, one that did not deserve to be hidden away in all this mud and grime. Ravok is where she belonged, and there was so much Elias could do for her there… could do
to her
there. If only there was a means to-
Wait.
So lost in his wicked fixation that the mage had barely just realized the paladin was speaking. He felt his jaw begin to click, his tongue swelling to purpose in his mouth. He was saying something back, or rather, was about to. A harrowing realization given the fact that he had no intention to prior. The chill of surprise was enough to snap him back to reality with an unsettling intensity.
"I…" Elias stuttered, blinking profusely as if he'd just gotten up too fast. "Forgive me, madam Alenta. What was it you asked?"
Samara's grin only deepened, red velvety lips pressing themselves-
"I asked; What is that old hound dog Malachai up to, hmmm?"
Elias cleared his throat and shifted uncomfortably in his seat. Even her voice felt like silk against his ears. "Like I said before, I have no idea. The complexities of High Command's machinations are far above my head I'm afraid. I'm just a soldier doing God's work, as ordered. Truth is, my business here today, as I informed Commander Lazarin was-"
"Ah, of course." Jessica snapped derisively before turning to the opposite corner of the room. "How could I forget, your little request."
Dark eyes fell upon the lithe and modest figure of a young man standing in the corner.
Like a shadow…
Elias thought to himself as his gaze met Rook's. The redheaded wolf had all but disappeared from notice during the heated argument between the humans in the room, content to simply blend in with the nothingness of omission. The stryfer had to wonder if that was just a skill he'd taught himself, or was there some kind of magic behind the pup's ability to be forgotten when he wanted to. Well, the spell had been lifted unfortunately, and now every eye in the room was looking at him intently.
"The Kelvic is not for sale. I care not how much coin you've come to bargain with. Rook has proven…
invaluable
to me. He has a particular skill when it comes to weaving the most interesting tales. In fact, you might be interested in hearing some of the stories my wolf has whispered to me." Elias's retort was a sudden shift. His nonchalant and innocent demeanor darkened in a blink. The charade was gone, and its place a glower was cast against Jessica, but the woman remained undaunted. "My favorite so far is the one about the scarred fool and his wayward whore. Perhaps you've heard it already? How this fool dared to stand up against a great and powerful family for the sake of a mere slave. Warms the heart to hear it told. Rook, why don't you regale us with the tale while our guest here contemplates how he's going to return to his master and explain how he failed in securing his objective, because you
will
fail, Caldera. You think one marshal is enough to waylay our designs for this place? I'm a Lazarin you fool, we
are
the Ebonstryfe. I'll have these orders overturned before the day is done."
She leaned in close, her voice, calm before, now almost serene in its certainty as she positioned herself squarely in his face. One hand on the desk and another on the back of his chair, making it very clear who here was in really in charge. "So crawl back to that traitor you call a master, that broken slave you call a lover, and remind yourself of your place, or…" She muttered grimly, sliding a serrated knife from her hip and slamming it into the desk. The crack of wood followed, as did the sliding serenade of coins slipping from a now torn open pouch of gold. "I will gladly do it for you."
To place a dagger before a son of the Stryfe only meant one thing among those of the black order; The threat of a duel, a challenge being issued.
Finally.
She believed herself more than prepared for this, perhaps because she believed she knew everything there was to know about Elias and reckoned herself more than his match, but in this she was wrong. It seemed as if Rook hadn't told her
every
tale he knew, for Jessica Lazarin had just started a fight that would be her last.
Elias didn't bother with words, for his response could not be more clarion. His hands fell upon Jessica without another word. The time for 'words' was over.
…And so it began with a great shattering of glass.