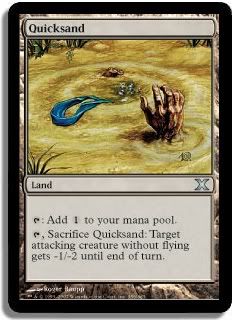 I call it Quicksand not because I'm fast in replying (nowhere near!) but because you are about to be sucked in and smothered... by all the awesomeness!

First, an analogy on posting with me. I used this in another game and it served me well.




Sometimes you will be posting with Colombina, and you'll be thinking, "Wow that Colombina sure is something. The kind of mod I could take home to mom. Posts a lot and decent writing!" And Colombina will nod and smile and bake you cupcakes, and you'll think she is the best.

But then one day Colombina will stop returning your PM's in the same day and you will find receipts from dinners she had with her own PC's. And you will say, "Colombina, baby, I thought we had something!"
And she'll say, "You know I still dig you! I'm just hanging out with the girls."

Then comes the day when you realize, Bina hasn't posted in a while and her signature is ominous. You get sad and start leaving her confused PM's asking about the status of your relationship. And Colombina finally says,
"I promise you're still great, but the timing just isn't right for me."

You fume, you gnash your teeth, you wonder why Eyktol ever introduced you to that minx Colombina and swear you're deleting her from your AIM buddies.

But then a few days pass, and you remember the good times you and Colombina had. And lo, she's here again. And she brought cupcakes. Maybe things are gonna work out after all.



~*~
Now talk to me, Playahs. I patiently await your input.
I'm AWESOME