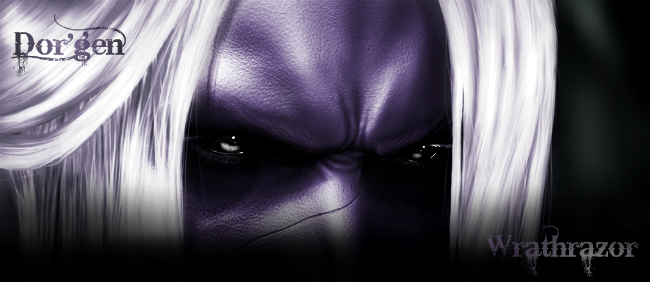 .


Immediately following the forming and descent of the words from Dor'gen's mouth came a silence.

It lasted for only a few ticks, but it was more than long enough for the Akalak to indulge himself in another taste of his beverage. Reaching out, his fingers coiled around the cool mug before drawing it up to his lips. His head tilted back, coaxing the rich liquor into his waiting mouth. The rich, bittersweet flavor then cascaded over his tongue and raced down his throat; prompting hearty swallows on the Akalak's part. Over and over and over, he took large gulps...until the mug was completely and utterly devoid of its contents. There was...a tinge of dissatisfaction when there was no more ale to consume, for the body had only just begun to enjoy the sensations.

Warmth spread across his torso as the alcohol went down, coupled with a light tingling in its wake. Satisfaction...yet there was room for much, much more. Setting the mug down, the Akalak motioned for the tavern waitress once more, who hurried over as swiftly as her feet could carry her. Reaching underneath the counter, she promptly retrieved a pitcher of ale and set about refilling both Dor'gen and Jade's mugs. Once she was finished, the left the pitcher just within reach of the pair before hurrying off to fulfill the order of another patron who called for her attention.

Then came the woman's inquiry...to which a small smirk formed on his lips. A single mug of ale resulted in a touch of fire being ignited within her; as if the liquor had awakened her "inner Sunberthian". Whether this was just the alcohol talking or her true nature shining through, Dor'gen did not know. However, he much preferred to be in the presence of a "strong" woman over a "meek" one.

"I am from Taloba."

he began, reaching for his mug. Before continuing, the Akalak took a moment to slide his gaze over to Jade...before raising the mug to his lips. In but a matter of ticks, he completely and totally drained the mug of its contents once more before slamming it down upon the countertop. "I was raised in the Jungle by what you Humans like to call

Savages

. Myrians: named for our Queen who felled a god herself."

Now, of course, the Akalak presented this information with pride...and with a sort of challenge. If the woman was now growing bold, how bold would she remain knowing that she was in the midst of someone who would eat her? (And not in the good way.)

With that said, Dor'gen reached for the pitcher and refreshed his mug. He then looked to the woman with a challenge in his eyes.

"You ask, I drink. I ask, you drink."

he said, before picking out a random inquiry.

"Now then, how did you end up in Sunberth? Are you a native or are you a foreigner like myself?"
.
.