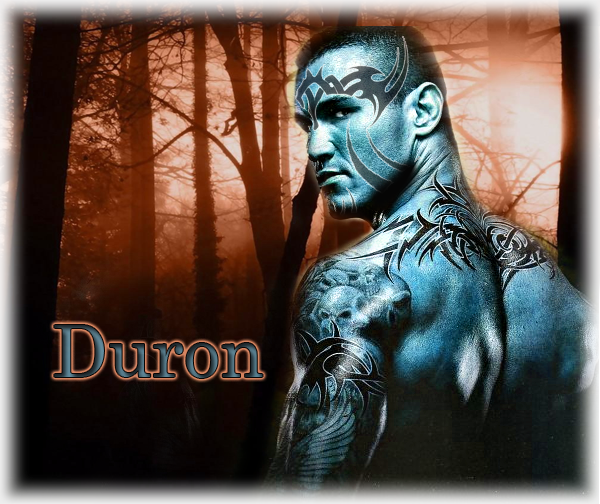 The cerulean watched with cold eyes as the myrian woman stumbled backward at his kick. Aferan felt bad for the amount of force that he put into the kick. However, Duron had a feeling that the myrian woman would be insulted if he started pitying her, so he buried his thoughts of compassion for the sake of Ayatah's pride. The myrian quickly recovered from his strike, and the reject have her a smile at her determination to continue the spar. When Ayatah's attack came, the akalak watched her first attack with the right dagger slash upwards from his waist to his shoulder. The cerulean knew that he had no chance of parrying it, so he jumped backward out of reach of the first slash. Being to focus on the right hand, he didn't notice the left dagger coming towards his face. Feebly, the reject brought his left fist up in front of face and brought his arm up into a high block. This block was meant to intercept the left dagger or fist, but he was to slow with his block to intercept the left hand, so Ayatah's fist connected with his mouth. If it was a real dagger, she could have killed him, but luckily, he was just struck in the jaw by her knuckles.
When Ayatah fist struck him in the jaw, Duron felt the pang of pain for a moment than dizziness. Stumbling back, it took a chime for him to fully recover for the blow. For most of the chime, the tattooed akalak stood in place as he rubbed his jaw to make sure nothing was wrong with it. Looking up at Ayatah, the akalak said with nod of respect,
"I would be dead if you used your real blades. Good strike, Ayatah. I will have to use that combo in the future."
Rubbing his jaw, Duron gave the warrior woman a smile. He was really enjoying his spar with this woman even though he was starting to tell if she got serious with him. He wouldn't stand a chance against her. The cerulean knew that he should just distance himself from her, but he wanted to get to know her after her spar. It was obvious that he was attracted to her physically, but he was curious about her life in the Falyndar. He was sure that she had fascinating stories and secrets about the jungle that she could share with him. The akalak laughed and said with a wink,
"However, if you kill me, I plan on haunting you. You are forewarned, myrian!"
Getting back into his stance, Duron held the lakan, so the wooden blade came out the top of his right fist. As he held the lakan over the top of his head, he made sure the wooden blade was protecting the left side of his face and his right fist was protecting his abdomen. When the reject stepped forward, the cerulean brought the lakan around his head and slashed horizontally across her chest. He was anticipating for the myrian woman to either jump back out of reach of his lakan or step forward and block or parry his simple dagger strike. He would come up with own combo if he caught her off-guard, but figured that he would need to think on his feet to win this round.