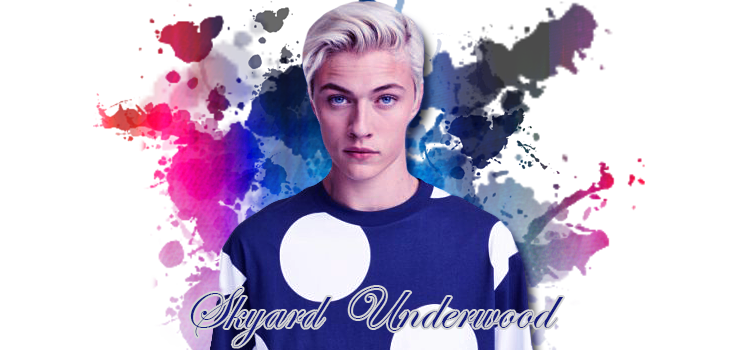 Skyard listened to the boy as he spoke, and Kuame told him about how he had a friend that was also a Kelvic. He seemed to be perfectly fine with the fact that he was a kelvic. Skyard learned that a friend of Kuames was a kelvic Buffalo although he's never seen a buffalo at all. Skyard had been incredibly relieved that the young man hadn't freaked out about the fact that he was a Kelvic. A sigh of relief exited his lungs as he said so and grinned at Skyard almost in a fashion that gave Sky the feeling of acceptance. He followed up the first question with a second one, about rather or not he was good with the preparation of food. Skyard had to be truthful and tell the boy that he hardly eats any cooked food.



"Kuame, truthfully I don't generally eat food that is cooked. Normally I eat it the moment it is taken down and swallow it up while it is still nice and warm."

He spoke comfortable being that he knew Kuame was accepting of the truth. He asked questions again, my goodness was this boy intelligent Sky thought to himself as he smiled at the boys questions and alertness. He wanted to know rather or not Skyard could fight, and if he could teach Kuame when he was of proper age. Skyard most certainly didn't mind at all because of the fact that he was taught by force, but when someone was willing then he definitely would. Skyard enjoyed the little boys company and chuckled a bit when he asked about rather or not Skyard fought.



"Tell you what my young man, I will teach you to fight when you are older. You are just fine, and you can ride me when I change forms. That is quite alright with me, Kuame!"

He spoke excitedly in order to make the boy smile and promote positive reactions from him. Skyards ultimate goal was to be as impressive as possible; the little boy seemed to be fascinated with him. Skyard knew very well that the little boy wanted to keep him around and the very thought made him happy. He smelled the food, and noticed how appetizing the aroma had been, and the very moment that she called he stood erect. Skyard was incredibly hungry after the encounter they'd had mere chimes earlier.

She intrigued him with the words "it's a Myrian specialty" Skyard expected nothing other than the best now; a woman that could battle and cook? Skyard felt as if he had it all in one woman; not only was she gorgeous a warrior a hunter a responsible mother, but now she was a cook as well? Skyard couldn't have possibly been more impressed until the moment Kuame had an outburst. Skyard burst into laughter as Kuame seemed to have seen right through the small lie that she told. "It just means that she's burnt it a bit." Kuame spoke and Skyard laughed to bits immediately due to the fact that his first bond mate used to do the same thing. Skyard didn't mind at all, and after a moment of laughter he had a seat at the dining table. He smiled at Ayatah and asked a question based upon one of the multiple questions Kuame asked.



"Ayatah, I did want to ask you something. Kuame here wants to know rather or not I'm your.. "boyfriend"

and I wanted to know as well. Am I your boyfriend, Darling?" He teased her and gave a wink to Ayatah as he beckoned her with the question. Skyard knew that kuame would immediately react to the question he'd just asked Ayatah and couldn't wait to hear the result.