I have no idea where this idea came from, but it seemed very Alvadas-esqe, so I rolled with it.
Now we wait for that new ST to come around

One note: I know Puppeteering isn't a listed skill, but I wasn't sure what other skill could fit in it's place. If that's an issue, please tell me. Feedback is definitely appreciated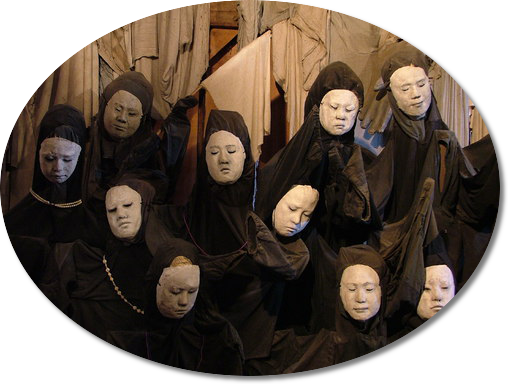 Infamous throughout the streets above and below Alvadas, Ionu's Stand is an unassuming table decorated like a tiny theater where a range of puppets take to the stage. Traveling both on Alvadas' streets and in the Underground, the stand puts on two very different shows depending on where the sun is in the sky. Nothing if not inconspicuous, one wouldn't think to give the small stand more than a brief glance as they passed.
That is, until the show begins.

Run by a man that's a little less than sane and has more ability than tact, the stand draws crowds of cheerful children by day and curious victims by night. There is a vast different in the 'day' shows and 'night' shows, with many of the daylight ones being whimsical and upbeat, while the moonlit ones have the ability to be downright disturbing. The owner, a man that introduces himself only as 'the Puppeteer', has no boundaries when it comes to his craft.

By day, the shows target mainly children. From all backgrounds, all walks of life, young Alvads flock to the delightful little stand. Children watch for free, whilst adults are asked to provide a small fee to watch. Not that the Puppeteer can stop passers-by from spectating without paying, though it is rumored that the less generous patrons can easily find themselves as the subject of the next nighttime act.
By night, the previously inconspicuous and delightful little stand remains appearing as an unremarkable thing, but when a slightly smaller and marginally more mature crowd gathers, the

real

show begins. From scenes of a puppet's murder in which the doll in question looks eerily similar to an unsuspecting onlooker to a show that dictates the worst fear of a clueless victim, the puppetmaster's shows know no bounds.

Beloved by children and often feared by adults, Ionu's stand is particularly popular among the orphans of the Underground. Many of the puppets are created by the children, resulting in a diverse, if somewhat patchy range of actors in the Puppeteer's show. These children largely decide what kind of show will be presented in the Underground, since there is effectively no day or night. No matter the time of day above ground, if a crowd of children gather, the show will be akin to that of the day's. If a group of adults gather, the show will be night themed. With an affinity for the innocent, the Puppeteer would never dare put on one of his more mature shows in the presence of a child. But in the evening, when the crowds are sparse and the audience much more mature, there are no limits. A select few children man the stand during these nighttime shows, oftentimes the older ones who have been around for much longer. It is rare to see more than one or two of the miniature puppeteers, and not uncommon for them to disappear during the show itself.

Most of the time, the Puppeteer never leaves his station, concealing himself underneath the cloaked stand behind the curtain. The children do much of the interaction for him, collecting fees and tips while he stays back to continue the show. There has been a running joke about the Puppeteer that he himself is a puppet, for no one has ever reported seeing his face. Referred to as "Father Puppet" by the children, not much is truly known about the Puppeteer. If one has never seen or heard of the mysterious figure before, it would almost appear as if Ionu's Stand was running itself, the puppets never wavering and the show never stopping as the days and nights pass on. If nothing else, one thing is certain about the Puppeteer's beliefs: the show must go on.


Children -- Free
Adults -- 5 Silver Mizas
Elderly -- 2 Silver Mizas





The Puppeteer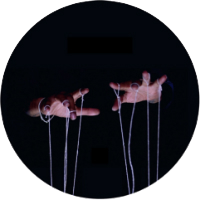 Name:
Putali Smith
Race/Sex:
Human/Male
DoB: 28 Spring 458 AV
PoB: Lhavit, Current Residence in Alvadas
Title:
The Grand Puppeteer
Notable Skills:
Puppeteering 94
Acting 29
Impersonation 50
Auristics 77
Storytelling 65
Additional Info:
Better known as the Puppeteer, Putali Smith is a confusing and sometimes malicious man, a man with the ability to both charm and disturb those he entertains. Putali immigrated from Lhavit to Alvadas in search of adventure, but what he got was rather different than what he expected. A man obsessed with mysteries and magics, he actually ended up driving himself insane chasing down the illusions that had so often fascinated himself with. His insanity connected him to what he would announce to be his passion: Puppeteering. To him, each puppet is much more than just a toy. He treats his creations like they live and breathe, creating them with care and treating them better than he treats the more humanoid people he interacts with.
After several years of busying himself with solo puppet shows, Putali created a puppeteering stand, which he introduces as nothing more than 'Ionu's Stand'. For years, he utilized his auristics to tailor shows to terrify onlookers, before gaining the attention of Ssena for his craft. "Blessed" with the first mark of Krivas, the Puppeteer's shows went from eerily familiar to downright terrifying during the night.
Distant and cold to adults, the Puppeteer shows a certain kindness towards children, often portraying himself as the 'eccentric uncle' sort of figure towards the children of Alvadas' streets. Extremely protective of the children, he often ends up recruiting them into his shows, as voice actors, puppet creators, and even novice puppeteers. It is not uncommon to see several young children running in and out from behind the curtain of Ionu's Stand, holding puppets, strings, and mizas as the Puppeteer performs his show. Each of the "adopted" children are given nicknames by the Puppeteer himself, usually based on their ability or hobbies. Collectively, they are referred to as the "Puppet Children"
Marionette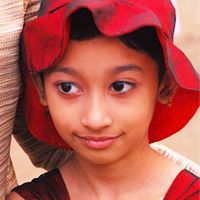 Name:
Maisy
Race/Sex:
Human/Female
DoB: 6 Summer 506 AV
PoB: Alvadas
Title:
Novice Puppeteer
Gnosis:
None
Notable Skills:
Puppeteering 28
Impersonation 10
Storytelling 30
Additional Info:
One of the many orphaned children the Puppeteer has 'adopted', Maisy first met Putali when she was six years old, coming to him after spectating one of his shows and asking him to show her how the puppets worked. A child with a knack at storytelling, she adored the act of puppeteering, and quickly became one of the Puppeteer's favourite pupils. Earning herself the nickname "Maisy Marionette", or more simply "Marionette", she is one of the most frequent helpers of the Ionu's Stand shows. She often plays many of the female roles during the day shows, despite her young age.
Timid with strangers, she usually hides behind the stand instead of interacting with the crowd. She is, however, partial to a story, and can be drawn out to either listen or tell one herself. Popular among other children but rather antisocial herself, she is one, if not the most well-known "Puppet Child".
Strings
Name:
Klarress
Race/Sex:
Vantha/Female
DoB: 1 Winter 510 AV
PoB: Alvadas
Title:
Puppet Creator
Gnosis:
None
Notable Skills:
Carving 28
Puppeteering 10
Begging 15
Additional Info:
On the younger side of the Puppet Children, "Strings" earned her name from her favoured job of stringing the puppets before the shows. During the shows, however, she is one of the many children happy to join the crowd, collecting tips and fees from patrons. She is a fairly social child, making good friends with the other orphans, especially those who make the puppets themselves. She and Brush are often seen together, Strings completing the small details on the wooden puppets her fellow orphan creates.
Her colour changing eyes are often bright pink out of happiness, though they soften to a yellow when she is more calm. Blue for fear, aquamarine for apprehension, orange for anger, green for confusion, and red for excitement. This, her name, and her aptitude for carving are the only real traits she shares with her Vantha blood, having been abandoned as an infant and never knowing her parents. The usual closeness of Vantha families has been completely severed biologically for Strings, so instead she compensates by creating her own family: the other Puppet Children of Ionu's Stand.
Strings came to find Ionu's Stand when she was just two years old, assisted by a sister who has long since disappeared. Cared after by Brush now, the pair find food from the Puppeteer and home in the sheltered corners of the Underground.
Brush
Name:
Coltus Silverpalm
Race/Sex:
Isur/Male
DoB: 58 Fall 502 AV
PoB: Alvadas
Title:
Puppet Creator
Gnosis:
Izentor (1)
Notable Skills:
Carpentry 38
Puppeteering 15
Storytelling 25
Painting 30
Additional Info:
A much more behind-the-scenes kind of boy, "Brush" has an aptitude much more towards creating the puppets rather than wielding them. Orphaned at five years old, his Isur heritage leaves him with a deep blue arm and bright silver veins, but not much else. The Isurian arm helps him out greatly when it comes to molding the puppets he creates. He can very easily create rough puppet shapes to be passed on to his counterpart, Strings, who carves the rough shapes down to the intricate puppets used in shows. Named for his ability with paint and paintbrushes, Brush is an extremely creative, if secluded, individual. He is also one of the older Puppet Children, meaning that, though he doesn't enjoy the job, he often ends up helping with the night shows when no one else is around to do so. He is often seen in the shadows nearby the Stand during these shows, working on one of his puppets, until it's time to collect the mizas from the crowd or puppeteer an extra character.
Unfortunately, though Ionu's Stand and the Puppeteer provides food and comfort for the orphans, it does not provide shelter or safety from Alvadas' streets, so Brush and Strings can often find themselves within the confines of the Gibbets, or with just nowhere to go. However, Ionu's Stand is about as close to a home and family one can get without having a place to sleep, so they've stuck around for quite a while.