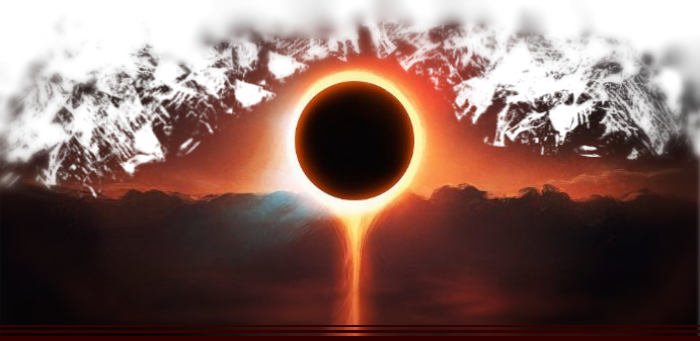 1st Day of Winter, 515 AV
He could feel it in the air.
Something apart from the wretched cold and sweet stink of burning meat.
Something just… off.
He hated not knowing what it was that stirred his nerves so, and it showed. Hell, it showed in every single one of others too.
Some of them sat, some of them stood or paced, but all of them were on edge. Their muscles tensed, coiled, and ready to spring as if on the verge of rushing into battle. There was no enemy here left to fight though, no mission to undertake. The only thing that should have been calling to them at that bell was the desire for a wretched night's rest after an equally wretched days' worth of hard riding, yet still that didn't seem to dissuade the unease that had built up around the camp.
Elias could see them all bristling in one way or another as the campfire flung shadows across their skin, their veins pulsing angrily beneath beds of pale skin and tanned hides. It was all the aurist seemed to notice these days among his 'comrades,' even despite the dark and threatening night's sky.
A roaring fire separated each man only by the warmth he was willing to surrender to keep his distance from the others. The small wooden teepee that surrounded it had become blackened and charred by now, the kindling furling and turning to ash as the flames spat angry sparks in its climatic moments of life. He could scarce hear its crackling as his fists tightened, each hand ever so slowly falling to place just above where his daggers rested, ready to be readied within an instant.
None of them would hesitate to do the same to the mage if he gave them a chance or a reason. None of them would even bat an eyelash. There were no brothers there that night, and nothing, not the fire they shared nor the god they served could bring them together as anything other than unwelcome strangers forced upon the same unwelcome task. Though while no bond of blood may have held them together, they had shed more than their fair share over these past few months. Most of that blood however, had been their own.
They had started with thirteen.
There were only seven of them left now.
"
Why should you get the last piece?
" One of the other assassins roared from across the way. Tonic they called him. He wore a simple and unassuming tunic with matching breeches and hooded cloak. Elias recalled the man had an uncanny ability to blend in to any scene he could slither his way into, something belied by his boisterous attitude when the young fool riled himself up. That felt like every night nowadays. The fatigue was getting to all of them, and it showed differently for each man.
"
Because I'm the one who petching caught the thing!
" Corgan screamed back, his muddied irises blazing. A big man with an even bigger personality. Elias remembered him mostly for his eyes, like two dark and smoldering coals. The kind of eyes that burned into you when you stared too long.
Tonic was having none of it.
"
Without me you'd be starving, you useless vagik!
"
"
Why you son of a bitch...
" Tonic began, face tortured into a mask of ever mounting rage and hunger. Elias was about to toss a dagger in between the two of them as a signal for one of the obnoxiously loud petchers to pick it up and just get their damn bickering over with already. The mage was halfway through drawing the blade when the feeling of something creeping up behind him froze his hand.
"
Mr. Caldera.
"
The sound of his name caught him unexpectedly and the Ravokian couldn't help but jump a little in response. Slowly, angrily, the young man turned around from his seat on the log and faced the one who had uttered it.
Malachai…
The tall and miserable older Drykas stood watching him from the shadows, his head shaven into an unkempt topknot and his left eye covered by an old leathery patch. His one, cold, calculating onyx orb bore into Elias as the two locked gazes. Malchai was probably the only one among this motley crew of degenerates who could hold claim to any kind of legitimate authority. It was probably why the voider led them, though Elias had yet to even learn what the one eyed wizard's official rank within the order was, or if he even had one for that matter.
At the time the young Caldera couldn't have cared less who was holding his leash. So fresh out of the dungeons was he that his handlers could have very well pointed to a toad upon the lakeshore and bid him follow its orders to the death, and being the broken thing that Elias was, the mage would have gladly hopped along to his new lord's slimy will, if only he believed his unquestioning obedience would allow him even the slightest chance at an opportunity to regain the trust of those he so desperately craved. A whole season of fighting and traveling had buried that mewling mentality very quickly however. His opinion of Malachai on the other hand, hadn't waned at all during that time. The man had more than earned his place as the leader of this troupe after what terrible toils he'd seen them all through. It was one of the very few things the company of rejects and renegades could actually agree upon, which was saying something when almost every other day a new fight threatened to break out among the wary survivors.
That didn't mean they had to like it though, and that definitely didn't mean they had to like the man himself either.
"
Why do you keep

doing that

?
" Elias sneered bitterly. "
You know everyone

hates it

when you do that.
" The bastard must have understood as much. It was impossible not to, yet he seemed utterly incapable of missing out on any opportunity to sneak up and scare the living daylights out of his rag tag crew of soldiers. A very stupid and dangerous habit to have around so many agitated murderers and cutthroats, but that fact had never stopped him before. Many of group, the reimancer himself included, were beginning to suspect Malach -as he hated to be called- took some kind of sick pleasure from the fright his sudden and all together unwelcome introductions often caused his men.
"
I ought to gut you from dick to dome, whoreson!
" The hollering on the other side of the campfire was reaching new heights, but Elias ignored the brawl forming between the two killers, focusing fully instead on the one eyed commander. Something told him he'd want to be paying attention for the bad news about to come his way.