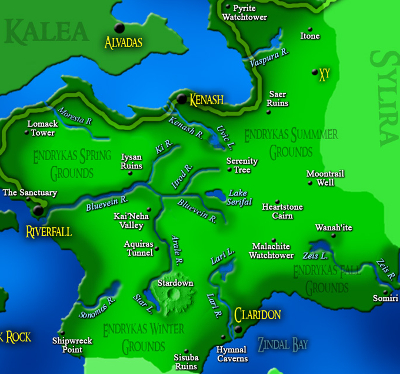 The Run
*
The City of Endrykas moves in a clockwise motion, hugging the Cyphrus coast lines and borders of the surrounding regions Ekytol and Sylira. This moving city also bestows its people with consistently warm conditions by following the sun and the seasons; a pleasant benefit from actively living within Endrykas borders.
As
Winter
settles in across Mizahar, Endrykas hugs the southern coast of the Cyphrus as it travels as close to Eyktol as the border allows. Trade between the Drykas and the near by city of Ahnatep is welcomed to those who wish to brave the short journey in the desert to purchase exotic wares. This time of season also puts Endrykas near the Stardowns where it stays in to hold the Great Race.
As
Spring
comes back to the land, and life flushes the grasses and Endrykas swings upwards towards Riverfall, using the coast as a guide. With Endrykas pulled close to the city of blue warriors, many go to trade for fierce weapons and precious metals.
Summer
brings Endrykas to travel along the northern coast of the Cyphrus, leading it into contact with Kenash and opening fresh trade with the human coastal settlement. Popular tests of strength and bravery are common in this time, and during the mid point of the season Endrykas is brought closest to Syliras which allows trade for materials that aren't as easy to find out on the grass.
Fall
has Endrykas following the Sylira border away from Syliras and southward towards Zindal Bay, bringing it into continuous warm weather as the season gets colder. Hunts and gathering tend to become more popular around this time, as well as trade with the coastal city of Claridon in the later days of the season.
Strategically organized into the city's 'run' is a system of traders from each family owned business that exports and or imports goods. They use the city's geographical position to time their travel and exchanges; all done with horse drawn carts. Horses used for pulling the carts are infused with the magic of the Drykas webbing and follow both a fast, swift, and smooth route across the grasses to avoid dangerous terrain and creatures that may lengthen travel times.

Sometimes traders from other lands are allowed to bring their wares to Endrykas, but a recognition of their visit is essential for the safety of their travels. Anyone roaming the Sea will likely be interrogated if such measures are not taken, and written notes or statements are largely unaccepted - any invitation can be placed in the web and communicated to The Watch - the band of warriors that ride out in reaction to threats on the grassland. Sometimes however, the Watch will not engage a wanderer but will instead allow them to simply be swallowed by the danger of the Grasses. These warriors are not interested in controlling the movements of every traveler, but respond very violently when someone of Drykas blood or culture is being harmed or threatened.