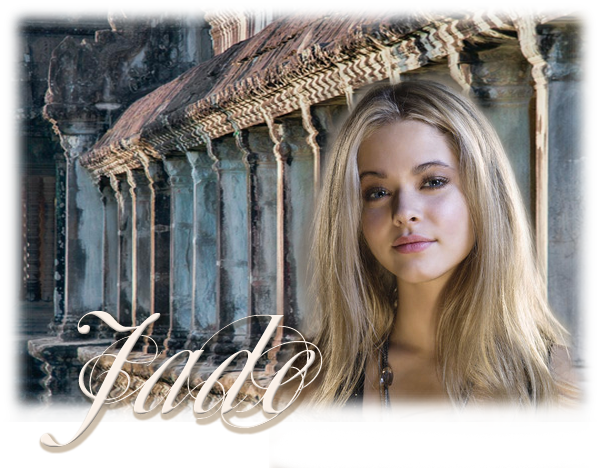 3rd of Spring 518 A.V.

Jade popped her neck while sitting up. Soft snores filled the bungalow as Garland and the children slept still. Rolling her shoulders, the woman stood up and cleaned up her pallet and pillow. The drykas had never felt more at home. Beds were nice, but nothing beat a restful night on the floor. Moving around gently and as silent as possible, she got ready to go meet with the city founders. The woman smiled and slipped outside without her boots. She enjoyed feeling the sand between her toes. It was one of the biggest things that Nya had taught her. She had not seen much of the woman, but the blond had several small pots that would hold paint or even a black liquid that the people of Syka called ink.

The blond did not know how to write or how to read what others wrote. Such things were not focused on back in Endrykas. Everyone was more focused on getting food and tending to their herds. Jade could only imagine how her home was dealing with the unusual heat. Shaking her head, the woman stepped into the area below the bungalow that held her finished pieces of work. The girl had been working on a set that she hoped would impress the founders. Opening her bad, she gently put two bowls and cups within. The drykas made sure that nothing would happen to damage the items before going to speak with Randal or Mathias.

"I better get moving before they get super busy," Jade said to herself.

She instantly began jogging while forcing her bag to stay still. Two of the founders lived near by which made it easier to find them. Slowing down some, the girl looked around a spotted a bungalow that was larger than her own. Jade watched for a moment trying to remember whether it was Mathias or Randal that lived there. Taking a deep breath, she walked up and heard a commotion behind the building. Walking around to the back, the woman found Mathias working with his long sword. Clearing her voice, the young drykas called out getting his attention while standing back so that she was not hit on accident.

"I am sorry for disrupting your practice. I was hoping we could talk for a moment," Jade stated.

"Nonsense you are not interrupting anything. What can I do for you?" Mathias asked while moving over to the bungalow.

"I had several questions to ask you and the other founders if all three of you need to be addressed," Jade explained.

"Not at all dear. I can approve anything you need," Mathia stated and drank from his waterskin looking at the woman.

"Is the five acres plots still available to claim? I wish to open a pottery shop and build a home on it," Jade asked with an explanation.

"Yes, it is still open. I am happy to hear you already have a plan for the property. Where were you looking to claim?" Mathias asked looking at her.

"I was looking at setting up between the bungalows and the rancheros. If that will not impede with their business. If it will I would like to go down just past the rancheros," Jade explained.

"I do not see what you setting up between the two lodging places would do to hurt them. Now you say you want to open a pottery shop?" Mathias asked looking at her.

"Yes, I am still really rough with them. But I brought two cups and bowls for you to see," Jade stated and took them out letting him look over them.

"Hmmmm. Not bad, still rather rough, but with some time it can be worked through. Have you thought the entire business plan through? Such as what materials will need to be brought in and how long a time frame you are looking at?" Mathias asked looking at the girl.

"The only thing I can think of needing to be imported would be the kiln unless you may know of someone here that can teach me how to build one. I would never ask someone to build something so complicated without helping them," Jade stated.

"Good. I will show these to Randal when I meet with him and let him know of your plans. Your lot is secured you may go look at it and start deciding where your buildings will go," Mathias stated and bid the girl good day.

"Thank you so much. I hope we can meet again soon," Jade said with a smile and left.