6th Night of Autumn, 519 AV
Malachi slowly strides around Baroque Bay after experiencing
just another night
in Sunberth like many others: a wild ride out at sea; experiencing residual haunts that want to tear your flesh - the usual. He glances at the four tiny entry wounds where the apparition's fingernails dug and shakes his head, muttering several curses in Fratava. Several dock workers are managing their vessels, loading and unloading cargo. Loud raised voices echo over the vast waters negotiating prices and quantities of merchandise. As Malachi rounds a bend, several sailors are enjoying a bawdy joke while tossing back some drinks and smoking. His nostrils flare as he walks up to one of the guys, gesturing to his smoke.
"Hey, mate - you wouldn't mind givin' a weary traveler a smoke, would ya?"
The drunken sailor nods his head in approval as he reaches into a breast pocket and pulls out a leaf-wrapped tobacco stick and hands it to him. Malachi nods his head in thanks and leans in towards another sailor who is gesturing a flint and tinder to him. The sailor strikes the two items together causing a small spark to ignite an ember at the end of Malachi's smoke. he takes a deep inhale of the sweet herbs and exhales with a huge grin, nodding his head in thanks. The sailors continue on with their jokes, waving goodbye to Malachi as he continues to make his way over towards one of his frequent haunts, "
The Drunken Fish
".
Making his way up to the front of the large establishment, the hustle and bustle of the crowd would be over cumbersome for the average bloke, but this is a Svefra. Malachi eyes down a pair making their way drunkenly out of the establishment, sloppily pouring booze on one another as they begin to ravish one another in the streets, unable to wait and make it to a dark alley. He lets out a light scoff, shaking his head as he pulls the wrapped-leaf from his mouth and blows the fumes into the air. Upon encroachment, there are individuals from all walks of life sharing a story, a song, or an argument. Several shady looking individuals eye Malachi up and down, observing not only his sopping wet attire but a steel cutlass that he holds sheathed to his hip. Malachi would slow his momentum and look at them out of the corner of his eye to acknowledge their judgment and to not show fear. He is anything
but
a victim. This can also be viewed as standoffish, but he'd rather be considered cold than a coward.
A pair of twin redhead females scantily clad in sheer materials and smelling of alcohol and intimate musk press themselves on to him. One of the girls brings her face right into his, batting her green eyes seductively as she utters
"Hi handsome - care to ride these crimson waves?"
She brings her hands to Malachi's face and begins to caress his jawline. Her sister runs her hands down his shoulders on to his waist inching for what seems to be his waistline. Malachi quickly realizes the woman to feel him to be a mark and latches on to the carousing hand. He brings it up so both sisters may look upon it and shakes his head, "Ladies...I assure you that I am
not
the one you wish to 'entertain' this evening." The first sister glances over to a corner towards a group of men who are secretly conversing. One, in particular, is sitting at the 'head' of the group eyeing down the entire interaction. The woman grits her teeth and stares Malachi directly in his eyes grabbing her sister's snatched hand by the wrist and pulls it free from his grip. She then drags her across the tavern to the direction of the man. He and Malachi lock eyes for a brief moment tossing daggers at one another. The man leans forward, resting his elbows on his knees as to make it abundantly clear to Malachi that he is looking at
him
. Malachi keeps a stern expression before slowly looking away from him, continuing his strong gate over to the bar.
The patrons of the bar surely paid the interaction between Malachi, the girls, and the unnamed man no mind going about their own affairs. The tavern music chimed off of its wooden walls, and the carousing continued. As he approached the bar he noted the backs of several individuals all giving him the once over on their own time before looking back toward their conversations.
He took note of the woman behind the bar sloshing drinks down and back over the tabletop.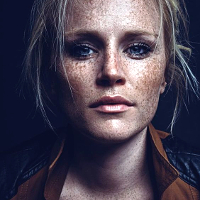 The strawberry blonde woman gave Malachi a once over and beckoned him closer with her head. He looked over either shoulder before bringing his wrapped-leaf to his lips, holding it within his mouth and dusts his hands off. He finds a nook that's opened within the side of the bar and rests his elbows upon its top. The woman walks right in front of him and rests her hands on the countertop,
"It's been a long time, Malachi."
Malachi takes the wrapped-leaf out of his mouth with his left hand, blowing its fumes over his head. His eyebrows raise and lower briefly before responding,
"You seem to be doing good for yourself, kid. You look good."
He places the stick back into his mouth as she shakes her head, grabbing a small glass tumbler and sets it in front of him.
"Leave the bullshitting to me, Malachi, you were never too good at it."
A snarky smirk rides his lips as he retorts,
"Is that a formal complaint, Cira? You've never voiced complaints before."
The smirk curls into a Cheshire smile, smoke rolling from his teeth like a dragon. She rolls her eyes, with a chuckle. She grabs a green bottle and removes the cork with the teeth. Malachi's eyes trace her mouth before moving back up to her eyes. Cira begins to pour the juniper smelling substance into his glass but is halted by a pause gesture with his right hand. He quickly takes the glass and slams back the first fill, placing the empty container back before her and gestures a nod to continue. With raised brows, Cira looks to his forearm observing the nail marks as she pours.
"Back in the crow's nest I see..."
Malachi's head tilts in question before taking note of his nail marks in his forearm. His face remains stern before taking hold of the glass, bringing it up to his lips.
"Long story..."
his voice solemn as he speaks through the brim of his drink before taking a sip. Cira's face grows slightly red as she pushes through,
acting
as if it doesn't bother her.
"There was a spice trader who had recently made his way through here some 10 days ago. He told me that I was the prettiest thing he'd ever seen. Said he wanted to wife me up. He had quite the load of mizas - but I had to turn him down. I couldn't leave Father Manowar's ass to run this place on his own: he'd have it burned to the ground without me."
Same ol' Cira story, Malachi thought to himself as he puckered his lips in approval and nodded,
"Naturally...
he responded before taking another sip. Cira continues spinning her web, yet Malachi gives her his undivided attention.
Word Count: 1,235 | Total 1,235