Mini-milestone!
So today marks a milestone of sorts: my 50th post and first 30,000 words on Mizahar. It's nothing momentous; in terms of a rite of passage or stage of development, it's closer to having the training wheels come off than becoming an adult or graduating or somesuch. But I'm excited nonetheless.
Just a few days ago I was in a frustrating spot in regards to my writing. The words weren't coming, I was struggling to start a difficult post, my prime threading partner was overcome with real life, and nobody was answering my PMs. In short, I felt horribly stuck, and unsure about how my career on Mizahar would continue.
Then, of course, life has a way of poking you in the side when you're being a raincloud. I got caught up with Colombina, met the wonderful Cilaes/Chijana in chat, received a thread request from a writer here I really admire, a promise for a quest, and joined in on Tarot's Priskil deal. Things are exploding with potential and I'm kind of stunned at how much can change in two days. Shucks, you guys. Thank you.
This about sums it up.
There is some weird kind of mojo that comes with writing every day. It's not something I've done for a long time - not since high school, and heck knows how long ago that was. It's also been a year since I quit playing (and hence roleplaying) in MMOs. Say what you will, it at least had me practicing improv dialogue every day. Even my posts here as Faroul have not been too frequent. But now that I've shimmied into the unmarked Priskil quest, where posts are short and often, I have this "Miza-buzz." This tingling of creative energy. Because I draw it up every day, like from deep in a well, it's always at hand. There is no horrible fighting to get into character or simply find the words. Nuts. I just hope it lasts!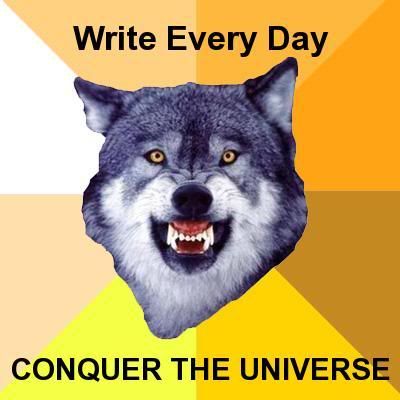 In the meantime of conquering the universe, here is a to-do list.
Spring 511:



Finish intro thread: buy stuff and arrange lodging
Finish Rak'kena thread and send for grading



Summer 511:

Finish flashback post for Malekiah
Thread with Tuwa. Time to stalk her like a creeper!
Thread with Izdihar (omg)
Reply to Chijana when she posts
Try not to die in the Priskil quest
Post-quest shenanigans with Chijana and Ma'ii
Make summer placeholder thread for crazy dream time with Rak'kena



Fall 511:


Shite, this is SOON.
Arrange job to hold me over til Rak'kena is back. Scorpions?
Inquire after modded quest with Colombina.



Misc:

Edit the next part of Torc's armorsmithing article.
I think that's it. Time to go enjoy some sunshine. Awww yeaaah.