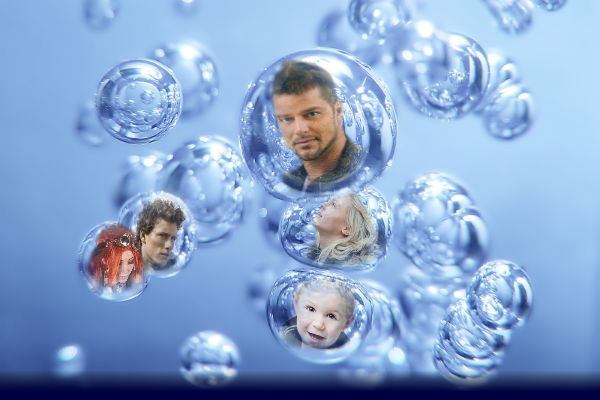 Every Night is Another Story
Winter 40th 514 AV, 7th Bell
Location: The Maze Residence
Warmth. He felt nothing but that underneath the blankets while his face remained buried in hair, sweet sweet hair that belonged to the gorgeous woman that laid in bed next to him. He didn't even wish to wake, not if it meant breaking up the endless amount of cuddling that kept the two bodies bound together. She felt so warm against him and he loved it, and when he felt his face finally become expose to the air, the chill in the room gave cause to hide it away once more between her and the pillow her head rested on. He couldn't help but give a short groan in the process, his want to sleep in for a little bit enough to stir the beloved next to him as she grinned. Telion turned over to face him even though he still had his eyes closed, he only knew this because her hair no longer tickled his cheeks and nose.
Dammit...
He cursed for a tick as he cracked an eye open, Telion had already done the same before him and once she saw him, she giggled as she brought a hand up to his face.
So warm and soft. He didn't even want to move at this point, to do so would ruin the dream he obviously felt himself a part of. Ricky's eyes were open but not completely, his fingers free as they slowly trailed from her jaw to her neck, the dream he had fallen into proven real enough for him to finally smile. It was true, he'd woken up to his own Syna this day.
Petch gettin' up outta bed, Oi dun wanna ever leave dis.
"What's on your mind?"
"Yew obviously."
He smirked when he watched the grin grow on her face.
"T'inkin 'bout how beautiful ya look, an' how amazin' it feels t' touch ya."
To think like this made him wonder if it were possible to fall in love over and over again, if it were possible then everyday would surely feel the same for him.
"Kiss arse!"
"Its true!"
He argued after she gently slapped him in a playful manner, his other hand brought up to meet hers as fingers entwined.
"Oi t'ink 'bout 'ow Oi'm de luckiest man in de world, 'avin' me a beautiful wife t' bear me beautiful children."
"That so?"
She crooked her head a little to the side against the pillow, and caused him to laugh a bit before he added more.
"Not just beautiful,

but

smart an' wonderful."
"Ah, see now that's more appropriate."
She teased before she pecked a kiss to his lips, her feet rubbed against his legs below the knees as she moved around a bit. Finally as if right on Que the sound of Martin's wails started to come from the other room, to signal that he needed his parent's to take care of his needs for the day.
"Looks like its time."
She sighed for a tick as Ricky groaned, a prayer to Tanroa to make the moment last just a little longer. Forever preferably. Alas the good wife stirred to rise out of bed, but first decided to playfully nip at Ricky's neck and suckle the skin for raw torture. It worked. She rose with a giddy chuckle finally as she watched Ricky cringe and groan further, the torture even worse when he realized what she'd done to him. She didn't take long to get dressed since the house felt so chilly, but when she did finished she watched him in her approach to the door.
After he gave a low tormented growl he looked to her and watched as she headed out the room, an
"Oi love yew too"
to follow as he laid out on his back and covered his face.
Damn it all.
He thought with a sigh as he looked down for a tick, he then ignored what transpired there by thinking about what they were to do today. What did they need to accomplish, since digging at ice wasn't going to help them any. They needed food somehow after all, and the best idea Ricky had in mind?... not a clue. Still it something had to be figured out, therefore he finally gave in and followed along with the call of the day. He rose out of bed and proceeded to get dressed proper, and tailed Telion's path to meet with her and the son that waited to be greeted by his father.