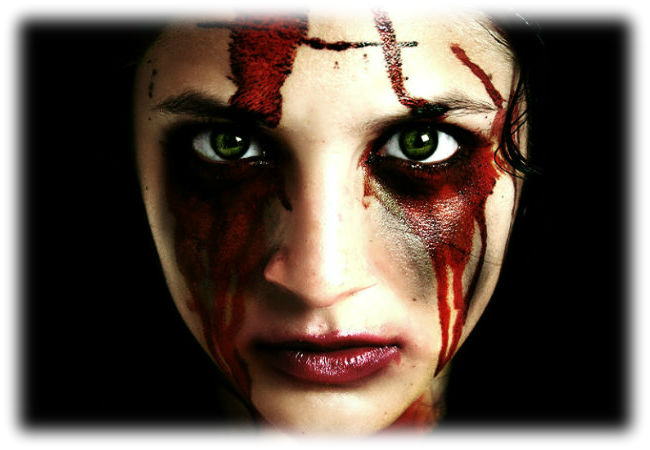 55th of Spring, 515 AV
Location: Touchy Subject
Time: Evening

After her meeting with Ignotus the matter of finding the second item on her list was relatively simple. Being a powerful man within the city of Zeltiva he had been able to tell her nearly exactly where he could be found, and when she had heard the Immortal could only frown. She never cared for places such as this. They were disgusting, pointless, and in some ways a reminder of what she could never have.

She wore the form of a mature woman, standing about 5'7 with long black hair that fell just past her shoulders, and upon those shoulders was a dress black as her hair that came down to just past her knees, the loose skirt flowing easily from side to side with every movement. Skin as pale as death, eyes the color of freshly spilled blood, that pool cut by a black slitted pupil that stared unfeelingly out at the world with a cold indifference. Along her spine there coursed a line of black serpent like scales, the color of the deepest onyx that trailed up and over her shoulders, dotting a line along the sides of her neck before cascading down her front, growing fainter as it reached the modest cut of the dress, giving way to pale skin once more. Evalin's feet were bare and upon them were long nails which looked more like claws just as black as the scales. Similar nails accented each of her fingers, a slight curve to these and ending with sharp points that looked as deadly as they would feel. The features of her face were that of a mature woman, but hardened and with more than a hint of pride and disdain for the world around her. Around her neck was an icy blue gem upon a silver chain, and adoring her right finger a ring made of bone.

Passing over the threshold into the establishment Evalin did not even glance at the people around her. They were lowly, insignificant worms that Evalin could care less about... though there were several younger women who did draw a glance or two from the Immortal, a pulse of the craving touching her tongue as she imagined taking them in her claws and drawing forth the life giving blood from their veins to sustain her.

Evalin knew what it was they felt as she passed them. A descending chill in the air that had nothing to do with the temperature. A queasy feeling in the pit of the stomach when they looked at the Immortal, a sense that there was something very wrong with her beyond just the unusual features. It brought a small smile to Evalin's lips as she heard some of the bubble of laughter and voices die down, loud voices become more whispers until she had passed as no one made an attempt to approach her. It was just as she preferred it.

Moving forward with a confidence like she knew just where she was going, Evalin entered the room where a loan woman sat behind her desk. Pausing just after passing over the threshold Evalin tapped one nail on the back of a well upholstered chair, looking around the room absently like one might look at something that was not unique, but slightly interesting.



"Madam Lilienne I presume."

When she spoke it could be seen that every one of her teeth were sharpened to a point, the canines slightly elongated giving her a predatory sneer whenever she parted her lips,

"I have come in search of someone particular in your establishment, as I have been told that he is here. He goes by the name Matthew. I would have words with the man, and I am certain he will see me. Just tell him that Evalin has come to call upon him."

at that the Immortal smiled, now two hands clutched the back of the chair, her voice suggesting that she would not take no for an answer.