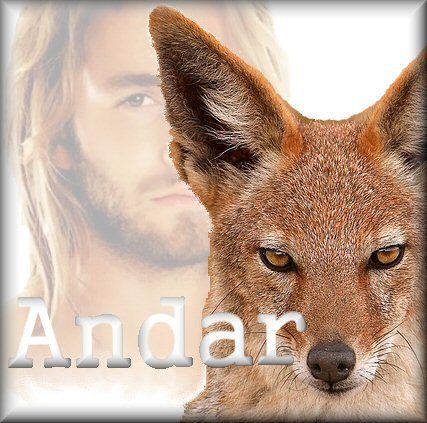 There was that rope and noose again, in the woman's hand. How fond of that terrifying weapon she was! Andar didn't let any of his concerns touch his features though. He wore an expression he would label the

'cocky, I have connections look'

. When in truth he felt anything but cocky at the moment. One slip up and he could be rolling into the nearest ditch right along with unfortunate Veldrun come break of day.

Andar walked casually about the dead man, stroking his beard thoughtfully as he peered intently at the female killer. There was something familiar about her. The manner in which she walked, the subtle cock of her head when he said something that interested her. But something was out of place. His words should have yielded an expression of relief. She ought to have been pacified with the knowledge that her master was checking up on her and she had fulfilled her end of the deal. But no, her narrowed eyes shined only with distrust and suspicion.



"Cut the lies, just who are you exactly?"

she demmanded.

Right. This hadn't gone quite as spectacularly to plan as he had hoped. The Kelvic groped for anything remotely resembling reasonability. Anything to say that would justify his current gambit. The sound of her voice kept distracting him from his scheme. Why did it sound so gods damned familiar? Andar calmly cleared his mind and considered things from a different perspective. How had she seen through his deception so easily? Perhaps she had no boss and he had erred in that assumption. Maybe she was on edge because her benefactor had enemies and had warned her against any odd occurences. He had to fish for more information. There simply wasn't enough to work with!



"Lies? How dare you, woman. I'll have you know I'm not someone to be trifled with,"

he said in his best

'don't petch with me voice'

.

"I suppose you don't trust me. That's understandable. It matters not who I am. Just know that I hold all the cards here. I have backers in high places. It is their business to know things and know this! They are pleased with your work tonight. I will see that the body is discarded discreetly,"

he said with a dimissive wave of hand at Veldrun.

Now all he could do was hope that allayed her suspicions. Hell, he may even get to loot the corpse! The whole vague

'I'm somebody'

routine just might pay off. All the while he still had that funny feeling he knew this woman from somewhere.