Image editing credit: Treachery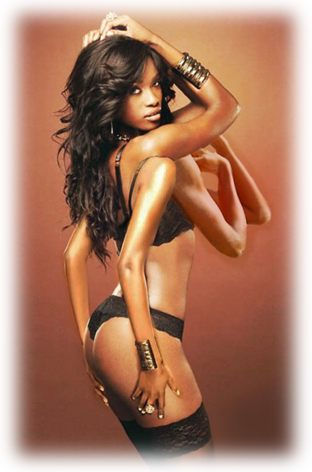 Basic Info
Race:
Eypharian
Gender:
Female
Age:
25
Birthday:
55th day of Spring, 494 A.V.
Birthplace:
Ahnatep
Appearance
Hair: She has dark brown hair that is long and curly. Usually it is loose or tied up simply.
Eyes: Brown
Complexion: Her skin is a rich brown and is strikingly darker than most Eypharians.
Height: 5'3''
Weight: 165lb
Build: She has a lush curvy figure with prominent hips and large strong thighs. Her stomach is relatively flat, however, she has a lot of upper body mass as a result of her six arms.
Sayana has a range of outfits depending on the circumstance. Lately she favors a long red and black dress made of satin. Sometimes she is seen in beige pants and a simple red top when the need arises to be more agile and mobile (such as when traveling/riding). Frequently she uses a large black robe or cloak to conceal her low and mid arms, particularly when she doesn't want her race to attract attention. Her clothes underneath are sometimes more plain looking and occasionally she wears a black vest filled with an assortment of pockets boasting of various useful items. Regardless of what she is wearing, she always carries a belt of six daggers. Two regular, and four throwing daggers, which she replaces as needed. Though often her cloak covers the blatant display of weaponry.
Sayana's darker skin sets her apart from most Eypharians, but otherwise she has the typical six-arms that make Eypharians unique. Her mid arms are set slightly forward and her high and lows are slightly back. This creates a somewhat staggered shoulder and arm pattern with an emphasis on her mids. Her neckline is enhanced further by seeing the cascading shoulders of her high and mid. Her movements are graceful and also purposeful. More often than not her arms move in pairs or by a particular side of the body.
In Colder Weather:
She wears a long greyish wool coat that has a small fur trim around the edges, the cuffs, and the hood. She has matching gloves (six of them), also made of a grey wool material and with fur trim. The coat only has one set of sleeves for her arms and she tucks her others within the warmth of the coat. On her feet are tall leather boots. When she takes off her coat, she has a set of dark red sleeves fashioned to cover each of her six arms and connected by a piece of material that acts like a shawl and covers her shoulders.
Character Concept
Sayana is a very proud and passionate Eypharian. She likes people but often thinks herself above them. Sometimes she'll toy with people for her own amusement to see their reactions but often it's more about learning their boundaries and seeing if she can get past them. As a result, it's not surprising that she's taken up a love for sensual dance. Not only does she enjoy using it to tease and seduce others, but she legitimately enjoys the power of the music and the motion. She is very much in tune with her body and dances with small subtle movements as well as large flowing ones displaying remarkable fluidity.
Although dancing feeds her soul (and often her stomach), she had to learn quite young how to protect herself. Her choice weapons are a pair of daggers that she received when she was young and they are small enough to tuck neatly into a belt or skirt, yet still remain visible to keep unwanted hands away during a performance. When she fights, she has little regard to honor and even prefers to use deception and trickery when she can. Backstabbing is not beneath her, but as a result she has difficulty trusting people completely. This means she is rarely, if ever, without some kind of knife or dagger on her person.
Sayana can be highly determined and will push her body to the limit. However, she is not the most logical and often acts through emotions alone. She often thinks of herself as having the spirit of a warrior but many would call her reckless. She also did not have the patience or desire to learn to read and write as a child. Instead she spent much of her time learning to dance and seduce from the younger slave concubines at the palace (much to her parents' displeasure). Hence her literary skills are severely lacking compared to most Eypharians. At best she can write her name, form simple words with crude letters and phonetic spellings, and pick out various common words that are written.
Injuries and Scars
Lasting scars:
Faint scar on her left cheek.
Faint scar on the upper part of her high left arm.
Scar on her right thigh.
Scars on her back (zith claw marks).
Scars on her chest in the shape of an "x" with an extra vertical line down the center.
Lacun mark on her sternum that looks like a dying flame.
Zith Illusion
From Winter 21 to Winter 82, 515 AV, Sayana will appear as a zith to everyone but herself (see possessions for further details). When she tries to speak, it will sound like Zithanese (and will be beyond the frequencies of sound audible by races other than zith), and when she hears Zithanese it will sound like Common. Additionally, she has a crimson "x" with a line through the middle embroidered into her flesh upon her chest.
Curses
Summer 30-33rd 516 AV - Sayana will start to doubt everything from the 30th until the 33rd. Reality becomes a mystery, even her own place in the world might come into question. After the 33rd, the curse will gradually fade back into normality, culminating on the 35th, unless Clyde chooses to curse Sayana again, or she comes into contact with another Chaon.