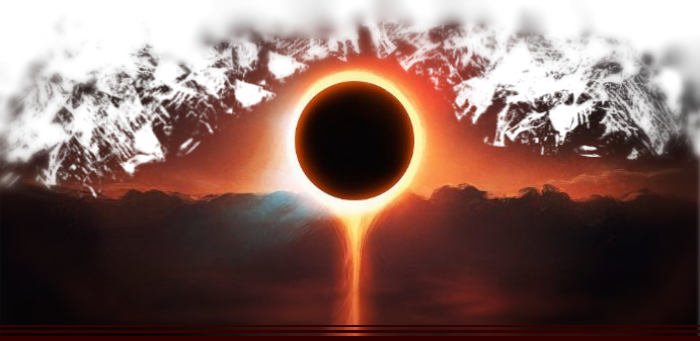 The First Day of Spring, 515 AV
The sound of the blade as it struck the floor, that scraping, pounding clatter of steel on stone on steel again. It was all he realized he could hear anymore, like thunder in his ears.
He's saying something…
the boy realized as wild and static eyes fell upon the still shuddering lips of his father. All the sound in the world had died in that moment save for the echoing ring of the dagger he hadn't even realized had fallen from his grasp.
He's saying something, but I can't hear him.
He didn't need to hear the man's final words, not when he knew them by heart already.
"Elias, what have you done?"
The nightmare fell away as the waking world rushed forward to greet him. With a start, Elias reeled from his pained slumber, the chains that bound his hands and feet set to their peculiar metallic laughter as he struggled against them in vain desperation. A reflex in its entirety, one that faded from the forefront of his thoughts as his mad, startled eyes flew across his surroundings and the truth of his reality once again took hold of his senses. He was trapped. Imprisoned within four stark walls he could barely see. Walls he wasn't sure if he was ever going to escape anymore. Rhysol help him, He wasn't even sure he even wanted to. The Black Hole was a dark and decrepit place, unbearable in the just insinuations alone behind every skittering shadow and distant, drowned scream purveyed to those unlucky enough to ever know its dank halls. He couldn't recall how long he had been down here, trapped in the blackness of this forlorn myth that few even knew the truth of. He knew he certainly hadn't known the truth, not until they dragged his broken body down into its clawing depths and shackled him to the blood soaked walls did he truly understand this place was no fairy tale used to scare disobedient slaves and slacking apprentices. No, this place was his fate now. This place was his tomb.
It wasn't meant to be like this at all, not in the way he had painstakingly planned it for nearly a two seasons. But plans have a way of falling apart, especially when you try and plunge a dagger into the heart of a man you've hated and dreamt of killing for so long, and you realize all in one instant what a horrible, horrible mistake you've made.
Not once, but twice now.
He mused dryly through the throbbing in his head. The realization of the pain in between his ears was enough to signal everything else to begin hurting in agonizing tandem.
He couldn't remember what he had done specifically to make them suspicious, but clearly the Stryfe had known, likely from the very beginning now that he considered it, which he had...extensively. It wasn't as if Elias hadn't constantly been enshrouded in an cloud of quiet panic and hushed terror since the day of the fire. Walking out, carrying his father as he had, the mage had fully expected to die then and there, and perhaps it was the guilt, or the regret or the light-headedness from all the smoke, but part of him had been ready. After Torian, what was left for him anymore? Killing the man had been the only reason he had returned to Ravok, some days it felt as if it was the only reason he had survived the storm. Death would have been welcome then and there, like a period at the end of this tragic story's final chapter, but instead they flung him into a chair and interrogated him for days. Questions upon questions as they interrogated him, prying open his history and weeding through the lies he spewed to save himself out of instinct, not will.
He had told them what he felt he needed to, that it was the mercenaries that had been behind it all, and that he was just a victim in all this, just like his dear father had been. 'Those bastards' had kidnapped him like the cruel and monstrous men that they were, but he had escaped by the virtue of Rhysol, alive but near death. Part of that was true at least. He
had
been taken and thrown in a dark room much like his current accommodations, but not by the Rum Hound mercenary company, but instead by butchers who he had originally believed were hired by Torian to deal with his good for nothing son. It had been that belief that had sparked the entire debacle that had landed him where he was now and his father's body interred at the bottom of lake Ravok. Now, the mage doubted their affiliation entirely, which frustratingly meant he still had no name to blame for the nightmares that terrible experience still gave him. He wish it had been Torian, that way at least it would mean there was one less mistake to add to his already lengthy and growing list.
More lies followed, like webs being spun, they fell from his treacherous lips as easily as the truth did. After a night of...
tedious
celebrating in a tavern to commemorate getting better from all his woes and wounds, he had met a man who, as it turned out, worked for those very same mercenaries who had been the reason behind said woes and wounds. Befriended, tricked, and then kidnapped once more, the sell swords obviously had a vendetta they were desperately trying to enact, and for some reason that involved Elias. What he hadn't learned the first became evident the second, as the mercenary captain himself explained that they sought revenge for their fallen comrade, a man who Torian had slain. None of that bullshyke had happened of course, but Elias spoke it like it was gospel, and once he had found his flow during the interrogation, there had been no stopping him.
Using him to get to Torian, they had tried to lure the paladin to his death in an ambush, but instead the plan had gone tits up and it had all devolved into a mad melee somewhere in the merchant district. A fire broke out, his father had been slain by the mercenaries, and Elias had barely escaped, only to wind up safe and sound in the arms of his ebonstryfe saviors...
They didn't buy that tale then, nor did they buy it now.
Upon realizing as much, Elias had made the mistake of resisting, and for the briefest of moments, he actually believed he could have escaped... Just one more for the list.
They had beat him, and they had beat him badly. Kicking and punching and clawing until the young mage, lost in the stupor of the assault, once again that summer was brought to the edge of Dira's door. He was sure they were going to kill him right then and there, like they should have done countless times before. Elias knew he would have, if it had been him in their place instead of his own damnable one. They didn't however, and now that he felt it across every inch of skin, he understood why. This was much worse than death. There wasn't a single part of him that didn't hurt. No doubt bruises and welts covered his face and body, and he was certain something had to be broken inside. He was having an excruciating time trying to just open his eyes, in particular his right, which had apparently swollen completely shut. The other one wasn't too far behind from doing the same, and the darkness his wounds imposed upon him only served to make the veil of dread and dreariness that blanketed the chamber even more unbearable.
How long? The broken young man began to wonder, cracked and bloody lips slowly working in concert with his thoughts as they came to him. That was a mistake, moving his mouth to talk only reminded him of the teeth he had lost and the last vestiges of pain he was meant to be suffering. Talking wouldn't serve him any purpose now regardless. The dead didn't have much use for words. He slumped against his shackles helplessly, the cold, rusted metal biting deeper into the gnawing wounds they had left against his wrists. It must have been days, Elias realized after he finally managed to bite back the yowl that one small movement alone had elicited from him. Days of dipping in and out of consciousness, of threading the line between this world and whatever was next. He was thirsty beyond belief, and his stomach, when not just an undefinable source of some lancing jolt of fresh misery, felt terribly hollow.
The Ravokian had known better days, that was for sure, and it was hard to think clearly for longer than a tick when his head felt like it had been replaced with the rock used to bash it in. One thing had become immediately clear however, clouded thoughts or no; he was going to die down here...
And they were going to kill him for as long as they could.