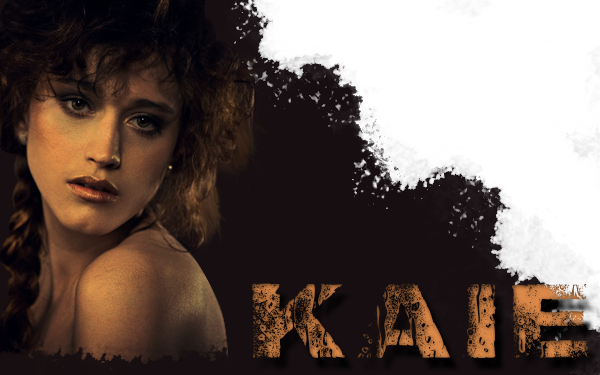 56th of Winter, 515 AV
6th Bell

Darkness. She was bathed in darkness. Shadows blanketed her like a second skin, cradling her in its blackened embrace. Nothing laid before her and nothing behind. All was shadowed in an oblivion too endless for her eyes to see through. The Myrian turned about, spinning in an endless rotation the tick she detected another's presence. Eyes watched her in her ignorance...but from where? She grit her teeth and reached down to fiercely tear her gladius from its slumber within the sheath at her hip. Her bronze fingers clasped naught but empty space. Her brow furrowed. Her amber eyes widened and glanced down at the place she had known her weapon to always be. She stopped spinning. Her lip curled.

Where are you?

her mind shouted into the unknown as she searched in vain for the hidden presence.

"Kaie,"

an airy voice breathed from behind where she stood, rigid like a statue. The Myrian spun on her heels with her hands raising in a guard. Several yards away she could spy a silhouette in the darkness that consumed them both, but only with some effort on the part of her eyes.

A man?

Kaie took a deep breath, licked her lips.
"Who are you? How do you know my name?"
she shouted into the void boldly. The silhouette merely stood rooted in place for the better part of a half chime. She blinked. Then it was gone. Kaie began to storm after it, jaw falling slack as she began to voice her opposition to its departure.

Mid-step, it reemerged in her face. The Myrian's weight reeled backward and she went down with it. She landed on her back, eyes wide and sunkissed face devoid of its color. Before her towered the silhouette and through its blackened, cracked skin radiated an inferno just bright enough to illuminate its own features. Her mouth dropped and immediately she began to backpedal away from the man with her hands and feet. The charred man extended his arms as he slowly followed after her.

"What's the matter, Kaie? Aren't you happy to see me?"

Her heart thumped wildly in her chest. Adrenaline flooded her veins. The gnosis blessed upon her skin did not began its dull burn to signal the presence of her Goddess Queen.

"Afraid to admire your own work?"

It was only in that moment she realized the charred man had been speaking to her in a Myrian tongue all along.
"Tsu'kai,"
was all she managed to pathetically blurt out as she continued to race backward on the ground.
"I-"



"You murdered one of your own!"

The burned Myrian's teeth ground together as he snarled out the words, charred skin crumbled from his face.

"You killed me and left me to burn!"



She awoke from the nightmare with a sharp gasp that sent her shooting up into a sitting position. Her chest heaved. Her head snapped wildly about her, scanning the world for the vengeful spirit of her ex-lover. The Sea of Grass seemed to hide no charred walking dead, however. Kaie exhaled deeply and leaned her forehead down into her shaking hands.

Just a dream. It wasn't real. Get it together. It wasn't real.

But the was the problem. It was real. Gods, was it so very, very real. Her hands slowly slipped from her head to hang shakily before her eyes. Kaie bit her lip and tried to wipe her hands off on her cloak. It was a horrible habit she'd endured shortly after the tragedy, and even now she had begun to get her mind back, the guilty Myrian knew she could never wash the non-existent blood she sometimes still found herself seeing on her hands. A groan broke her soul searching.

Shyke.

She'd evidently forgotten Kyle was there. The slumbering lump shifted beneath a mess of furs and popped his head out. The blonde disaster atop her head would've made her smile had she not been so deeply disturbed. Kyle's squinty, tired eyes blinked away the sleep he'd just woken from. She could feel his gaze falling on her.
"What the petch are you looking at?"
her tense voice was shaky, but Kyle would recognize its pugnacious nature despite catching her in a state of undeniable vulnerability. A few ticks passed. No comment came. There was only silence. A shifting of furs. She didn't dare look at him. Rather, she stared down at the snow beyond their sleeping space.

Come back, Myrian. Come back.

The warm and gentle touch of fingers guiding her chin to the side caught her by surprise. She arched a brow when she found herself staring into Kyle's eyes. He must've seen the utter perplexity on her face and the words threatening to burst from her lips.

"Shhh."

Kyle brushed a loose strand of curly hair from her face and moved in with a tenderness completely foreign to the Sunberthian playboy. And just like that the emotion in his gaze was mirrored in hers. His lips pressed against her softly, and her own found themselves moving enthusiastically with them. His hands cupped her face while hers found themselves on the side of his and at his back. After a short time they broke away, sheer shock plain on either of their faces at the spontaneity of their passion. How could a pseudo friendship have evolved so effortless and suddenly into this...whatever it was? What were they doing? Why?
"Kyle?"
Their foreheads pressed gently together, the pair breathing smoothly in airy wisps into the wintry air. She moved the hand on his back instead to cup behind his neck. His thumb brushed across her cheek.

"I think I'm in love with you."

He shook his head slowly. A soft smile spread proudly on his face.

"I'm in love with you, Kaie. You're a pain in my ass and I'm so in love with you. I'm so in love with you."

She found herself smiling in spite of the crazy and locked lips with him again. The ache she'd awoken with disappeared in the same way a grave was forgotten. The tombstone was removed and the burial forgotten, but the ghost of the body that persisted to remain beneath would still choose to haunt her now and again. Not even the strangeness of her gift plagued her just then. For now, she would drown its memory in the moment the two hunters created within one another. And though she couldn't hope to explain it, and though she found the words hard to speak aloud, she too had completely and wholeheartedly fallen madly in love with the very man she knew herself to loathe.
OOC:

Word Counter: 49,571/50,000