Kaie of the Cutthroat Shadows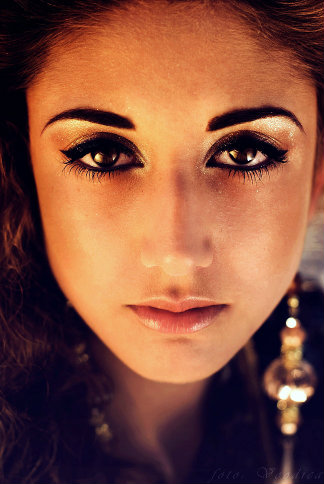 Race:
Myrian
Gender:
Female
Age:
18
Birthday:
2nd Day of Spring, 496 AV.
Birthplace:
Taloba, Falyndar
Appearance:
The long waterfall of hair dropping just below her neck is a brown so dark it actually appears an almost black at times. Complimenting it are Kaie's hypnotic eyes, whose color are strikingly bold hues of amber. Her face is graced with soft features, but with it comes a certain intensity within her expression. An intense ferocity that could only result from her Myrian heritage. Her skin carries the natural Myrian tones of bronze, a warm glow emanating from her tall, thin, and athletic frame. The woman is rather fit from her rigorous and often dangerous travels which have kept her in shape, gifting her with very limited mass and an abundance of strength in her torso. Toned muscles are obvious in her limbs. Standing at 5'8'' Kaie is not nearly the tallest of her nation, yet the advantage of her shorter height gives her the agility and quickness she has relied on for her survival. Oddly enough she is not adorned with heavy displays of piercings and tattoos so common in her culture. What she does wear is nothing more than a few piercings on her ears and a single tiger fang she wears as a necklace . Often Kaie will be seen wearing a loincloth paired with a vest that buttons loosely in the middle, but outside Falyndar, she will probably adorn herself with a casual looking cloak to blend into the crowds. Unless elsewhere, Kaie will rarely wear footwear.
Character Concept
Kaie is a woman of belligerence. A manipulator and a survivor. Set in her own ways so stubbornly, she can just as easily adapt to her surroundings, taking on the role of anything from sweet, innocent, seductress to a rebellious, hostile woman seeking only to spite her enemies. Kaie is a girl with strong instincts for self preservation that she heavily relies on, which in turn translates into her battles, transforming her into a fierce creature of fury. Sarcastic and witty, she is unwilling to curl up and simply submit and succumb to her unfavorable situations. She's a true fighter, a gladiatrix of sorts, and she will shoot to persevere and carry on. This Myrian female never gives in easily with her forever headstrong attitude. Her determination will carry her through situations brute strength cannot overcome. Independent from the start, Kaie is still on an ongoing quest to prove herself to her people upon her return to Taloba, and perhaps even encounter a mentor capable of blessing her with the skills necessary to bring pride to the Myrians and their goddess. The young warrior yearns for enhanced skills in combat. Her bright eyes are set on earning a chance to bond with one of the Myrian's prized tigers. Sometimes, her recklessness and self confidence can get her into the trouble that's always at her heels. However, she hasn't quite developed a strong sense of morals and lacks integrity outside the Myrian code. When she does voice her opinion, it's always with conviction. Regardless, she is a hand full. Do not underestimate her just yet.
Character History
Born into The Cutthroat Shadows Clan and raised in Taloba, Kaie had always been possessed by the need to hone her combat skills, and bring glory to Myrians and their deities. Her eyes are forever filled with passion for the bloody wars, and the heroes that returned mounted on tigers after battling in the name of Myri. Her own father was a member of the city army, wearing the proud armor of Myri's soldiers, which contributed to her strengthening aspirations as she aged. She trained daily how to handle basic weapons such as knives, spears, glaives, and the like religiously to reach her goals. Shantiwa, her mother, was a woman of skill and class within Taloba and wouldn't dare allow her daughter to fall into ignorance regarding her religion and Myrian history. Between mock duels with other children about the large city, Kaie would accompany her mother through the various places in Taloba from the Temple to the Tower of Bones to educate her on Myri's conquests and stories of battles won by their people.
As much as she loved the stories, her father who went by the name Keritan, always seemed to captivate her in his own way. Since Shantiwa was the head of the family in their matriarch society, Keritan would never receive any real high ranking positions, but his ambitions shifted to earn respect through his combat skills, which he promised to pass onto his eager daughter. After years of service he turned his focus to become a mercenary or assassin outside of Falyndar. This enabled him to earn his living and perfect his skills in war prowess while touring the continent, often returning with prestigious tools and weaponry he usually collected along the way. Considering the amount of time Keritan ventured out of Taloba in search of opportunities, it's very possible the rare occasion of spending time with him made his presence so desirable for Kaie. Often times though she enjoyed her mother's guidance, she longed to join him.
Upon turning fifteen, Kaie drank of the blood from the Blooding Basin and shed her own in it as well in The Blooding Ritual in celebration for her coming of age. It was this year her father allowed her to accompany him on his travels with the agreement she would not accompany him on the actual missions, and she was more than zealously willing to comply. As Syliras was always highly populated with people of various races and backgrounds, Keritan had found it was a favorable ground to search out requests, all the while serving as a neutral ground for their travel where there would be no chance for foul play with the knights roaming about. It was on this journey fate intervened. After passing through the jungles of Falyndar where he taught her basic survival skills, crossing the sea on a merchant ship to Cyphrus, and travelling across the Sea of Grass toward the borders of Sylira, disaster struck. A small flock of Zith, one of the Myrian people's hated enemies, had taken notice of the pair and had begun to possess a deep obsession over them.
Hours passed and they were within just days of their destination when the two Ziths lost patience, and began their descend upon them, coming to the conclusion that while the male Myrian would prove too openly rebellious for a slave, his young daughter may be able to be broken to their liking. After a short lived battle, Keritan proved victorious in killing the Zith but not without a price. Mortally wounded by the fray, Keritan died shortly after he gifted Kaie with his favorite decorated Gladius, and a few small melee weapons she could barter off. With no where else to go, the lone fifteen year old girl continued west into Syliras for refuge.
Kaie never managed to reach the shores of Cyphrus to board a ship to return home to her clan. Instead she remained in the Syliran borders where she resided for two years in the capitol city, developing her independence and broadening her knowledge. She had bartered off the lesser weapons to pay for food and temporary living expenses while separated from home. Lost from her clan she previously had such strong ties to, her only sense of connection to her society was through the gladius she couldn't bring herself to part with. There was always a bit of comfort and stability in the Myrian designs that brought homage to her goddess and her accomplishments. Yet it also brought back the memory of her father's demise.
The loss and injustices turned her cold as she matured but she became calculated, strategic, and intelligent in the process. After she finally overcame a downward spiral toward alcoholism, she became more self aware and hated any sort of limitations she possessed. This often would translate into her rare choices for isolation and less focus on her clan life as time went on. She quickly learned the value of stealth and blended into the crowd to avoid unwanted attention. Without a boldly decorated body she could sometimes escape immediately being labeled a Myrian, though her attire often gave her away. The burning desire to further her skills and earn her tiger stripes never left her during her time of isolation, and now she is determined as ever to rejoin her long lost, but not forgotten, society back in Falyndar. And she has no problem cutting through every forsaken city and forest viciously in order to get there.
Language
Fluent Language:
Myrian, Common.
Basic Language:
N/A
Poor Language:
Pavi.
Possessions
1 Set of Clothing
-Cotton/Linen Vest
-Cotton/Linen Loincloth
-Cotton/Linen Undergarments
-Cotton/Linen Cloak
-Simple Boots
1 Waterskin
1 Backpack which contains:
-Comb (Bone)
-Brush (Bone)
-Soap
-Razor
-Balanced Rations (1 Week's Worth)
-1 eating knife
-Flint & Steel
-Tiger tooth necklace
-Crossbow Bracer
-Crossbow Bolts (10)
-Spear (Loot)
-Flanged Mace (Loot)
-Human rations (Loot)
-Dagger (Loot)
-Kukri x2 (Loot)
-Flamberge (Loot)
-Double Bladed Axe (Loot)
-Wrist Knife (Loot)
-Darksteel Spear Head (Mysteriously Gifted)
-Leather Bracers
-Skyard's Scimitar (Gift)
Heirloom:
Father's Myrian Gladius
Housing
Location:
Wild lands of Syliras
House:
Somewhere in the Bronze Woods.
Ledger
| | | |
| --- | --- | --- |
| Purchase | Cost | Total |
| Starting | +100 Gold Mizas | 100 Gold Mizas |
| Cash In Housing | +500 Gold Mizas | 633 Gold Mizas |
| Crossbow, Bracer | -85 Gold Mizas | 548 Gold Mizas |
| Crossbow Bolts (10) | -1 Gold Miza | 547 Gold Mizas |
| Composite Longbow | -100 Gold Mizas | 447 Gold Mizas |
| Quiver | - 20 Gold Mizas | 427 Gold Mizas |
| Longbow Arrows (20) | -1 Gold Miza | 426 Gold Mizas |
| Spring 513 Living Expenses | -45 Gold Mizas | 381 Gold Mizas |
| Sellsword | +141 Gold Mizas, +5 SM, +5 CM | 522 Gold Mizas, 5 SM, 5 CM |
| Bladed Boots | -20 Gold Mizas | 502 Gold Mizas |
| Summer 513 Living Expenses | -45 Gold Mizas | 457 Gold Mizas |
| Spring 513: Bartending in Syliras | +273 Gold Mizas | 730 Gold Mizas |
| Summer 513: Bartending in Syliras | +273 Gold Mizas | 803 Gold Mizas |
| Cage Fight Winnings and Prepay | +60 | 1063 Gold Mizas |
| Sellsword: Horse Delivery | +250 | 1313 Gold Mizas |
| Fall 513 Living Expenses | -45 | 1268 Gold Mizas |
| Sellsword in Ravok from Sevris | +500 | 1768 Gold Mizas |
| Winter 513 Living Expenses | -45 Gold Mizas | 1723 Gold Mizas |
| Spring Ale Purchases | -28 Copper Mizas | 1722 Gold Mizas, 72 Copper Mizas |
| Blood Pit Earnings on Razkar | +50 Gold Mizas | 1772 GM, 72 CM |
| Mercenary Work From Ravok | 150 Gold Mizas | 1922 GM, 72 CM |
| Spring 514 Living Expenses | -45 Gold Mizas | 1877 GM, 72 CM |
| Summer 514 Living Expenses | -45 Gold Mizas | 1832 GM, 72 CM |
| Leather Bracers Purchase | -50 Gold Mizas | 1782 GM, 72 CM |
| Payment from Boxes and Chains Thread | +35 Gold Mizas | 1817 GM, 72 CM |
| Spring 514 Wages | +819 Gold Mizas | 2638 GM, 72 CM |
| Field Healer's Kit | -55 Gold Mizas | 2583 GM, 72 CM |
| Hunter/Trapper's Toolkit | -25 Gold Mizas | 2558 GM, 72 CM |
| Fall 514 Living Expenses | -45 Gold Mizas | 2513 GM, 72 CM |
| Winter 514 Living Expenses | -45 Gold Mizas | 2468 GM, 72 CM |
| Leather Armor, Night | -60 Gold Mizas | 2408 GM, 72 CM |
| Blade Springs | -8 Gold Mizas | 2400 GM, 72 CM |
| Fine Wine | -20 Gold Mizas | 2380 GM, 72 CM |
| Bedroll x3 | -3 Silver Mizas | 2379 GM, 7 SM, 72 CM |
| Ale x3 | -12 CM | 2379, 7 SM, 60 CM |
| Winter 514 Wages | +1104 Gold Mizas | 3483 GM, 7 SM, 72 CM |
| Sold Looted Armor (Fresh Scars) | +55 Gold Mizas | 3538 GM, 7 SM, 72 CM |
| Spring 515 Living Expenses | -45 Gold Mizas | 3493 GM, 7 SM, 72 CM |
| Summer 515 Living Expenses | -45 Gold Mizas | 3448 GM, 7 SM, 72 CM |
| Fall 515 Living Expenses | -45 Gold Mizas | 3443 GM, 7 SM, 72 CM |
| Buckskin Leather Leggings | -1 Gold Miza, 6 Silver Mizas | 3442 GM, 1SM, 72 CM |
| 3 Bottles of Bluevein Topaz Wine | -24 Gold Mizas | 3419 GM, 1 SM, 72 CM |
| Winter 515 Living Expenses | -45 Gold Mizas | 3374 GM, 1 SM, 72 CM |
| Job | +25 Gold Mizas | 3399 GM, 1 SM, 72 CM |
| Sea Lion Loot | +75 Gold Mizas | 3474 GM, 1 SM, 72 CM |
| Grass Bear Loot | +90 Gold Mizas | 3564 GM, 1 SM, 72 CM |
| Spring 516 Living Expenses | -45 Gold Mizas | 3519 GM, 1 SM, 72 CM |
| Corpse Loot | +6 Silver Mizas | 3564 GM, 7 SM, 72 CM |
| Winnings | +5 Gold Mizas | 3569 GM, 7SM, 72CM |
| Summer 516 Living Expenses | -90 Gold Mizas | 3479 GM, 7 SM, 72 CM |
| Face Pastes (Black, Red, Blue 1oz) | -3 Silver Mizas | 3479 GM, 4SM, 72 CM |
| Fall 516 Living Expenses | -180 Gold Mizas | 4299 GM, 7 SM, 72 CM |
| Sunberth Doctor | -10 Gold Mizas | 4289 GM, 7 SM, 72 CM |
| Winter 516 Living Expenses | -180 Gold Mizas | 4109 GM, 7 SM, 72 CM |
Gnosis:
Myri: First Mark of Prowess (Coming of Age)