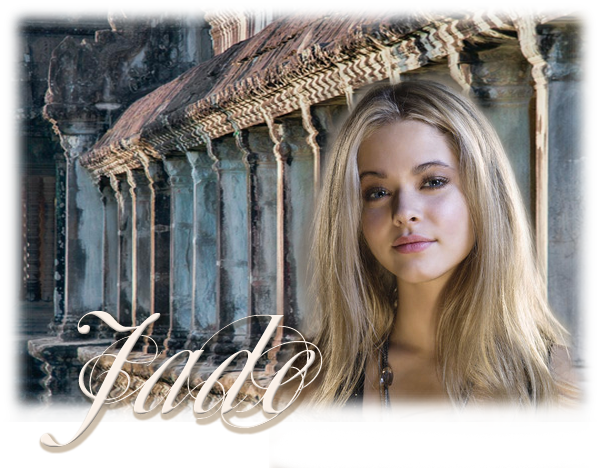 23rd of Fall 517 A.V.

Jade walked on to the beach in front of her bungalow and stretched while Dina was down for her nap on the couch. She had been begging to go play with the animals again, yet no matter times the blonde explained the job change she seemed to have a hard time understanding. Sighing the woman sat down in the sand trying to relax and calm her nerves. Rubbing her face, she tried to focus long enough to get everything ready for work. The child's laughter made the mother worry she was causing trouble.

"Dina! Stay close to the house!" she cried out seeing her try to run off.

"Aw! Yes mom!" Dina marched back over pouting some.

Walking over to the chest that held her clay, the woman got what would be necessary for her display. She did not have hardly anyone coming to buy her wares yet, and that put more pressure on the girl than she would admit. Once happy with how much was in her hands, the woman walked back over and put the clay down on a towel. Using the peddle to start the device turning, she filled the basin under the wheel with just enough water to do what was needed for the first couple of cups. Putting a little bit of liquid on the item, she balled small bit of the clay before slapping it down into place.

"Mommy I'm bored," Dina said walking over covered in sand from trying to build a castle.

"I know sweetie. Run inside and get your dolls and play while I work on a few cups," Jade said kissing her cheek.

The girl groaned and went upstairs and into the house. Sighing the mother took a deep breath knowing her working while Dina was awake would be much more difficult. Since she could no longer help the child was feeling more and more left out. The girl had always enjoyed going to work with Jade at the stables and playing with the horses. Here though there was no such place built or even a need for the animals from what the blonde could see. Soon the patter of little feet returned and the mother heard the door close once again.

"Find them?" Jade asked looking over her shoulder some.

"Yes, mama," Dina called while sitting down.