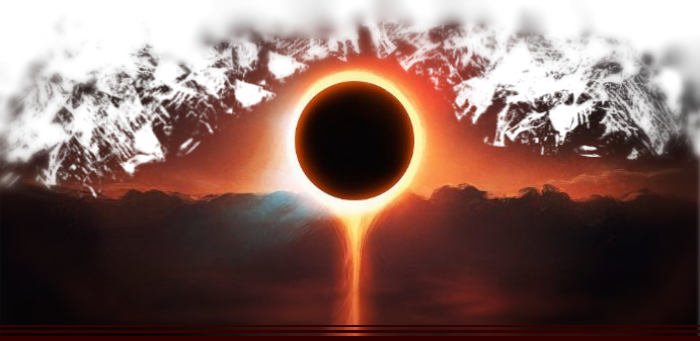 "You will do what you do best," Elias whispered, fingers cupping her chin as he savored the taste of her upon his tongue. "You will fight back."
He turned away, abruptly parting from her sweet embrace and the enrapturing envelopment of her gaze as new purpose fell upon him and spurred his stride. Partly it was because he knew he had work to do, and the distant cries of the sailors now being roused by their unexpected predicament upon the
Acquisition
was getting louder by the tick, but there was also another reason, something more pressing and worrisome than a need for prompt action. He'd been trying in vain to restrain his emotions and wrestle down this feeling he could not shake every since she'd spoken the words out loud they'd both been hiding. It was not a bad feeling, per say. In fact, it was rather nice if he had to be honest. It just wasn't one he was accustomed to having make such a mess of his nerves, let alone expressing out loud, yet there it was, unabashed and unapologetic in its newfound brazenness. Elias knew that if he had stayed with her for a moment longer, he would have never been able to tear himself away from her again.
Oh, how this woman tormented him so! He wondered sometimes if she knew what she did to him. What her worlds alone could wrought within his chest. No other had ever managed to seize his heart or bewitch his thoughts as Shiress did with her every breath, with every longing stare, with every idle thought of her in absentia. It was maddening. It was bliss. It was why he needed to move. Too much was on the line now to bungle it up daydreaming like some lovesick character in those ridiculous romance novels his uncle was always trying to gift Raina with. For all his secrets, the man could be about as subtle as an avalanche in his affections sometime, though, now that Elias was mature enough to understand them, he would be lying if he didn't see the appeal in such dreams. Maybe one day there'd be time enough to indulge in such things. Maybe one day he would know what it was like to share a bond as his mother and Caiden did, and to do so without the constant anxiety of looking over their shoulder for the next knife, but in actual peace and the relative perpetuity of a normal life... whatever that was.
Maybe, but not today.
Elias drew his dagger with a deft and swift blur of movement, marching across the eerily still deck of the vessel. As he moved he talked, speaking with the haste and seriousness that was reflected in his hurried step. "We have much to do and little time to do it. If what you say is true and Radcliff knows someone is coming for him, then my mask was merely a formality at best. It won't take long for him to realize who I am and what my intentions are…" There was a flash of steel, a tight snap in the air, and suddenly one of the life rafts affixed to the side of the slaver barge was cut free, falling into the tranquil waters of Lake Ravok with a resounding splash.
"It means you'll be in his crosshairs too unless we can avert his gaze elsewhere." He continued, turning back to meet her eye with a purposefully poignant look of concern and severity. "My actions against the Lark's since I learned of your abduction have been quiet, manipulative. I struck at their slaves and their agents as I did today, intending to a spark a conflict between the others great houses as proxy, to have them fighting one another before they even realized there was a war raging, but there is little time for such subtle maneuverings anymore. Our plans will have to change.
We
will have to change."
Next, the stryfer strode over to where his longsword lay discarded and quickly retrieved it, sliding its viscous length back into the sheath upon his back.
"You Shiress, will be the key to your own liberation, as yours will be the most important role to play." He went on, hands busied and mind lost in thought. He was planning, plotting, doing what all soldiers did before a battle. There was a definite and inescapable intensity in the air, but at the same time, there was an excitement to it all as well. Perhaps it had always been there, and only in their passionate exchange together had it been revealed at last. It was a welcome charge, one that set his blood to boil as fervently as any combat could. "While I act from the outside, you shall wage your war from within. With the access you have to both he and his home, your ability to strike at the bastard's heart will be unparalleled. Be my eyes and ears within his household. Seek out his every secret, his every surety, his every weakness and vulnerability in this world and I shall use them. From every angle and entryway the petcher shall suffer attack after attack until his plans are in ruins and his prestige can no longer be his shield. From this day until his last, Radcliff Lark will never know peace again. We will divide his attention between the ghosts we conjure to torment him so that his eyes never fall upon the true threat lying in wait." The swordsman continued, rallied and clearly readying himself for something.
"If he's no fool, he will suspect you, he may even use his magics upon you, but I'll tell you something you may not already know. To know a hypnotist is to defeat a hypnotist. The mind-altering arcana cast by one already suspected of using such abilities is lessened considerably when their secret is no longer their own. Questions your thoughts until you are certain they are your own. Make every motivation one put through a crucible of examination and scrutiny before you allow it to influence you. You have braved and bested better mages in the past, Shiress. You will do so again when the time comes. Until then, you shall be the pinnacle of subtlety and deception. He believes you his toy, his slave? Play the part, make him believe that you believe it and all he will ever accomplish in his suspicions is to heighten his own growing paranoia. It will buy us the time we need to destroy him completely."
He crossed the desk once more, returning to her before gently taking her hand and leading her over to the side of the barge. "I will send Zeb to you soon. He and his little cadre of rats will act as our messengers. Keep your eyes peeled for his skittering in the shadows and be prepared to use him." At this point, amidst all the haste and urgency, Elias had stepped up and unto the ship's railing, balancing precariously upon the thin divide that was all separating him from a nasty fall over the edge. He still gripped Shiress's hand with his own and bade her to join him. His hold about her waist would be as a firm and unfaltering as it always was. She could count upon him to keep her steady, in this, and in all things.
"Now, I'm going to sink this ship and all its cargo. I'm afraid you're going to get wet." The sorcerer stated matter of factly. It was the only way to avoid suspicion when they come to retrieve the survivors. Thankfully, Elias had already prepared the lifeboat the Zeltivan would need during her long wait… If it was any conciliation the reimancer himself was not exactly in for an easy time of it once all was said and done and he to was ready to make his leave. He'd used up quiet a bit of his djed in a very short amount of time. The mist, the lightning, all of it had eaten away at his reserves, and though he knew himself well enough at this point to know it wasn't near depleted yet, it would be by time he'd made it back to Ravok -in secret- with what was left. He'd always had a problem with rationing when it came to the heat of the moment, and just like all the times before, he was going to live to regret it.
"Oh," the Caldera interjected with an uncharacteristic tilt in his tenor. "I noticed your…
reaction
when I dealt with that guard before. Your reservation. Your remorse.
His
reservation.
His
remorse. I felt them. If there is something between you and he…" The soldier ground his teeth. Why was he getting so angry all of a sudden? Was it because he was remembering how the man had nearly gutted his woman, or was it because of the she had reacted despite that. "If you don't want me to go out there and do what I need to do to him to make sure our secret is safe, you need convince that boy that the face he saw under the mask is not one he wants to remember. Do you understand? There can be no room for mistakes in this. Not anymore."
There was a shout in the distance, a clarion cry for help, and one quickly answered by another. The crew of the other ship was well on their way to evacuating, which meant it was time to be gone. The Stryfer reminded himself to breath, taking a brief moment to sort through his thoughts one last time to make sure nothing had been left unsaid amidst the turmoil. The problem was, there was always going to be too much. How he did say goodbye after all this? How did he make their parting not feeling like a sundering of the soul. It had driven him to frothing rage the last time they'd been separated, but that had been by forces outside his control. Now his was the hand that was pushing her away, and despite everything he had just said, everything he had just promised, he knew this would this it would hurt even worse.
"There's a garden." The mage muttered beneath his breath. The two of them were mere inches from one another, the only thing either needed to keep themselves upright on the beam. "At my house, there's a garden... I call it a garden, its more a cemetery now than anything. The grass is more gray than green and not even the crows will touch the weeds anymore." He smiled faintly, leaning his forehead against hers. She was warm. She was always so warm. "When this is all done, I'm going to take you there. You can meet my cousin and her little boy. Alija and Kial. She's real nice. They both are. You'll like them I think... Maybe, while you're there, you can put that green thumb of yours to the test and... and together we can breath some life back into that garden. How does that sound?"
A hand found her tender cheek, its tremble subsided by force of will alone.
"Remember, we will be together again. I swear it. To you and any god listening. Not faith, nor destiny, nor the machinations of man or the divines that puppet them will keep me from you, Shiress. We
will
be together again.
This isn't the end. Its just the beginning."