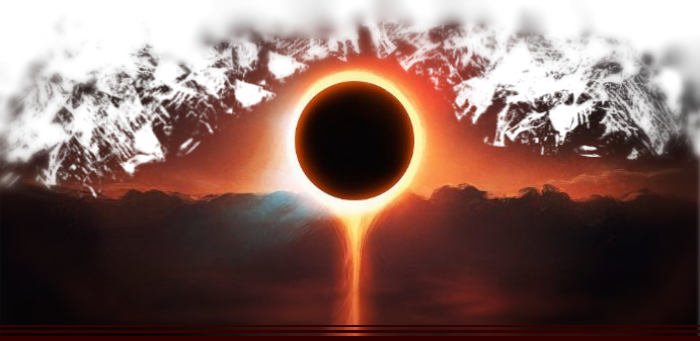 A sigh rumbled out of Mithran like a rolling thunder cloud.
Deep and tumultuous, it was not the first the restless barrelman had unleashed from atop his perch, nor would it be the last.
Another day, another haul.
he reminded himself listlessly.
How many summers was it now that he'd sat here atop this crow's nest, staring out at these same placid, blue waters? How many years had he bid the lakeshore whores farewell, only to clamber aboard this old tub and dutifully watch that spired smudge on the horizon slowly but surely grow and magnify into the great, hallowed city he called home. Don't get him wrong, there was no finer port in the world than the glistening glory of Rhysol's sanctum, but even paradise lost its luster after a while when every day was spent staring at it for four bells at a time, three or four times a day.
He'd been up here too long, the Ravokian sailor decided for the umpteenth time that evening, and like all the other times he'd come to that shocking conclusion, he also remembered to curse that damn captain Parfito's name once more. "Blast his eyes!" Mithran mumbled in a slur, cheek slouched and resting uncomfortably in one hand propped up against the edge of his tiny, towering prison.
Beneath him swayed the [/i]Velvet Prince[/i], an old saquie that had crossed these serene waters between city and shore for more years than most of its crew had even lived. From his vantage, the lookout could see the rest of the boys milling about, trying to look busy as the devil himself prowled the deck from stern to bow, just looking for an excuse to start yelling again. The grizzled old Zeltivan was a bastard in every sense of the word, and despite years of the easiest, most mind numbingly tranquil gig in all the world, he still ran his boat like a damn Svefra raider on the run. In all the years he'd sailed with the scruffy petch, he had never been able to understand him. The Larks paid well, and they didn't care about anything other than making sure their cargo got from one end of the lake to the other. As long as it was on time and undamaged, they filled your pockets with easy coin and your dreams with promises of more to come. Yet Parfito was a man determined for difficulty at every opportunity. If the rigging wasn't to his liking, it was the rowers who weren't working hard enough. If the course wasn't just right, it was the supplies being misplaced. This and that and this and that, the man was a petching pain in the ass who'd been steering full sail into a conflict that one day everyone on board knew was coming. Today he'd been particularly tyrannical though, and Mithran had nearly found himself ready to go to blows after only a bell of his bullshyke. Ever since that slave had skulked aboard with her little treasure, things had only gotten worse.
It was bad enough having a woman onboard the Prince, but a pretty one could only spell trouble. Of course, they'd all tried to catch a peek of her from one time at another, you know, just to get a look see, but the captain had caught poor 'Smiley' trying to creep his down below deck so he could have himself a little fun with the comely lass, as if he didn't have a wife waiting for him in Ravok when he got back- or another back in Lakeshore. Mithran had never seen a man hit the floor so hard like he had Smiley after Parfito had laid into him. 'That's lord Radcliff's property you're petching with, boy!' he'd yelled down at the bloodied kid, and in turn, to the rest of the crew who'd been looking on in shock. 'I told you to stay away from her and the rest of the master's shipment, and now I'm telling ye again. Keep your petching distance or I'll smack each and every one of yah so gods damned hard your grand kids'll be feeling the sting of mi knuckles!'
Son of a bitch was likely squirreling her away down there so he could keep her all to himself, the greedy petcher. Some of the others had whispered some crap about a plant or something, like it mattered, or he even cared. He hadn't seen a woman like that in a long time, and for Parfito to try and hoard her away like some snarling dragon its pot of gold... "Bah!" Mithran spat over the railing in indignation, and before long he found himself sighing once more. Deep and tumultuous, it was not the first the restless barrel man had unleashed from atop his perch, nor would it be the last.
With a muffled yawn he turned his blurry gaze away from Ravok, still a fair two -maybe two and a half bells away, and instead affixed it to the west. There, alongside there port rippled the soft, black and white sails of
The Acquisition.
Another saquie belonging to the family, though the difference being her hold had been emptied and redesigned with chains and manacles in mind instead. A slave hauler, her belly was empty this round having recently dropped her load of sorrowful souls at the lakeshore for shipment further, perhaps to Nyka or far flung Kenash. From what Mithran had heard, she was on her way back for more, which meant business for the family must doing rather well considering how much meat they'd been moving as of late.
The other vessel sailed just a few dozen yards or so from the Prince, matching their speed and coarse with practiced ease. Mithran sluggishly waved his hands above his head, catching the attention of Kent, the Acquisition's own lookout. The two had sailed this route so many times together now they'd developed their own little language of signals and gestures to cope for the fact that trying to yell a conversation over open waters only made their throats sore and their shipmates irritable. He was almost finished signing to the other lookout about whether or not the he'd be up for another sound thrashing at cards over at their favorite tavern when he noticed Kent hadn't even acknowledged his flailing yet.
He signed again, and still no response. Annoyed, Mithran was literally jumping up and down in his barrel by the time Kent had even noticed him and begun to stir. "What is he looking at…" Mithran grumbled. It took a minute to realize Kent had been stuck to his spyglass now the entire time. When he noticed his compatriot, he didn't bother signing anything back. He simply pointed.
Mithran, confused and flustered by his friend's unusual obliqueness swiveled northward towards the city where he'd been gesturing. He'd seemed strange, frightened almost as if-
That was then he saw it.
Ravok was gone, and in its place now rose a wall.
Not formed of brick and mortar, or even waves and water, but instead of something else. "Mist…" Mithran breathed through gaping lips. It was a storm cloud of swirling, rushing fog the likes of which he'd never seen before. How he'd managed to miss it was beyond him, but in the short time he'd let his mind wander and his attention stray from the horizon, a gargantuan wave of thick, blinding mist had arisen, obscuring the great city and -there was no mistaking it- moving right towards them.
"What in the name of god." He gasped, dumbstruck, and truth be told, a little frightened. This was nothing natural. The city of chaos could be a strange place sometimes, but the old lookout would be a liar if he said he'd ever beheld something like this before. His stupor ended abruptly, shaken loose by the sound of a bell ringing. He swung over to the source of the sound and found Kent atop the Acquisition, violently rocking the gonger of his alarm back and forth to warn the crew. He noticed the man was waving at him at the same time, jabbing his finger vehemently at the cloud coming their way.
"I know, I know you damn fool. I bloody see it now…" Mithran hissed to himself. "What are you trying to say?" Then the signals started to come in, hand swaying and bobbing to form the basis of a hastily assembled message. "Something… Something in…" It was taking too damn long to sort out what the other lookout was trying to say and by now he could hear Parfito screaming up at him from the deck below.
The storm was getting closer now, and Mithran could feel a wet breeze lapping at his face, but he put it out of his mind, focusing instead on Kent's signals.
"Something… in… the mist?"
A chill took a hold of his chest. Like an icy hand wrapping itself around his heart, part of him didn't want to look -didn't want to make whatever nonsense Kent was saying reality by acknowledging it, but still he looked all the same, slowly craning his neck back to the north and squinting his eyes. There it was, right where he'd been pointing. A figure, black and bleary, but undeniably real despite the distance. It rode at the head of the mist, the shape of a man riding tall atop what looked like… like a ravosala? The sea seemed to part before him, his arms folded and his posture impossibly rigid as his tiny vessel hurtled forward with terrible momentum, slicing the water in twain in his wake. Where the water rose up at his sides however, instead of falling back into the lake where it belonged, its fringes began to…
change
. Dissipating and billowing behind the stranger like some massive ivory cape before fading into the wall of white that followed, and Mithran realized then that that was the source of the mist.
The old sailor rubbed at his eyes, praying he was just drunk or something -anything, but no, it was true, and worse yet, it was getting closer every tick.
"Mithran!" He heard shouts and cries coming from below now. The rest of the crew had seen it and were begging to panic. "Mithran!" Parfito roared again. "What is it?!"
But before he could answer -before he could work his fat tongue into trying to give voice to the madness he was watching draw nearer and nearer, the man in the mist lunged his arms forward, and the tide of white hounding at his heels suddenly surged ahead as if alive, enveloping him entirely, then everything else.
The world disappeared in a veil of fog.
Mithran's vision was a sea of blinding white when the wall hit, and the surge of wind sent him reeling backwards before he managed to grab hold of the mast and steady himself. Even shaken as he was, the old sailor still clearly felt the ship rocking under him and knew what it meant. The ravosala had passed between both saquies, and whoever it had wrought this nightmare upon them was now within their midst…