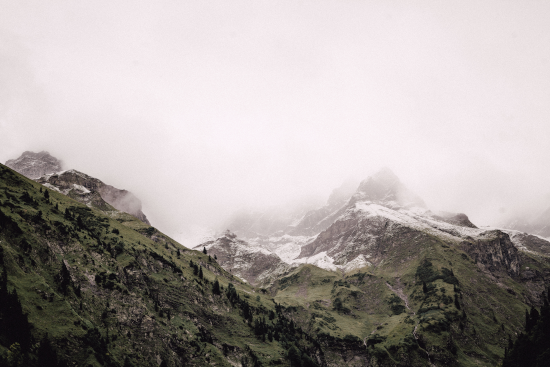 The early morning sun slanted in through not-quite closed curtains and fell across the face of the Drykas hunter that slept within the room. Beneath closed lids, his eyes were flickering with dreams and a light sheen of sweat beaded on his forehead.
All of a sudden, eyes snapped open and Zach sat bolt upright in his bed, breathing heavily as though he had just run the length of the city. He roughly ran his hands over his forehead, pushing damp hair off his face.
Zach hadn't dreamed of the mountain in a long time. The memories of the pain and darkness had left him alone for seasons now. With a sigh, he fought his way out of the sheets tangled around his legs and padded over to the desk. He gripped the back of the chair tucked under it and stared for a moment at a highly polished piece of metal that sat atop the table surface.
Jaw tense, Zach reached out to pick up the metal and raised it to his eye level. The hunter used it as a crude mirror, and almost reluctantly, he met his own gaze in it. He had tried to leave his mountain misadventure in the mountains, but of course something had come back with him. A something he had been trying to hide and forget about since he'd gotten back.
The eyes that looked back at Zach were a bright, clear blue. But cutting through the blue was a golden-yellow sunburst that surrounded both pupils. He was still amazed that nobody had noticed it yet, though he had been actively placing himself in unfavourable light and keeping his gaze lowered whenever he was around others.
It wasn't so much the eyes that bothered Zach. If that was all it was, he could live with it, even if his own reflection did still catch him off-guard frequently. No, it was the thing - the ability - that came along with the eyes. It scared him. Magic had always been something that other people used, not simple hunters like himself. But now, he had magic. At least that was what he assumed it to be. There was no other explanation he knew of that would make any sense.
Zach hadn't used it since that day on the mountain, and back then he hadn't stopped to consider anything past that one day. He hadn't had the time to. He had been hoping it would just go away if it wasn't used anymore, but it had been seasons now, and the eyes had stayed. And now the dreams were back. Was it because he had been ignoring it?
Still holding his own gaze in the piece of metal, Zach took a deep breath and then concentrated his mind. He recalled the memories of what the world had looked like when he had 'seen' and willed himself to see it again. The yellow of his reflection's eyes flashed, the colour growing more vivid. His gaze drifted down to his hand, and sure enough it was glowing, outlined in the golden light he remembered.
Zach shut his eyes, focusing hard to turn off the vision and make the colour disappear again. When he opened them again, the yellow in his pupils was no longer 'alight'. He returned the makeshift mirror to the desk and turned his back on it. Just what had the fox done to him that day? Aside from the obvious colours he could see, the hunter had no idea what this ability actually was. It was time for him to find out. But where on Mizahar did one start?
Zach knew next to nothing about magic. Though he did know someone who knew a lot more than he. Grabbing the clothes closest to him, he pulled them on and was out the door within chimes, taking a route he now knew well across the Peak. Soon enough, the imposing structure of the Infinity Manor came into view. Pushing the gate open, he wound his way along the path and stepped up to the opulent front door.
The Drykas paused before knocking, though he was sure that the house and whoever may currently be home already knew that he was here. He wasn't sure how, but previous forays into the Manor had led him to believe it could tell as such. When he finally did knock, he took a single step back, hoping that it would be the spiritist who opened the door to him. If it was, he would look her straight in the eyes, this time not hiding his own.
"I was hoping you could help me with something… I think, a magic something."