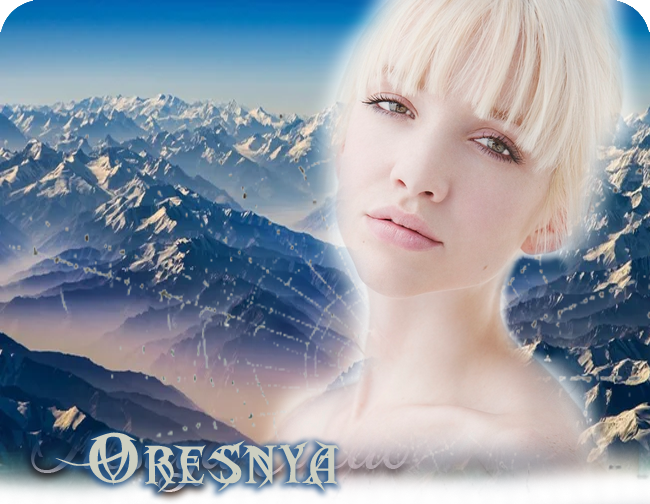 Winter the 12th, 519 AV



Home. Her thoughts were filled with it today. There were so many people she wanted to see again, many of them old friends or even just acquaintances in passing, but the most important ones were all family. Her father and mother, Davulod and Senessa, who she had left with nothing more than an "I love you" before disappearing. There had been no warning of Oresnya's departure. The words she had left them with were the same ones she had used every day on her way out of their hanging dwelling to the Weft and Warp to weave Ranekissra silk. Then there was her brother Deshvelon who had very little left. It was cruel of Oresnya to leave him. In his wife's passing, he had lost the person who perhaps understood his awkward ways best. All he had left was Oresnya who had been his greatest friend in their younger years. Her, and his daughter, Oresnya's niece Ynessa. Of all the people in the world, her lover included, Oresnya wanted to see the child most. Ynessa had been too young to know who Oresnya was before her aunt left Kalinor. Oresnya wanted to see what sort of girl she was growing up to be. If Ynessa was anything like her mother, she would be remarkable.

Yes, Oresnya's thoughts were consumed by people, because it was family that made a place home. Wind Reach still wasn't home, not yet, though day by day, she grew more comfortable in it. Still, she had to admit there were times when she felt more alienated than when she had first arrived. Certain people, admittedly due to actions of her own, held a more deep-seated fear and hatred of her than the vague one they held for all Symenestra.

But Wind Reach didn't matter right now, because it wasn't Wind Reach she was going to be in, if Hacaw's information was correct. An odd building filled with doves had appeared in Wind Reach. It wasn't so much the contents that were odd. Birds were practically worshipped in the mountain, and another building dedicated to housing them was a welcome addition to the city. What was odd was its sudden appearance. There had been no construction, no supplies and materials laid out beforehand. There had simply been an empty space one day and a dovecote the next, but that wasn't the end of its outstanding nature. It took people places. Not places, a singular place. Everyone who entered and closed the door behind them found themselves in an open air market place, and from talking to the people who had been there, the market had people from all over Mizahar present. There was a chance that there was a connection to her home.

So Oresnya had quickly padded her ways barefoot through the halls of Wind Reach until she found the dovecote in a place near the Wind Eagles' aerie, a place that allowed the doves quick access to the outside air, a place where they could easily take wing but still be sheltered from the elements. She had been in Wind Reach long enough that they had deemed her escort unnecessary, but Oresnya missed her shadow. Bob had become something of an unwilling friend, confidant, and cohort in all things Oresnya did. Now, when Oresnya walked the halls, it was completely alone. Perhaps it was just that she was still an outsider. Perhaps it was something more.

For all her attempts to fit in, fate seemed to be throwing more chances to not, and Oresnya, fool that she was, always seemed to take the bait. It was the call of the wild. Instincts raged inside her, clawed just beneath the calm surface of the humanoid exterior, begging to be free. There was the primal nature, the one that longed to hunt and feast on flesh the way it had before her people had learned language, before their city and society had sprung into being. It showed itself as a dangerous glint in her eyes, perhaps visible, perhaps lurking just beneath the surface. Whichever it was, it made others nervous around her or avoid her completely. Only her fellow seamstresses, Leo the Poisoner, Val the Gatekeeper, and the mute Dek Eshryd still kept her company, and some of those only out of necessity.

But Oresnya was headed somewhere new, where no one had any preconceived notions about her excepting only those that existed toward her race, so she swallowed as much of the urge of those instincts as she could, burying them beneath layers and layers of artifice, the warm outward demeanor that society so often looked kindly upon and a smile that spoke of friendship when there was no basis for it. Wearing these as well as she could, Oresnya stepped into the dovecote and shut the door behind her. Not knowing how long the dovecote needed for the magic to work, Oresnya waited several chimes, watching the doves watch her. With beady eyes and soft coos, the birds considered the intruder with erratic bobs of their heads that seemed to say she was a curiosity but welcome.

When she was convinced enough time had passed, she opened the door and found she was no longer in Wind Reach. This was not the hall of a mountain city, but an open market with clear sky above. It had worked!

She didn't have long to marvel before a flutter of feathers burst over her shoulder and out the door as several doves flew to the ground outside and began pecking at crumbs that had been scattered there. Stepping outside with them, she noted with a certain pleasure that the air here was warmer than the air of the mountain she had left. Perhaps they were farther south.

No one was about at the moment, but she heard the general hubbub that came from a marketplace in full swing. Business men and women were hawking their wares, but Oresnya was far enough away she couldn't hear what was being sold. The wares didn't matter though. She wasn't here to shop. She was here for signs of home, for Symenestra comforts once more. Setting off at a brisk pace, she rounded a corner and nearly ran into a couple.

There was a moment where an apology hovered on the man's lips before his eyes registered who, or rather what, was standing in front of them. The words never made it off his tongue, and instead, he gripped the woman's hand a little more tightly and pulled her behind him. Oresnya smiled, perhaps a bit too broadly, showing off canines that gave legitimacy to their fear. They hurried on with Oresnya's pleasant "good morning" following them.

The Symenestra wasted no more time making it to the market place, but she found herself disappointed, not in the market itself or its contents which were perhaps the finest she had ever seen but in the absence of a Symenestra presence. Her eyes scanned the crowd, but she didn't find the familiar hair, eyes, and skin of her people. With hope dying inside, Oresnya made several laps around the market, each time searching for a Symenestra, each time looking for the deep tones that were so typical of Ranekissra silk, each time drawing more and more hostile glares. Her people had made a dangerous reputation for themselves, and those who didn't partake in the Harvests still had to bear the weight of what their brothers had done.

The stares began to weigh on her, and she abandoned her search. Rather than seeking the familiarities of home, she began to watch for something different. It was humankind that kept a wary watch on her, but there were creatures of this world that didn't share the human outlook. There were creatures who took the world at what it was, who had a simpler yet in ways more complex understanding of how the world worked. Humankind had once known it, but years of living in cities and societies had dulled their awareness of it.

The

it

was the call of the primal creature deep within, instincts long honed by survival. This was something Oresnya longed to understand, and there were others out there who could help her understand. She had met a Kelvic last season and had seen that dangerous glint in his eyes. It was more than just danger that lurked there. It wasn't simply predatory. Rather, it held a wisdom of the world that couldn't be shaken, a wisdom that had existed from the dawn of creation, a wisdom humanity had forsaken for logic and knowledge. As she made a final lap of the market place, Oresnya kept her eyes on others' eyes, ready to capitalize on the opportunity should it arise.

And finally, Oresnya saw one. It was subtle. Many of them were. While there was the natural behavior that came with their animal natures, many Kelvics had adapted to living with people, and sadly, some of what made them them was lost.

The look in this one's eyes was almost human, so very close, but that knowledge that only came from an attachment to one's wild instincts ran fierce beneath the cool gray surface. It was that that Oresnya saw first, though had she been paying attention there would have been other things to clue her in as to the decidedly unhuman nature of the person standing in front this stall. Mostly it was the color of her skin that gave her away. The pallor of it gave even the Symenestra a run for her money. Oresnya realized her own skin and fangs and hair and eyes and nails would give her away as someone unnatural and could only hope the other individual would accept her presence. It wasn't until she thought of this that she realized she had been staring at the other woman for far too long, and since their eyes had met, the other woman no doubt had noticed.

To try to save some face, Oresnya turned to see what it was the woman was perusing. It was a jeweler's stall or at least a business woman who sold such things. Rings and bracelets lined the table as well as a few trays of raw and cut gems while several stands let necklaces dangle from them. Reaching out for one, Oresnya remembered someone telling her that the oils carried on people's skin could damage certain metals, so she used nothing but her long thick black nails to pull the chain up. It was a simple silver chain with a simple pendant, but the stone the pendant held was a brilliant amethyst that matched Oresnya's.

Before the businesswoman could try to sell her anything, Oresnya turned to the woman with the glint in her eyes. "There are so many incredible things, but I think I like this one best." She had no eyes for jewels and couldn't see the many flaws in its cutting. It was only the color that drew her. "What drew you here?"

Oresnya smiled her overly fanged smile and searched the woman's eyes once more for that hint of the wild before her eyes dropped back to the table, her nails trailing over several other pieces, silver and gold clinking beneath them.