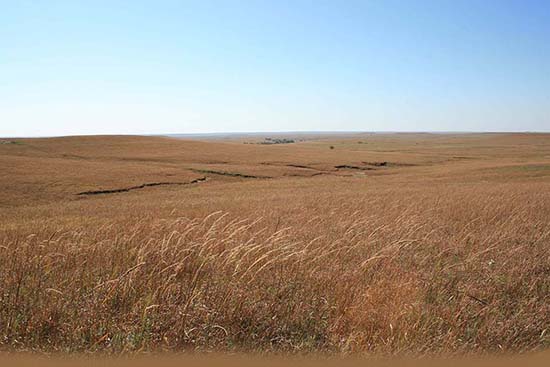 Day 1
The first thing Shiress was aware of when she came awake was the odd sensation of a gentle breeze stirring her hair.
The second and more jarring awareness was that, despite knowing she had fallen asleep in her bed, she was no longer in it.
Shiress's eyes snapped open, and she jerked upright, eyes squinting against Syna's rays as she dazedly studied her surroundings. Which consisted of a wall of gently swaying, tall and thin blades of...grass? Wheat?
"What the..."
Coming hesitantly to her feet, Shiress turned slowly in a circle, eyes widening and mouth falling open in an O of absolute astonishment and not a little bit of confusion. All around her, as far as the eye could see, there was...nothing. No mountains, no roads, no houses, not a single living soul. Nothing. Nothing but a vast, open grassland on gently sloping hills that abruptly ends against the blue of the horizon in all directions. On any other given day, Shiress would have thought the view beautiful, but the sight before her only filled her with dread. With a hard chill, Shiress suddenly felt very alone in a vast and unknown world.
"Hello?"
she called but already knew she was well and truly alone when not even the echo of her own voice called back to her.
Shiress wrapped her arms around herself and, with a jolt, only then realized that she was as naked as the day she was born. Dropping her chin, she gazed down the length of her body and instantly blushed with a bout of self-consciousness, hands lifting slowly to cup her breasts, one leg slowly crossing over the other, eyes going wide again. Not one stitch of clothing. Not even the tie that had bound her braided hair the night before remained, leaving her long, chestnut locks lying loosely against her scarred skin.
At least her lengthy tresses covered her bare arse.
Shiress's gaze scraped across the landscape for another chime before snagging on a nearby tree. Suppose it could be called a tree. It stood only as tall as Shiress and was spindly thin, but what held her gaze was the bag dangling from one of its branches. Momentarily forgetting her modesty, Shiress relaxed her arms and stepped cautiously through the hip-high stalks of grass to the tree, and carefully pulled the bag free. With another suspicious look around, she upended the bag's contents on the ground.
A bow that resembled more a stick with a string attached, four arrows, flint, and steel, a rabbit pelt, and a clay mug tumbled free, scattering at Shiress's feet. Dumbfounded, she stared at the items a long moment before bending to pick up a scrap of what looked like thin parchment paper. Turning it over in her hand, she gently unfolded its edges, revealing a map. But of what?
Shiress studied the hand-drawn chart trying to make sense of its scribbled depictions of, well, nothing really, save what looked like hills, the occasional tree, and crude drawings of dogs, maybe, snakes, and other, smaller, animals she couldn't make out. Stranger still was a pair of Xs, one small, marked near the bottom of the paper beside a small tree, and one larger marked at the top.
Her gaze flitted from the map to the small, bag holding tree, back to the small X and the tree on the map, then straight ahead to a copse of trees off in the distance, back to the paper to a similar depiction of trees, then, again, to the tree beside her, then back to the paper. Finally, realization dawned; the small X was her location, and the large X was, what? Where she was to go? Where she was forbidden to go? Where 5,000 gold mizas were waiting for her, or maybe a strikingly handsome and equally as naked man?
Shiress sighed, exasperated, and dropped her hands, map in tow, down by her side, tiring of this game, or challenge, or petching crazy, exceptionally realistic dream already.
With nothing left to do, she scooped the items back into the bag and straightened, peering skyward. She was pretty sure it was morning, and with the sun to her right crossing the sky to her left, the big X was straight ahead. So to the north.
Shiress started walking.
[Word count: 747]