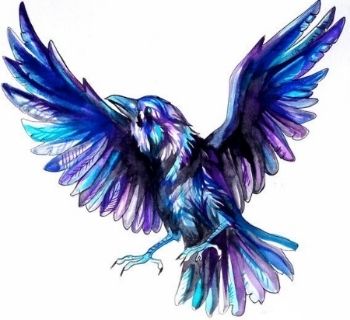 "Eyris? The goddess of wisdom?" Izuyanai said, with a new interest and respect for Shimoje. "That must have been quite the event."

So the mark was a gnosis from Eyris herself. Though Izuyanai did not directly worship her, she had heard of her and knew that her own life often crossed paths with the deity's domain. What was more, being able to read objects sounded a lot like Auristics and Izuyanai wondered if Shimoje could read people's auras as well.

The raven raised her brow at the sailor's comment and waved it away, her mouth barely curling into a smile. "If I affirmed that statement, I'm sure some divine agent would come strike me down. And even if I was, what would I rule over? The half-drowned and desperately dehydrated? A glorious domain indeed."

Continuing along the beach, the two drew nearer to the settlement. Shimoje stumbled every so often, but Izuyanai paid no mind, thinking it was only natural in his state. They continued along in silence with only the sound of the waves to fill the air before Shimoje's voice cut through the quiet.

"Believe it or not. No. I don't do romantic walks," Izuyanai reluctantly let the stranger tug away some of her baggage. "So, what do you have to offer? Other than sailing and carving of course."

It wasn't about the value of the repayment. At least not mostly. It was about people's reactions. Whether or not they would be indignant at having to repay her, whether or not they tried to weasel out of the payment, and whether or not they were eager and accepting. So far, Shimoje seemed to fall into the latter, though Izuyanai would not know until the whole transaction played out.

He certainly was nosy, though. Izuyanai could not complain without being a hypocrite, but she often dismissed the concept, tailoring situations to her own advantage. She wasn't about to tell him everything, scraps of the truth would suffice. However, now that she thought about it, a craftsman could be useful to her in setting up business.

"I came here to test my fortune, a lot people will tell you the same. Right now I was hoping to set up a business of my own. We all do our best to make sure everyone is fed, and I thought I could make myself more useful in that regard."

Izuyanai turned briefly toward Shimoje, but just as quickly the man looked away, staring intently at the scenery instead. Izuyanai casually studied his strange mannerisms before opting to return her gaze forward.

OOC

It's fine if you can't get back to me for a while, though I do enjoy decrypting your spelling mistakes. Take your time and thanks for threading with me.