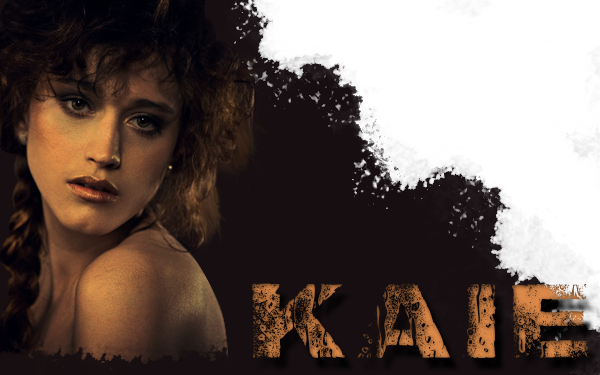 6th of Spring, 514 AV
20th Bell


She'd been staring into the same tankard of half finished ale for some time. It had been the third she'd ordered that night in the Pig's Foot Tavern, and very contradictory to just about every evening before, she couldn't get past it for the life of her. The issue wasn't anything near being unable to hold her alcohol. Sobriety, she had decided upon her arrival, was just as much a plague to her as any disease in the wretched wasteland she'd been sent to. Drinking was the only thing that broke the shackles of her mind, where she was often tortured unrelentingly by her own cruel thoughts. However, lately there had been a certain restlessness within the Myrian female. It was in the rabid tapping of her right foot silently upon the floor, the way her amber eyes flickered about the crowded room in cold calculation. As much as she craved it, ale apparently would not rescue her this night.

After a chime of agonizing deliberation, Kaie did indeed slip from her stool at the bar and shove her way out into the night. Leth's glow was dismal at best, only half of his pale face on display against the stars for filthy onlookers down below. Akajia could wrap Sunberth in the thickest blanket of night and not even then would it be deemed beautiful. Always present was that foul smell like rotting flesh lingering in the air. She'd never be so numb to it like the locals no matter how many men of her own she had slain, that was certain.

Kaie drifted down the streets from the tavern, drawing her cloak hood up over her head to obscure her obviously foreign features that often made her a target. Unfortunately, as constantly alert as she was, the jungle woman did not distinguish the men following her several paces behind from the rest of the foot traffic. It was only when there was a break in the slim night-time foot traffic that their grouchy snickers became audible. For a moment the savage thought about whipping around to steal a cautious glance at her back, but doing so would've forced action from the other party. Instead she focused on the volume of their voices to judge their distance, all while her fingers danced their way down the hilt of her gladius hidden by her cloak. Like all egotistical males it didn't take them long to make themselves known to her.



"Oi, where do ya think yer goin', savage girl?"




"Aye, think we didn't see ya leavin' tha tavern did ya?"




"I dun know 'bout you, but I ain't ne'er had a Myrian before..."





Petch,

Kaie thought wearily to herself, willing herself to continue walking rather than breaking her composure just yet.

Three voices. At least three men. Three bastards whose throats I might have to cut in a tick before their blades find mine...and I know they'll take their time getting to that.





"Aw, come now! Dun be shy!"




Ye' dun be shy!"




"I saw yer face in tha Pig's Foot. Fine little heathen you are, I told 'em. So turn around and show them whatcha look like, tigress."



A few of them chuckled darkly and there was some rough shoving noises before their voices came again. This time they were too close for comfort and far less friendly than before.



"She thinks she's too good fer us, boys."




"Aye, better teach her different then. What do ya say?"




"I say petch her and the whole lotta them. Let 'em rot in the damned jungle with their Bitch Queen."



The bronzed woman stopped dead in her tracks, her slender silhouette as still as a statue in their path. She uttered not a phrase just then, but merely remained rooted in place as they approached. Even the men could sense something

very

different in the air.



"Oi, look a' that! What'sa matter, savage? We offend ya?"




"Aye, think ya pissed 'er off, Fen."




"That so? Which part? Your stupid, brown race rotting to shyke? Or that bit 'bout your Bitch Queen? I hear someone in Nyka's been fixin' to give 'er a second slit wit' 'is blade."



The cloak dropped from her shoulders in a flash, the metallic scream of an unsheathed gladius ringing through the blackness. The enraged Myrian turned then, her curly hair cascading wildly down her back, eyes gleaming with such a hatred potent enough to set the whole city ablaze. Her pink lips curled into a fearsome snarl and her fingers held a white knuckle grip around her blade. Her chest rose and fell beneath her leather vest rapidly. Shocked, the three took a defensive step back and drew their weapons. A dagger, a short sword, and a club. Their tick of surprised gasps quickly turned over to nervous, malignant laughter.



"There she is..."
"The Goddess Queen will take great satisfaction in your sacrifice,"
Kaie managed to snarl viciously before she sprung at them with a cry, body naturally falling into a predatory crouch as she closed in. The first to step forth was the short sword, who of course made sure he was the first to strike. With a grunt he jabbed the sword at the savage's middle but she was gone before the blade could pierce flesh. Instead she had danced off center, her gladius smashing like a club down upon the steel as if soared past her. Then came her roundhouse counter kick to the side of his knee, to which there came a loud

pop

and he reacted appropriately with a cry of agony. Before she could capitalize on his pain he had stumbled off to his buddies where the knife could come next.

The wielder was quick and proactive, already actively dicing madly before him to ward the rabid Myrian off. She wouldn't have that for very long. Decisively she lunged with the larger blade, hacking just as wildly at him as he had her. He narrowly managed to reeled away before any damage was done, providing just enough stimulation to distract Kaie from the blunt weapon that soon crashed into her free arm.
"Dammit!"
She lashed wildly in the club's direction, spewing Myrian obscenities of all kinds in her wake. The entirety of her upper left arm went numb from impact. Already came the dull pounding of her pulse against overridden nerves, the sole indication a nasty bruise was coming on. With both combatants actively advancing, Kaie had no choice but to begin retreating backward out of the street.



Two coming now, third still backed off. Need to buy time to deal with them individually. I'm not good enough with this thing to take them both on.



The clubbed man was the first to return again, but this time she was prepared. Just when he began to start a swing she rocketed her heel into his solar plexus. Wheezing, he backed off which earned her just enough time to deal with the knife-man. The second time around proved more interesting. While the club-man recovered, the two dashed at one another and retreated as they noticed the other make a move. Twice the small blade came close to gutting her on the spot, but agility and reflexes saved the Myrian. That is until suddenly the gladius flung from her tight grasp and clattered far from her reach, effectively disarming her.

He smirked murderously and jerked the knife at her, unaware to both parties he had inadvertently aided her by losing the clumsy weapon she lacked the skill to properly wield. Kaie stepped off center grasped the knife as it passed her with her right hand, the left bracing it not a moment later. Then she wrenched the wrist inward upon itself, forcibly relinquishing the knife to her own possession as he watched in horror. Following it came her foot to his crotch, doubling him over where she took the liberty of stabbing him repeatedly in the upper back. Blood retched from his lips and he dropped like a stone from her grasp, gurgling with wide eyes into the dirt.
"Enjoy rotting to shyke...Fen."
The Myrian spat upon him and kicked him in the head in her juvenile moment of fury. Her gnosis burned like an ember stuck upon her skin, flaring with an intensity that engulfed her in indignant rage for the barbarian's blasphemy. Yet like all emblazoned emotions, the anger blinded her she failed to realize the two new men that joined their friends in their battle against the savage. They bull rushed her and she beat at them with her fists, blackening their eyes, cheeks, and ramming whatever extremity she could into their middles before the club finally found her again. It took the breath clean out of her lungs, shooting her backward without so much as a qualm. That's when the back of her head hit the wall of the building they had cornered her against, and everything turned to black.