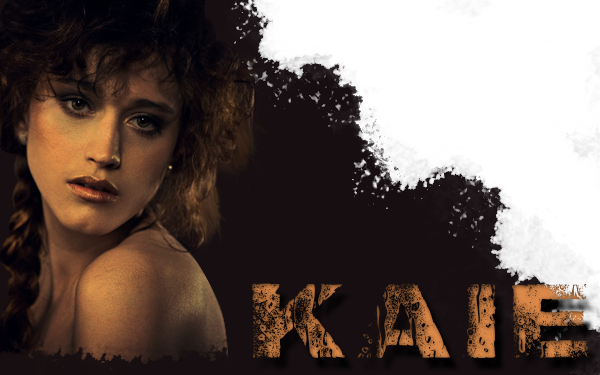 30th of Summer, 514 AV
22nd Bell
A continuation from here!


Kaie remained seated on the lumpy, molded sofa of the dilapidated shack for several chimes after Kostaja left. Her cold, amber stare was directed at the blank, crumbling wall across from her. Her body was tilted forward, elbows resting on her knees. The muffled sound of curses and threats wafted from the floorboards beneath her feet. As if deaf, the Myrian only continued to glare hatefully into the darkness with her lip curled. Time ticked by. The muffled voice continued its tirade. She reached beneath her cloak to retrieve Zedra's cleaver from her weapons' belt, and balanced it between her hands.

It was an ordinary weapon to be honest. It wasn't marked by the divine or blessed with an Isurian's fine touch. It was merely what it was: a butcher's tool. Yet its meaning to Kaie laid within the knowledge of the butcher who wielded it last. Zedra of the Scattered Bones had emerged the previous season as a worthy adversary. She was another Child of Myri, and yet greed had set her on the warpath to destroy every last Scar on behalf of her employer. The two Myrians had fought, and when Kaie had spared her life, Zedra had thrown herself before the same mob she'd rallied behind to give the Scars enough time to escape. Rumor had it that she had been mutilated and sodomized after her death.

The fallen Scattered Bones warrior woman had not been of Kaie's clan. However, just as she had, Zedra mixed her blood with the Goddess Queen's and thus received Myri's blessing. Mr. Silver was the man who had employed Zedra, rallied the mob, and sought to bring harm to those Kaie had dared deem her chosen family. Blood always ran thicker than water. So with her fallen sister's cleaver, she'd see her personal vendetta through. Mr. Silver would pay. Only then could she rest.

Leth's glow slipped through the roof to give a gentle illumination along the cleaver's metal length. Her tanned thumb traced along its cool, sharp edge. Noticing a reflection on its surface, the Myrian tipped it until it revealed to her her own face. The voice below started up again. Her expression darkened and she rose from her seat. A hatch hidden in the floor was lifted and fell with a hard

thunk!

Darkness persisted below but her captive had no trouble filling the room with sound. A single flame from within a lantern provided enough light to brighten the area about the Myrian and tied prisoner. Its fiery dance worked its way ominously along the length of the exposed blade.



"Slit my throat, you bloody coward! Get on with it!"

Mr. Silver snarled like a rabid dog, pulling futilely at his restraints that kept him firmly seated in the formidable wooden chair.
"You already know I'm not here to kill you,"
Kaie responded oddly calm as she stood before him.
"Like I warned you, I'm about to ask you for something and you've been given time to prepare to give it to me. If you don't, I'm going to hurt you."



"Silver ain't no rat, you jungle bitch!"

Kaie approached him from the side and grasped at his sleeve. With the help of the cleaver's edge she managed to shear a long and thick strip of it.

"Kill me! Save our bloody time! Silver don't tell no one nothin'! Besides, we both know how this ends!"
"Why did you incite the mob and send mercenaries to hunt The Scars?"



"I thought I told you to quit pussy-footin' around! I. Don't. Talk."

The Myrian loomed over him and the pair locked stubborn stares. She adjusted her jaw.
"Under different circumstances I might've admired your convictions."
She shook her head and walked past his chair behind him.

"It should've been you the mob butchered and raped on those docks, you--"
"You're right. It should have,"
Kaie agreed emptily as she cut off his soliloquy with the gag, tying its ends into a tough knot behind his scarred head. The hollowed shell of the Myrian navigated back around to stand before him again, thumb caressing the edge of the cleaver.
"Now I'm going to hurt you."