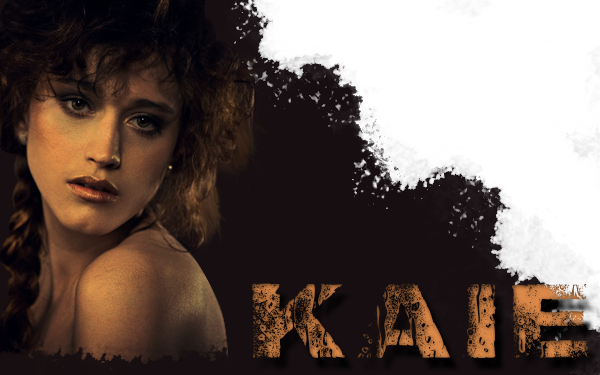 15th of Winter, 515 AV
Midday


Her kukri's tip whittled beneath her thumb nail, picking away the thin build-up of filth to reveal the bronze, clean flesh beneath. It was a dull task. Mindless in the way one might twiddle their thumbs. Her cloak hung loosely over her body, cleverly concealing the small arsenal of weapons expected of a Myrian to keep on her person. There was the gladius that hung snugly upon her hip from her weapons belt. The hilt of the sword peeped out from the inner edges of her cloak with each wintry breeze. The kukri harness sat over her shoulder blades, making one odd bump beneath the cloak where one of the twins still rested. The bow and quiver she'd left behind. Even she knew when it was over kill. Being that armed would turn far too many colored, suspicious heads in the city. Yet part of her scolded herself for not toting the extra gear. It wasn't like she had a clue what exactly she was volunteering for.

She looked up from her nails to spy a young man not far older than herself tooling about nearby. He was modestly built and not particularly tall. His face was squared and framed with a strong, dirty blond beard that matched his messy short hair. Blue eyes shifted about the vicinity as if searching. He paused several feet away, looked up at the main gates to her left, and spun in a slow, moronic circle scratching his head. By the furrowing of his brow and the poisonous expression of his face, she assumed whatever words he were muttering were believably foul. He adjusted the strap over his chest that bound his quiver to his back and clutched the bow in his hand. Kaie's gaze settled on him for several ticks before she finally addressed him.

"You're not Kyle, are you?"
she tried in Common, raising a brow and gesturing toward him passively with her kukri in hand. The young man whipped his head in her direction and scowled.

"Gotta be petchin' kiddin' me. A bloody woman!"

She made a point to flash the kukri in plain view before she did the civil thing and put it away.

What kind of petching idiot insults someone holding a petching knife?

she thought with a shake of her head, teeth gritting for a tick while she reminded herself of the reality of the barbarian world yet again. Her back pushed off the wall she leaned upon to approach Kyle, but he was already making his way for the main gate.

"Don't you have some obligation to fulfill? Like, I don't know, doing the laundry or breeding for one of these colored bastards?"

She blinked at that, fighting the urge to bring her closed fist up to level him right then and there. Instead she feigned amusement and followed beside him anyways.
"Well you're definitely not native here."
"I'm pale white. I'm blonde. I just called the people in charge bastards for all to hear. What was your first petching clue?"
"The tattoo on the back of your left hand for starters. What's the reason for the change in venue? Afraid to get slaughtered like the rest of your flock did for a while there, Daggerhand?"
His eyes widened at that and he practically tripped over his over feet, narrowly avoiding an embarrassing fall before the gate guards they were approaching. The right sleeve of his cloak was tugged down further to conceal the red dagger encircled by a ring of woven thorns.

"If we were in Sunberth I'd have a dozen men willing to gut you in the street."
"Right, and yet you left such valuable assets behind you for...fresh grapes and cheese?"


Something seeped into her psyche right then like mist tossed skyward from the falls absorbed by the open air. Her feet moved just a bit quicker, and yet her body began to create subtle distance between herself and Kyle without forethought. The area of the main gates felt unwelcoming, and when she glanced down to see Kyle's knuckles white in tight fists, she somehow felt as though he was the cause of the shift in the air.

"How'd you hear about this job anyways?"

he asked between grit teeth just before they passed through the gates and toward the wilderness beyond. Her hand slowed in its natural walking sway to longer closer to the hilt of her gladius.
"You posted something. I heard someone read it out loud,"
the Myrian admitted willingly with a shrug. He stole a glance at her, opened his mouth as if to ask a question, and then just it immediately. Whatever it was it appeared he'd found his own answer. He shook his head.



"Look, I just need someone to watch my back for a bell or two. No talking. Just hang out nearby, try to stay out of my way, and be ready to use that knife thing again. Alright?"
"What exactly am I staying out of your way for?"
"Didn't you read my flier?"
"I said someone else read your flier. I just stuck around long enough to hear where to meet and whether or not there was pay."
Kyle groaned and ran his hand through his messy hair, staring ahead as if fixating on the horizon would keep him from coming apart.

"I'm a hunter. It's winter, I'm broke, and I'm hungry. I've gotta catch something and pay the rent. Sometimes the Sea of Grass gets nasty and it'll be quicker to do what I gotta do and get out, if I don't have to keep watching my back. That's your job today."
"Babysit. Easy enough."
Kyle rolled his eyes but remained silent. The two trudged on along the path with sealed lips, trekking north of the city and breaking from the beaten road. She followed the foolhardy, sharp-tongued hunter for some time before slowed in his advance through the grassland's opening. The Myrian preemptively withdrew her gladius and dropped to his flank in the interest of better formation. He withdrew an arrow likewise from his quiver and placed it loosely upon the bowstring. Kaie suppressed the sigh threatening to escape her lips though her eyes warily scanned both left and right anyhow.



And let the babysitting begin.



OOC:

Word Count 5,150/50,000