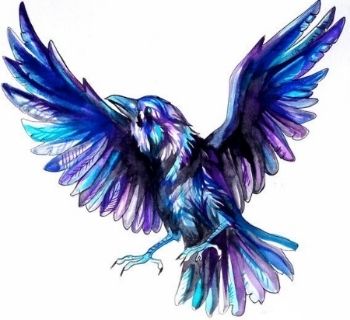 Gladly escaping the light drizzle outside, Izuyanai ducked into the Demise with a handful of bright blossoms. She'd taken the liberty of flying about earlier and collecting these early spring beauties. Their soft colours were a nice contrast to the overcast sky and muddy fields. Raindrops still clung to the silky petals and sometimes dripped down onto the floor, glimmering in the blue candlelight.

Striding over to the counter, she reached into one of the shelves and produced several small vials. Dipping these into a basin of fresh water, she proceeded to arrange the pink and blue flowers into them. Sometimes tearing away excess leaves or snapping lengthy stems. The raven wondered at their names. One was a rather puffy pink species while another was a collection of small, delicate blue flowers. She might ask Aleah or look them up in the library later.

Scrubbing her hands clean in the water Izuyanai let a few brisk snaps of her wrist send an ark of water droplets flying away from her fingertips. She collected her various creations but peeked out from behind the counter to determine where they should go.

There were slightly more people than last winter. Apparently the constant rain had driven more than a few citizens to seek activities indoors. That, and the coming night had begun to put the Lhavitians in a celebratory mood once again.

Focusing on the counter seats, Izuyanai went about setting up the vials in relatively equal intervals from each other. Why not bring in a little seasonal recognition to celebrate the warmer weather? Taking the remaining blossoms, she set them down on the lounge seats a slight ways away. Now, the establishment had bright dots of colour to complement its characteristic evening candlelight.

On her way back to the station she made a small detour to retrieve the empty glasses starting to crowd one of the tables and see if anyone was interested in ordering.