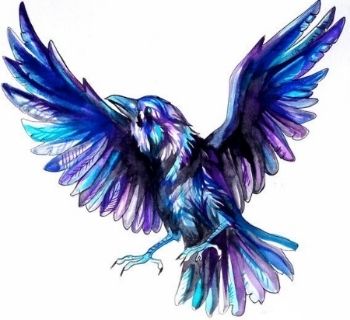 The raven observed as Azira began her inspection of the cheese. Her golden eyes were locked onto the platter, and she was turning her head as if to get a better perspective. Izuyanai felt mild pity for the cheeses that had to undergo such intense scrutiny from Azira's piercing eyes. If she remembered correctly, Wind Reach occasionally traded with Lhavit for Okomo products. Though perhaps these foods were rare in the market place. She had certainly never bought the stuff.

"It's true that celebration consumes excess food. I don't know if you know this, but we had to ration what we had left last winter. It was a brief scare but now we know to prepare more."

Briefly stepping away from the counter, Izuyanai approached the customer who was now preparing to leave.

The customer wordlessly dropped the expected amount of kina into her palm, but nodded politely as he made to exit the building. The echo of his boots on the stone steps outside were quickly cut off as the figure faded and the door swung shut. Crisp mountain air swirled around the room and caused the blue lights to gutter, before finally being warmed by the cozy atmosphere.

Pocketing the change, Izuyanai started on a route back to the bar. An older woman, seated a ways from Azira at the counter, brushed the kelvic's sleeve, and ordered a cocktail. Izuyanai settled herself by the bar again and resumed their previous conversation while assembling the materials needed.

"Oh, how did you like our Okomo cheese?"

The bartender gestured to the now empty platter, smiling knowingly.

Izuyanai laughed as she remembered what Azira had mentioned before, her shoulders shaking in an attempt to suppress the noise. "You can't live in Kalea and be afraid of heights. But yes, I favour birds. Especially the black feathered subjects of Eywaat," she added with a sly smile. "It seems that many people in Wind Reach work with birds. Did you or do you, by chance have an occupation with them? I know some hunters use falcons and the like to catch prey. And of course there are the Endal"

The kelvic tilted her head, awaiting an answer. She might have left out a lot of details about her family but she was eager to hear high praise of her feathered species.

"Would you know anything about falconry? I was actually hoping to keep a feathered companion myself, but I haven't had the chance."

Izuyanai recovered a clean glass, pouring amber colored brandy while layering it with syrup and a dash of aperitif. She grabbed a small knife from its holder and sliced away at the skin of an orange. The incision introduced a burst of citrus scent into the air while the peel was twisted over the drink and placed carefully for aesthetics. With the Sun's Glory completed Izuyanai slid if over to the awaiting customer.