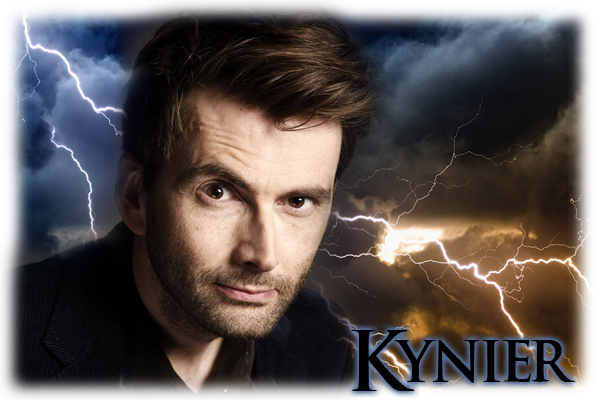 Kynier did not need the predatory instincts he had been picking up on to notice the tension between the two of them. The way that the Svefra grew fearful when he mentioned the lengths that he would go to in order to keep his use of magic a secret. He was mostly sure that she would not disclose his abilities to others. She was still a stranger though and knew very little about her which made it very difficult to really trust her. When they got back to land, he would seek out Old Wayd and a few others that lived on the streets to have them keep note of the woman's activities and movements.

As he continued to talk it was clear that she was beginning to relax. It was because of her kindness and concern about his health that had made him give her the chance to prove she could be trusted. At the moment, it did not appear that it was going to be misplaced trust. Kailani's eyes filled with wonder as he described Reimancy and more genuine concern when he explained why he had fallen to the deck in pain. "Yes, I'm alright," he said with a soft smile of appreciation. "The feelings I receive from that magic are reflections. They are not truly my own and pass rather quickly."

Once they had returned to Shipwreck Cove she took the apple. Kynier chuckled at the sight of her enjoyment when biting into the fruit. There were little things that he was losing appreciation of he realized. With less concern for the availability of food and indulging in the fresher selections, Kynier had nearly forgotten what it was that the rest of the city's residents had to live with. Seeing Kailani's eyes and smile, as well as her pleased moan reminded him of that. Part of him wished that he hadn't offered her dinner at the Midnight Gem now. If she accepted it and actually came, he'd have to cook. And it felt fairly safe to say that he was the least successful one at the Midnight Gem when it came to cooking. Now, he wished he had offered to treat her to a meal at a place of her choice instead. That would certainly taste better.

He felt no offense at her remark. This trip on the boat had been interesting enough with the weather. While the Katalimaru had definitely made the event much more memorable, Kynier would have preferred to have gone without it. With the potential damage the creature could have done to The Sunset Tide, he wouldn't want to have adventures more interesting than that either. It was only her fourth day? While she had said that she came to Sunberth recently, he did not think it had been that recent. It was strange how he kept meeting people that were recent arrivals.

It became clearer to him when she mentioned her brother. Though the man only had Shielding in his repertoire, Kailani had at least some positive exposure to magic. "Shielding is a great discipline to know. Something that everyone could use no matter how limited they are in their abilities. And, it's a safer discipline to know. It does not carry the same risks that others do." If only that were the reason why it didn't scare her so much. Thankfully, Kailani had not experienced any of the horrors that magic could truly do to a person, or those close to them. He did chuckle softly when she stated that she was probably crazy, again. "What does that make me for delving into it's practices?" he said more as a jest than an actual question.

Her request was very surprising to hear. Enough so that he looked at her wide-eyed. "You want me to look at your aura?" Normally it was something that he just did to strangers without their knowledge. With those closer to him, he was more reserved in its use. That and he mainly used Auristics when the situation called for it. He rarely activated it beyond trying to satisfy his own curiosity. He was already feeling better, though he did not expect to be able to examine her aura for very long. "Sure, I can do that," he said as he tossed his own apple core into the water.

Kynier turned back to look at her and took a deep breath. Reaching inward he went to his soulcore for the remaining Djed that he could use for magic. He harnessed it up to his eyes to open his Sight. The Svefra's aura permeated through her skin to surround her in a three-foot-thick haze of lapis lazuli. Along her body he noted color variations, mostly along the core of her body. Small traces of red lanced around her ribs and light browns by her navel. Blinking once, he focused his Sight on her aura. The first thing he felt was a slight stillness to his heart that was resembling fear. It was not as extreme as an emotion as that. More… apprehension.

But it was part of a mixture. There was a breathlessness as well that he felt. Excitement? No. Intrigue perhaps. Then there were the more physical feelings that reflected in himself. A rumbling of his stomach told him that he was hungry. But he wasn't. She was. The apple had done little to quell her appetite it seemed. And then, there was the soreness of the ribs which made him stand a little straighter from the discomfort. The gnosis on her arm radiated power as well, though it was minor. The trace of divine magic had an ethereal quality to it in his sight.

"Interesting. You are nervous yet fascinated. While magic does not scare you as you claim, my presence makes you a little uncomfortable. Though there is no mystery as to why," he added. "Your aura is healthy and strong. But I can sense that there is something that you're trying to keep buried. Something that perhaps you are trying to deny yourself from, or about." The ship pitched and aggravated the reflection of her pain. "I can also see that your ribs still are not recovered from your fight," he said with a hand slightly cradling his own. Though his eyes were not experiencing the burn of usage, Kynier closed his Sight. He did not want to risk running out of Djed for a simple aura reading.

"Also, you're hungry. Perhaps retrieving some of those provisions from your cabin would be a good idea." Kynier slipped a strap of his pack off a shoulder to dig into it as it hung at his side. "That's all I will do for magic for a while," he said as he reached into the pack with a hand. He thought of the dried meats and cheeses that he had packed for the trip. The pack's magic materialized them in his hand and he pulled them out. "My reserves require rest and sustenance in order to replenish. That Katalimaru required a lot of what I had available."



NaNo Post: 1,180
Boxcode credit goes to Gossamer!