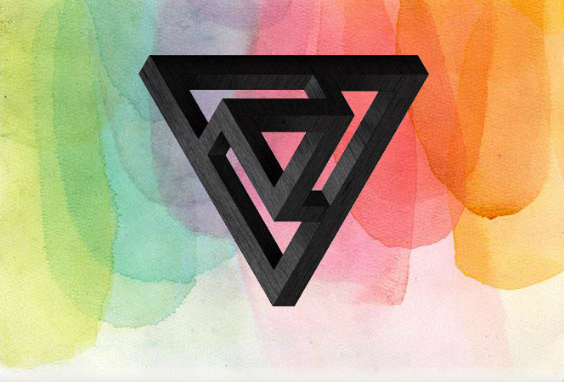 It was that strange, transitory time in Lhavit, where the people who shared Leth's proclivity for night were returning from their revelry, and those who woke with Syna's warm embrace were leaving to start their day. These two waves often met in the middle, as dawn chased away the night, and collected like eddies in taverns and restaurants and sleepy plazas to mingle and trade the secrets of the night for the rumours of the day. But this dawn, of all dawns, those eddies were full rivers, and that babble of news had erupted into a storm, as those who woke in their beds and those returning to them saw the same symbol painted on their doors.
It was a simple rendition of a mask, painted in blood, with inverted triangles for eyes and a dagger clasped between praying hands. What it meant, who it was aimed at, and who painted the symbol was a mystery.
The Scholar's Demise, that entertained such eddies in its normal routine, found itself full to bursting on this particular morning. On every pair of lips were the same questions: Who? Why? How?
Madeira sat with a group of women at a table at the back of the bar, trading gossip in hushed whispers over glasses of whiskey and wine. Gaudy and macabre rings flashed on half her fingers and she idly swished the contents of her glass, and her legs crossed and uncrossed fitfully under a heavy blue velvet skirt. She was trading jabs and tales with a lightness in her thick accent, but her pale eyes betrayed how preoccupied she was. They flickered over the other patrons periodically, looking for her next drinking companions for when she had finally wrung these women dry of what they knew of this mystery.
"I've heard it's on the door of every Shinya." One woman spoke over the lip of her glass, her heavily massacred eyelashes hanging dark and mysterious over her eyes. "I bet this is some vigilante out to punish the criminal and violent."
"But Calla, it was on
my
door too!" her companion squeaked, a nervous little mouse of a woman who seemed to be taking this incident much more seriously.
"Doesn't anybody think it's weird that this happened exactly a season after that Penrose woman went on a rampage on Tenten?" a third woman spoke, frowning thoughtfully into her fruity drink. "I'm with Calla, this is about violence or something."
"It was on mine too", Madeira offered. "But I've never broken the law."
Here, at least
, she added in her mind. The image of the blood on her door flashed in her mind, and she had to fight to keep he smile on her face. The fact that her omnipresent, Architectrix riddled house had no idea who had painted the symbol there, or why, sent a shiver up her spine. If they could walk her grounds undetected who's to say they couldn't dig up something about her eclectic past?
"Well how can we be sure?" the first woman shot at her. "You two might be secret serial killers and we'd never know." She looked rather excited at the thought of having a potential murderer at her table.
"Mh-hm, but then how would
that person
know either?" the third woman rebuttaled, punctuating her point with a cherry on a cocktail stick.
As the three women descended into bickering Madeira tuned them out. Chewing thoughtfully on her lip she traced the mysterious symbol on the table with the tip of her finger. Something about it bothered her, though she couldn't articulate why. She had never seen it before in her life, so why did it feel strangely familiar?
"What if", Madeira interjected loudly into their argument, "this is more than one person? I mean, all these people getting marked, in one night, undetected? That's insane. So, what if this is an organization? And perhaps they are targeting
other
organizations. I hear it was on every Tower members door, the Etherial Opera House and it's members, the Shinya, along with Elena and Rothsam and their students. What if this is some sort of anti-establishment terrorists?" It was reasonable, she supposed. But did that mean the date was just a coincidence?
"Not everyone at Etherial" a woman at the table sniffed disdainfully. "My husband is a singer there and we didn't have anything freaky on
our
door."
"Plus, I don't belong to any of those!" the mouse woman pipped up nervously, picking away at her plate.
Madeira tapped the table, frustration digging trenches between her eyebrows. She was missing something very obvious here. Was she really so rusty after a year away? She used to solve murders and dig up secrets and investigate hauntings as her daily work as a Spiritist. What was more, she was
good
at it. Now that she merely taught it, was she losing her edge? Someone walked right up to her sentient front door, drenched it in blood, and she really couldn't figure out who it was?
Never the less, she was sure she had gotten everything she could out of these women. She made an excuse about refilling her drink and left, squeezing her way over to the long bar. Who should she question next? What should she even be asking? Watering holes like these were great for opinions, ideas, witnesses and gossip, but she needed more. She needed clues, a lead,
anything
. She would never sleep again until she figured out what this symbol meant or what it wanted.
She rapt smartly on the bar to call a barmaid.