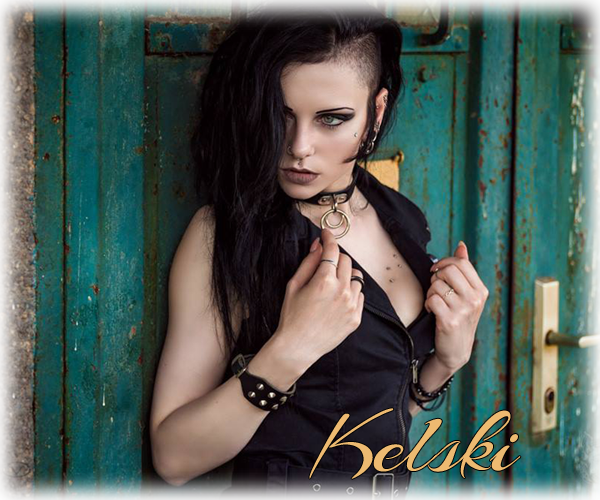 Timestamp: 23rd of Spring, 518 AV



Darvin had something planned. Kelski knew it by the way he kept glancing at her. It was as if he were deciding something or rather trying too. The Kelvic Jeweler had seen that look off and on his face since he had won the bet he'd placed on her at Tall Johnny's when that crazy Svefra had dragged her into the ring. The Kelvic didn't like Darvin looking at her like that… like he could turn a profit or further somehow exploit her Master's inattention of her to make him some more money.

Kelski saw none of it. She didn't want to know what he did with the profits. All she wanted to do was to be left alone to work at her forge and create beautiful things. Freedom was a dream she was sure Darvin and Jaren would never let her see.

Darvin didn't see things that way Kelski did and liked to exploit her like he exploited everything else in his life that he possibly could. After her first and only cage match, he'd seriously thought about getting her more training and making more money off of letting her fight. It turned out pretty girls beating the crap out of each other made cold hard Mizas. The Kelvic had turned out to be vicious, which had delighted Darvin to know end.

Her big hulking guard was a disgraced member of the Sun's Birth upper echelon who'd rose through the ranks rapidly and discovered hard work really sucked. As a result, Darvin had fallen just as fast, and found a place with Jaren, the Sun's Birth Warmaster's son who was so systematically lazy and spoiled he'd lost the gang territory and had been put into a corner running The Barracks where he could screw nothing else up and couldn't cost the gang money or territory. Darvin fit like a hand and a glove into Jaren's plan. Darvin made Jaren money, and in return Jaren let Darvin have free reign with his pretty things, even his enslaved Kelvic Jeweler.

Kelski knew she had little choice. She just wondered what Darvin looking at her like that meant. She didn't, of course, have long to wonder. "Come with me." He said, the minute her Master had vacated his quarters for a party across the city. Darvin didn't give her a chance to change out of her worn boy's clothing with the pant legs rolled up and the waist belted so they didn't slide off her narrow hips. A worn tank top completed the outfit. She grabbed her boots, slipped them on, and hurried after Darvin as he lead her out of The Barracks and towards The Proving Grounds.

Once they arrived, Darvin looked around, spotted a gentleman waiting in the training area, and walked over to him. "You Krieg? I talked to Tall Johnny and he said he'd send someone over to teach one of my toys a few tricks." Darvin said, greeting the newcomer. There was a handshake with a bag of coin involved, and Darvin stepped aside and gestured at Kelski. "That's her. She's the one that killed the girl last season in the fight. I'm hoping we can get her more up to form, in better shape, and knowing a bit of unarmed combat so I can perhaps start some challenges between girls like her.

Krieg would be able to tell that Kelski's guardian was a little bit drunk. It wasn't in his mannerisms, for he acted perfectly sober. But he had that taint about him, the slight smell of wine of his breath as he spoke, that gave it away.

Kelski stood impassively watching both men. She had neither the height of the breadth of either of them, but instead stood at 5'7" and perhaps all of a hundred and twenty pounds. She'd lost weight under Jaren's care, mainly due to a poor diet and lack of exercise. Her black and white hair was swept up into a messy bun that revealed that the long length of her neck was encased in a slave collar.

She had no idea what was going on, but she was taking advantage of Darvin and Kreig's discussion to study the new man, noting his features and the way he carried himself. Darvin seemed to be going on about some plans to fight women, something Kelski had no idea about but hoped didn't involve her. Then… he stepped aside, gestured to her, and both their attention was suddenly on her.

"I'll be back for her in a bell or so. Teach her something if you can. If she seems unwilling, use force if you need too. If you do a good job, I'll let you have a little alone time with her if you want it after your done and you promise not to hurt her too much. She's grown a little too trusting of her safety and needs some of that shaken up." With that, Darvin turned, winked at Kelski as if they were good friends, and sauntered out of the training area, most likely to make a few rounds of the bars around town.


Left alone with the newcomer, Kelski simply stared at him with her steel grey eyes. There was something in her gaze that was almost feral, as if she were warning him with her eyes that she wasn't human. She didn't look human either. Her lips were black, matching the color of the tear ducts in the corner of her eyes. And if she opened her mouth, he'd see the inside of her mouth was black too. It wasn't an uncommon coloring in dogs and birds, just completely out of place in humans. Her face, neck, ears, and some of her nose were pierced through with rings and gems. It wasn't something the Kelvic wanted, but her hedonistic owner liked his pretty things decorated.

The Kelvic Eagle finally spoke. "Hello. Darvin is drunk. I am not a fighter. I am a jeweler. He needs to realize this sooner or later." She said firmly, as if she were waiting for him to dispute it or laugh. It was not the authoritative tone of a slave. It was the bland indifference of a free woman that hadn't yet realized she had a collar on her neck.