"It was like peering out past a cliff overlooking the sea where, on the horizon, lay giant, bellowing clouds of a storm. When that storm hit, and it would hit hard, it would throw the land into disarray for a short while... It was a catalyst in the rebirth of the land... It was as if a bond was the rebirth of the mind, body, and soul."

- Reven's Perception of a Bond



Race:

Kelvic


Gender:

Female


Age:

2


Birthday:

15th of Winter, 511 A.V.


Birthplace:

Zeltiva


Profession:

Leather Worker


Height:

5'10"


Weight:

135 lbs


Eye Color:

Hazel


Hair Color:

Auburn/Brown



Likes:

Poetry, Reading, Learning new things, Practicing the short bow, Praises, Wandering, Grasslands, New clothes, Wine, Herbs (she loves them), Raw/Rare meat, Combat, Romance, Sleeping next to Van, Warm weather, The Sun, Outdoor activities, Playing with the (older) children, Puzzles, Jewelry, Creating new things, Defending others, Friendship.



Dislikes:

Swimming, Anything to do with water, Boats, Horses, Writing, Practicing etiquette, Dresses, Being inside for a long period of time, Receiving too much assistance, Looking like a fool, Being called a child, People calling her out on what she is, Slaves, Traffickers, Being away from Van for too long, Social Events.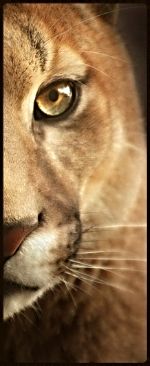 Reven stands at a lengthy 5'10", weighing at 135lbs with a body designed for hunting. Wavy tresses drape down her back, often reflecting an auburn color in the sunlight but is naturally light brown in color. Reven wears her hair up in a tight bun to keep the brown annoyances out of her eyesight and is usually spotted donning hunting apparel with blood stained pants, worn leather boots, and a tight, fur-lined, leather jacket accompanied with weapons. Her frame is firm and forward, poised unnaturally still with a graceful stride in her walk. The way she carries herself regularly hints to the mystery of her presence and not so human nature even as normal as she tries to act. Ultimately, her teeth betray her in a way she can never hide. Pearly white canines project from her gums in the most blatant way possible that every time she smiles, they look like monstrous fangs growing from her upper and lower jaw. Because of this, one rarely sees a smile touch her features and often times, only the occasional greeting expression would ever show itself.

When shifting to her animal form, Reven stands at 4 feet on all paws with the length of her body exceeding nearly 7 feet long. Due to the muscles built up along the length of her legs, the young Kelvic weighs roughly 190lbs. Her jaw, when open to snarl out warnings, bares thick, pointed fangs that measure 4 inches long on top and 2 inches long on the bottom, making it quiet painful for any person or animal caught in her iron grip. Reven's coat shines an ash brown color with small, circular black patches spotted around her sides. Eyes gleaming with hazel pigment, nearly the entire front of her body was a soft brown, almost white color and textured fur, course and flat. Intimidation radiated off of her in waves. She was fierce in stature and made sure to show it well. However, in this form, anyone could see the random scars littered throughout her coat. Patches of scar tissue from the many dangers she ran into while out on her nightly runs were quick obvious to any wandering eye.


Unlike most of her Kelvic brethren, Reven is not as forgoing to the idea of social interaction and "meet and greet"s. Not that talking to someone was a problem. Often times, Reven felt it a waste of time to explain to anyone who and what she was. Most of the time it would mean sending a potential suitor away. Ever since she was born, Reven was thrust into the arms of a happily old, and educated woman, Mutaldi. Even though the two weren't blood related, Reven knew it was still in her caretaker's wishes to find a suitable husband if not, a bond mate. Not that she didn't crave affection and connection, especially living in a city where men are meaning to marry at the drop of a hat, but freedom meant more to her and it was a conflict she often struggled with during her outings. She's brave and fierce, ready to take on any conflict why arms and legs swinging. Being of the enormous feline species, it was in her nature to have a strong stature and the only ones that seemed to truly relate to her were the Akalak men that trained rigorously for potential battle. Reven made it an adventure every time these men would journey out to raid and destroy enemy parties veering close to the city. She would never wander too far from the city however, for the risk of death increased with every step.

Apart from her continuous effort to locate danger in the most stupendously naive ways, Reven is likely to be found curled up around a book, outside in the sunlight. Growing up without her parents wasn't easy but Mutaldi made sure that she was well kept for and given as much education as possible. Sometimes the studies were so difficult and rigorous, she would have headaches for days. To relieve the stress of studying, she picked up hunting and a few other trades. Very rarely would one see the brown haired Kelvic inside for more than a few hours. Reven embraces these gifts of freedom and beauty of nature. Solitude has been her friend for the last few months but now, because of Mutaldi, she is starting to branch out of her comfort zone.