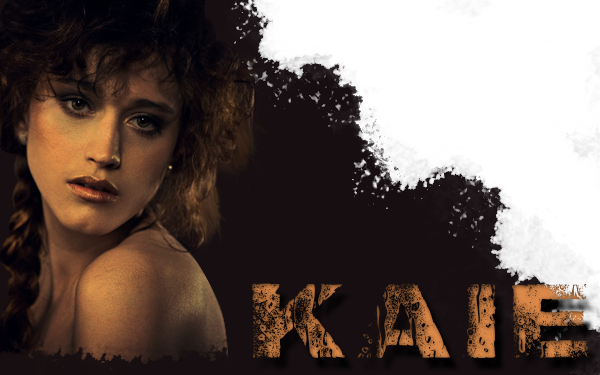 As invested as she was in her own escape, Kaie was not deaf to the sounds behind her. The shrill cries were seeming to mesh into the shriek of one massive behemoth. They appeared to be coming from everywhere and no where at once. Their vocals filled the tunnels, causing the Myrian to want to hesitate before advancing and taking a turn. It was if no matter where she went, a pack was hiding behind the bend, waiting for the chance to jump her when she least expected. Adrenaline got the better of her. For once, Kaie had no qualms about choosing the flight option. At least Yukmen weren't the only creatures she could hear.

There was an odd clambering of bodies, yowls and growls of frustrated animals after their prey. One glance around her shoulder and Kaie was astounded by the sight that greeted her. Behind the backs of her sprinting comrades was a sea of beasts whose front had managed to crumble like the ending of a wave. The olive skinned man stood at its edge like a beach goer testing the waters. Some had their hands on their ears as if in some immense pain, but from what? Unless their obnoxiously terrifying screams had given them the same headache they had given her, something else was going on. If only she could figure it out...

The next observation she spotted before whipping her head back around to focus was the muscular man beside another sellsword. Both were hacking like mad through those who had scampered over the barrier of bodies. The taller of the two was much more ferocious in the act. There was an incredible anger (more like hatred) radiating from his being. He had been slaughtering the abominations as if they had stolen something precious from him. Perhaps in another time a swarm like that had. Sadly, there was no time to wait around and ponder his rage. Kaie was simply grateful she had it defending her back.

A roar more earth shattering than the other grasped the Myrian's very soul mid-run. It was the cry of something dominant, and arguably more bloodthirsty, than the other had seemed to be behind her. Its bellow rocked her world and they didn't stop at one vocalization. Petch, the Myrian woman almost thought she was hearing the crumbling of rock in the background. None of them were strong enough to tear heavy rock from the walls. Well, maybe that large sellsword was capable, but the rest? Not so much. Besides, there were monsters scrambling after them that had no concept of diplomacy. Stopping to create barriers in vain would be a suicide mission. Unless...
"Myri, damn them! Petch that! Petch that!"
Kaie snarled in her own tongue, all but twisting around in panic at the sound of the stony impact. The thrower was an easy one to pick out. It was the bastard Yukman who charged straight through the debris like territorial Tskanna. The very sight of it was enough to make her heart kick into full gear. Needless to say, they were about to get petched.
"I'm dropping back! Run ahead and be ready to use whatever you have on you!"
The Myrian shouted over all the sound pollution at the fleeing spelunkers behind her, pressing against the tunnel wall to give them leave. The archer boy could lead them to the surface until she could pick it back up.

If

she could. And as the gap between herself and the assaulted trio closed, Kaie swallowed the natural fears. It was time to perform. Their survival depended on it. Who knew if all three remained unscathed after that impact anyways? They'd need all the help them could get for this crowd control.

Withdrawing her gladius and letting out a feral snarl, Kaie sunk back into her defensive position and let the tide wade to her instead. Amber eyes studied the masses, searching for a target to catch her eye. It took mere seconds for that to happen. Pretend all she wanted, anyone could see the hulking silhouette of the Alpha.

Someone

was going to have to have a go at it. Might as well be her...

With her left, Kaie tore her food knife free from her hip. In Syliras she had always wanted to trade it in for coin to buy herself a quality dagger. She sure was cursing herself then. Yet without another thought, Kaie hurled the knife its way and silently prayed to the Goddess Queen it caused some damage. After all, the last time she tried the seemingly simple feat, her enemy was assaulted by the harmless handle end and her comrade met the sword. If only the Fates had been a little more in her favor when it came to knife throwing...
"Let's get a move on!"


Kaie began to back pedal steadily twice the pace of the onslaught. She hacked at them as they came toward her, wielding her sword with more force than tactic. In the long run it hardly mattered to her in that moment. As long as she was killing them or inhibiting a quick advance, Kaie was pleased. Well, as pleased as one can get when facing a horde that wants nothing other than your flesh and blood...