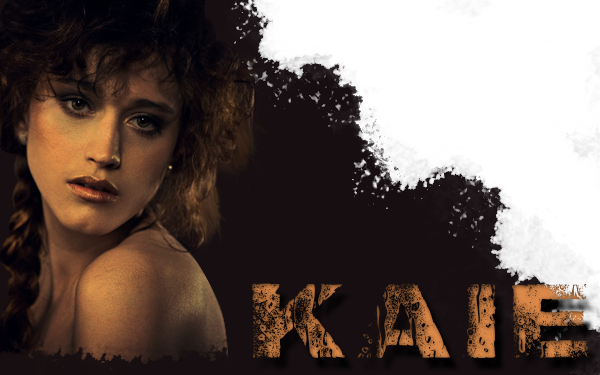 The battle was no different from the others, but the satisfaction she earned from this one in particular was intriguing to the savage.

It was almost...clean. Too clean,

she speculated almost suspiciously as the back of her free hand dabbed at the fresh, instant bruising on her face from her combatant's shield. She gave a minor wince.

That's going to swell...

Amber eyes shot toward Uncle, brow raising when she heard the scurrying feet that signaled the chase. In a tick the man was downed and slain by the wicked tines of the trident. The Myrian offered one final glance toward her own fallen foe. Crimson continued to flow with gravity down his body to the earth, dying his brown pants and shirt in a striking red. She'd turned him into a rather messy ordeal given the usual cleanliness of the Quay's courtyard. Well, as clean as a Sunberth courtyard could be anyways.
"A clean kill,"
Kaie offered toward Uncle with an approving nod. She made her way toward him, meeting the man half way. For a few ticks she stood there. Eyes wandered from her fellow Scar, to Syna, then to the dead. Breathing had returned to a resting rate. One more off-handed nod and she finally conceded to sheath her gladius.
"This is not just a headquarters. This is Web and Bitzer's home. We ought to get rid of the bodies, dump them over docks into the sea...or maybe leave their mangled corpses in the streets as a warning. "
She gave a passive shrug. It was a rare thing for her to actually deal with the dead. There was never a sense in burying her enemies in the wilderness when she'd picked them off, nor in the streets of the shyke hole city they were in now. The dead already littered the alleyways.
"I don't know how your ax-man was, but the two I killed didn't seem well trained. They weren't necessarily shyke fighters...but they didn't strike me as the types who could readily afford their armor. Makes you wonder if they acted alone, or if someone outfit them."
The words "we" returned to her mind again. She'd taken them as empty threats and the bluff of a man dying in vain. The way people backstabbed each other in the city left her unsure. Their leaders had always been clever enough to make a show before the public, giving some ideological speech that made some hopeful and others mock it over ale a few bells later. Was their public image strong enough to merit sweeping support, or fuel enough disdain to bring armed amateurs crowding their portcullis?