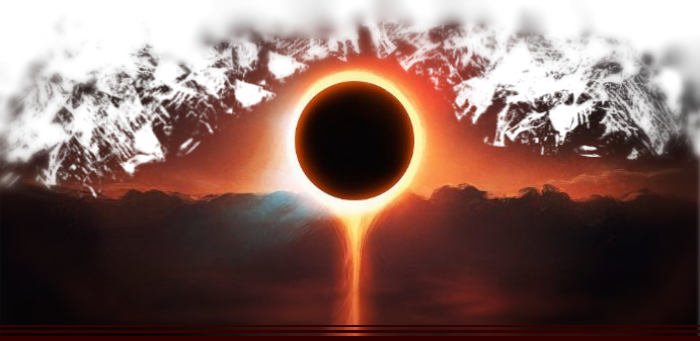 Elias's throaty laughter took a moment to find its stride in the wake of Clyde's ultimatum, but before long it was carrying out across the veranda in hearty waves, reaching its booming crescendo right before it abruptly died in silence as he noticed the commander's expression hadn't changed a wink.
"
You're not kidding.
" He said in sheer astonishment, his face flat with concern and unease.
Of course he's not kidding. Does this look like a man whose ever once made a joke in his life?
the swordsman mused bitterly. At least he now knew where all the rum had gone; their host had clearly imbibed it all already, how else to explain the absurdity of his words, let alone the straight face he had somehow managed to speak them aloud with. That, or his mind was simply addled with one too many overgivings. This was a joke, even if the other man hadn't seemingly intended it to be. He had meant to humiliate the Caldera, to make a fool of him in front of the others, especially now that it seemed more had joined. Elias hadn't failed to make note of their entry, nor how some were more willing than others. The boy in particular, with his unkempt hair and that newborn lamb look in his wide eyes seemed wholly unprepared for what he had just stumbled into. The woman that followed however, dressed in her rich regalia and wielding a familiar air of supremacy and calm about her, was a different story.
With their arrival, he suddenly found himself feeling very naked again without his blade close at hand. It was even worse now with Alija's disappointment and concern as palpable as the tension that had suddenly been birthed between him and Sullins. As in all things, this was escalating into a contest. Pride, hard earned and deeply ingrained, demanded that he win, whatever the cost or game. New priorities on the other hand, namely his cousin's respect, reminded him that he could no longer be as brash and indiscreet as he once was, a notion he was reminded of by her calming touch upon his hand. That should have been enough. It should have been all he needed to throw away his 'less civil' tendencies and brush this off as just a mere misunderstanding. He knew all that, and yet, he also knew could not help himself.
"
I wonder,
" Elias began, collecting himself and projecting an air of calm as he straightened to regard his fellow Stryfer, "
where you learned to create such things, commander.
" He turned to the new entries on the stage, raising a hand to his chest as he continued. "
You see my talents were reared in the halls of Zeltiva's great University. The finest center for magical discovery in all of Syliras -all the world I'd dare say.
" He knew the masters at the Institute of Higher Learning would vehemently disagree with such a statement, but then again, they'd also show the same distrust and dissension if you told them the skies over Nyka were just as blue as they were over Ravok. "
How about you, young man?
" He inquired genially towards the quaintly attired fellow who'd been trying his best to hide himself into one of the balcony's shadows lest he go noticed. "
Where did you learn? And you, my lady?
" He turned next to the noblewoman and found himself tinged with a pang of jealousy. She smelled of old money and hereditary power, the kind that only ever deigned to venture outside the luxury of their city district when boredom and the desire for distraction became too strong to deny. No doubt the name of some expensive and private tutor would be her answer, but the Caldera was curious to hear the truth none the less.
"
Back in Zeltiva, my professors were almost universally the same. You remind me of them, comman- master Sullins.
" He corrected as he turned to the blue-eyed master mage once more. His countenance and tone hadn't changed, but the gleam in his eye had noticeably dwindled. "
A bunch of stuffy old farts, all puffed up in their stuffy old robes as they shuffled from one library to another in search of the next magical tome to scry or idle student to berate. To the last, they were men fueled by ego, yet ruled by doubt, and first and foremost above all else, they taught restraint.
" He went on, taking a step closer to the tables as he trailed his fingers nonchalantly across the metal links of the shackles so proudly displayed. Just touching the thing made his skin crawl, and even the sound of its unseemly clinking under his fingers had the sorcerer positively reviled. He pulled his touch away quickly, though his disgust was plain and hard to hide.
"
Restraint is what they tried to teach us, but the most important lesson I ever took away from their kind came when I looked at them and I saw exactly what it was I didn't want to grow up to become.
" He glanced at Alija, knowing the young Zeltivan aurist would know full well the problem child he used to be back in her native city. While he looked back at those times rather fondly for the most part, he doubted his cousin shared the same predilection. "
Most of my learning -my real learning- was done not in the classroom, but during those

inhibition-less

and oftentimes inebriated adventures with my fellow students.
" He went on, a small grin tucking at the edges of his pale lips. "
Lighting the night's sky aflame with an errant fireball. Lighting a

friend's hairline aflame

with an errant fireball. Using auristics to find where the teacher had hidden the key to his drawer that contained all of tomorrow's test answers. Hell, I even took a dare to scale the walls of the University once with my flux just to catch a peek into the girl's dormitory.
" His grin widened lewdly in recollection. "
I learned a great deal that night; about risk and reward, about the things I was capable of if I set my mind to it, and the things I was willing to do to

become

capable,
" he turned and gave a wink at the other lad as he added slyly "
and I learned a great deal about women too.
" If there was anyone among them who knew what Elias was talking about, his best bet lay in the boy. "
I also learned professor Kellan didn't accept broken arms as a tenable excuse for tardiness, especially when said broken arm had been earned from falling three stories off the side of the girl's dormitories.
"
His attention whirled slowly unto Clyde once more, their icy irises clashing from across the party. "
I ask where you picked your craft, because I'm curious to know; Where did you learn to think of magic as you do?

Where did you learn to be so...

afraid?
"
He made a dismissive, dissatisfied gesture towards the table. "
I find shackles and tea to make a poor impression upon a party for those augmented by the arcane. I can't help but think your inclination seems to be more about binding magic and keeping it user's docile than anything else. In a city like Ravok however -as it is across much of the rest of the world- there are only two kinds of people; the masters, and those that attend them.

You

may not trust in your control, but I assure you,

I

am master over my own magic, not a slave to its restraint.
"
He knew the other man would have a biting rebuttal in store for him, no doubt extolled in that same cuttingly dispassionate drawl like before that would do wonders for Elias's temper. He knew it was coming just as he knew the sun would rise, which exactly why in his final move, he didn't give Clyde a chance to answer quite just yet. Instead he spun on the newcomers, pointing a lackadaisical finger in their direction. "
What do you two think?
" He said with a smile that wasn't quite real. "
Is it better to be the candle whose flame fears its own flickering?
" He questioned, his pointing finger turning upright before abruptly sparking a small res born fire that rested gently above his index. "
Or...
" the fire flared, burning out of control for a moment before suddenly sizzling out in a puff of smoke "
The candle that burns from both ends, bright and brilliant?
"