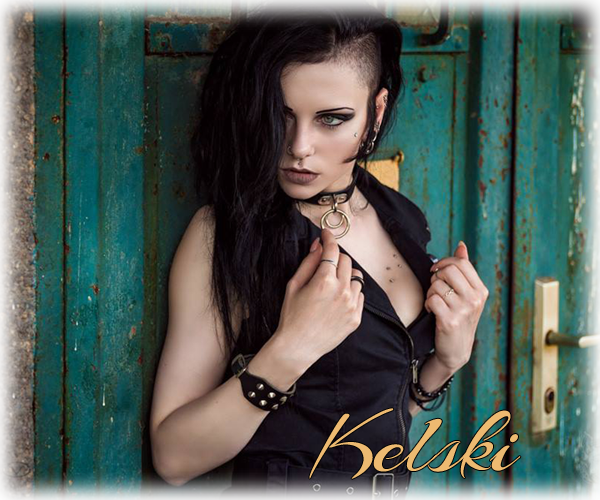 Timestamp 46th of Winter, 517 AV.


Kelski was weary. It wasn't a tiredness of the body, but rather one of the soul. Jaren's attentions weighed on her. And though she did everything he asked her to from drilling and stringing pearls to manufacturing ornate pieces for favors, it wasn't enough. She missed her wings. She missed flying. The collar and the metal in her skin dragged her under and into a depression she was having a hard time shaking.

She would eat but food had no taste. More weight dropped from her already thin frame and she grew paler. The Kelvic could hardly look at the sky, even on those days that the slag heap hadn't belched plumes of toxic smoke into the air. To Kelski, Sunberth was like living inside a giant decaying corpse with everything rotting and pus filled around her. Its wooden buildings, both those being constructed and those falling down, where like the bones of some ancient monster rising into the sky. The stink and decay of morals and the sad slow demise of hope around her was a creeping strangling noose that was even tighter than the slave collar around her neck. The Sea Eagle knew without a doubt that she would die here. She knew because what she was doing wasn't anywhere near living. Maybe Ajakjia would be kind and let her return as a Shadow. And as one she could travel anywhere she wanted, and maybe sore in the winds again.

Jaren had worked her hard over the last three days but she'd got the projects done. Then, finally, he'd given her a day or two in order to rest. Rest? How did one do that. She curled in her little cubby in his spare room, where her pallet was and wrapped her arms around her knees and rested her chin on them. She rocked herself quietly until she fell asleep with her back against the wall. Darvin found her there bells later. She was unwashed, her hair unbrushed, and there were dark circles under her eyes despite the sleep.

He plucked her out of her wardrobe beneath the stairs and without a word took her with him as he exited The Barracks. He had a pack with him, a clear indication he was going to make some rounds and do some deliveries. The Kelvic took little notice. When it was clear she'd follow him he unclamped his usual grip on her arm and left her to trudge after him. He went by where all the Sun Birth's bathed and tossed her in unceremoniously. Then he tossed a bar of soap in with her. "Wash. Throw out your clothing. I have a dress, some shoes – I see you forgot yours – and a cloak for you once you are out." He said. Then he watched as she quietly stripped in the bath, uncaring that his eyes were on her, and washed herself up. It didn't matter… this is what she did. This was her life. She did something when someone told her to, and that was it. If no one told her to do anything, she did nothing. He wanted her to clean? She cleaned herself, scrubbing all her parts even in front of him and then clambering out of the now filthy bath when she felt clean.

Darvin shook his head in disgust and tossed down the clothing he'd taken from the pack. "Throw some clothes on little bird." He said, and waited impatiently for her to do so. She dressed, put the cloak on, and slipped her feet into the short boots that actually fit for once. She'd had other things on her, the daggers, and a few coins. She put those in her pockets. She didn't bother to comb out her hair, though he handed her one. She just looked at him and slipped it into the pocket of her new cloak… if one could consider the garment with the frayed hem new… without comment. Later… maybe.. when it dried.

Then they set out, Kelski following him but smelling much better and Darvin starting to make drops all over town. She knew some of the things he sold were drugs, but other things he delivered she had no idea about. The Kelvic tried not to be too curious. Questions were never welcome and too much information about Darvin never led down good roads. Strangely the deliveries took most of the day and caused their feet to carry them to some of the oddest places. One of the strangest was the Dust Beds. He left packets at several graves, retrieving hidden coins from places she'd never look for money within. And then they climbed the ridge above the Dust Bed and Darvin left her there.

"Take a bell, Kelski. No one is ever here. And I won't be far. Feel the wind, walk among these Pre-Valterrian graves. Look around. I think you need to be outside far more than you are. Let the sun hit your face and get some color back in you. Here's some Salmon Jerky…. And fresh bread. Break you fast. It's good stuff. I think you will like it. I have one more meeting, one that I'd rather not have you see… but I won't be far. Call out if you need me. I will hear you. But stay up here and stay quiet. Enjoy a little alone time. You look like you need it." He said then carefully walked off after handing her a packet of something that smelled incredibly delicious to her.

She walked to the edge of the ride, looked out over the vista, and then slowly realized she was surrounded by Pre-Vaterrian ruins… graves to be exact. She knew they were pre-valterrian because the language was strange on the stone buildings. And they were craved in ways she'd never seen anywhere else. Kelski turned from the view and walked to one. She touched it carefully, a spark of interest igniting in her. This was different. This was something new and beautiful even if it came in the form of old ruins. Curiously, she began to slowly walk.