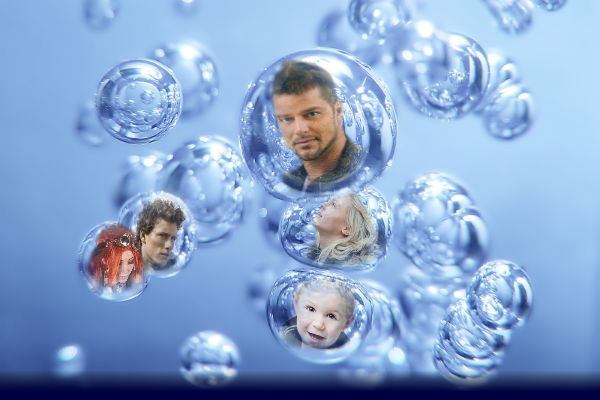 To be able to finally relieve himself of all the pent up stress he had finally started to buckle from had been more than a mere relief on the fisherman's shoulders, there had been a much greater sense of ease that started to grow the more he had shared his story with Matthew. What made the situation feel all the more better was that the escort actually did seem like he wanted to understand, to grasp at the things he had been told and wrap his mind around them one at a time, so that it would help Ricky feel better about the ordeals he'd been through. To be honest now that Ricky finally felt himself able to fully reflect on everything, he found himself in disbelief to an extent because of how crazy it all sounded. Were it somebody else he probably would've thought it crazy really, but since he stood in the spotlight of the story, the idea of disbelief felt harder to come to terms with.
Still he pretended none of it bothered him so there had to be disbelief somewhere, or maybe it was only denial for the sake of wanting something ordinary to happen for once. Well he had certainly gotten what he wanted recently, and now that it happened he wasn't sure how to handle it. Any time he'd ever come close to a moment where things started to quiet down, to turn into a state of 'normalcy' he wanted there had to be something, really just about any major event just randomly spurned to eliminate all sense of it. Now that the winter had passed and things finally looked normal once again, look what decides to bother him now! An ill gotten keepsake he should probably just throw away, for what good would it do to just go digging about in your old man's journal? Especially when he's dead and knew that death was coming.
"Naw, neither he nor I were good at drawin'. He could play de lute descent enough but d'ats about it."
Admittedly Ricky wished he could say the same, yet even after his purchase of an instrument while in Syliras he hadn't taken the time to sit down and practice any. Finally with the resulting question based upon the inner desire to find an outside friend, Ricky nodded softly with a loose grin before he answered Mathew in turn.
"Aye... Oi hadn't really t'ought about how everyt'in else 'as been botherin' me, t'ought it was only just de journal up until now."
Yet it felt good to share with Mathew everything he did, there had been enough details left out to keep the long story short, but far from vague in terms of what he'd been mentally dealing with.
"Oi suppose it's because Oi haven't really dealt wit' all dis personally, didn't stop an' t'ink about all o' it because it felt easier not t'."
He reasoned as that seemed like the logically proper solution he followed, now of course he looked completely at ease as he leaned on the arm of the chair. He wondered more or less about the journal in general and what he should do with it, while part of him started to at last dwell on the events of his story that founded his past.
"Oi remember bein' told d'at 'ordinary isn't fer men who wear a uniform' while Oi served as a Wave Guard, an' at first Oi t'ought if Oi wanted t' catch a break Oi had t' resign. Now t'ough after winter's ugliness Oi'm not so sure it was de job d'at was de problem, now Oi... dunno what de problem is really."
Was there any such thing as an ordinary life? Did normalcy even exist for everyone else or was it just an idea he desperately held onto?
"Why is it other's can live t'eir lives without worry o' shyke happenin', yet Oi 'ave t' hold me breath 'cause every five ticks somethin' goes wrong? How in Mizahar is d'at even fair?"
He questioned Mathew as he wondered what the man might have for an answer, seeing as how Ricky himself felt at a loss with his own reasoning.